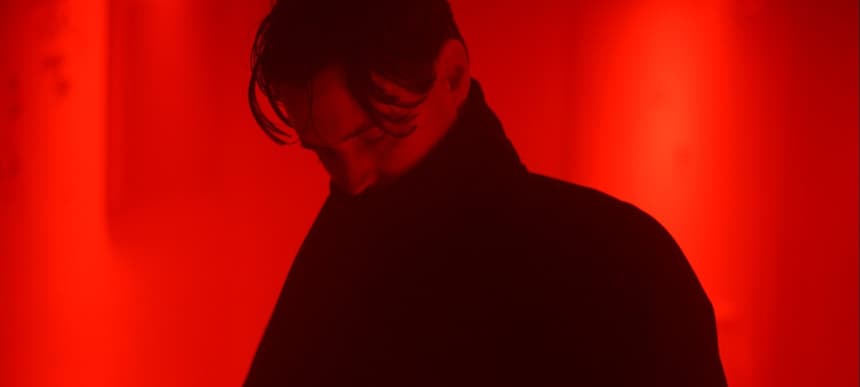 10.03.2022, Words by Billy Ward
The 10 Best Panorama Bar Track IDs, according to Dance System
"That set was a big part of the inspiration behind my new single..."
Brighton's James Connolly has been at the forefront of dance music for over a decade now. While operating under his former alias L-Vis 1990, he teamed up with Alex Sushon, aka Bok Bok, to establish one of the UK's most important dance labels, Night Slugs. Now operating under the name Dance System, the DJ and producer is on the cusp of releasing 'In Your System', his debut album under the new moniker, out April 1.
An all-out homage to underground dance music culture, blending elements of classic, filter and piano house, hardcore, Miami bass, acid techno and all that's in between, the forthcoming album promises 11 tracks of pure dance floor euphoria and starry-eyed love for the club.
His most recent single 'Shutter Trak' was created purposefully for the opening of the shutters during his set at the Berlin clubbing institution, Panorama Bar. With his new project on the horizon, we sat down with Dance System to pick out 10 of his favourite tunes played at the iconic venue. Pulling tracks and memories from when he performed at Panorama Bar in 2019 for Modeselektor's Monkeytown label 10th anniversary, this carefully curated list offers a glimpse into one of the world's most renowned dance floors.
1. Paul Johnson – 'Feel My M.F. Bass'
"I had to open with this one when I played P-Bar last. Such a good tune to reset things and set out my intentions for the set. I was so gutted we lost Paul last year. He was one of my biggest inspirations. I loved how he could make hard ghetto tracks, then get soulful and even cross into the charts. He's kind of the blueprint for what I do as Dance System."
2. Kevin Saunderson Feat. Inner City – 'Future' (Kenny Larkin Tension Mix)
"Such a massive tune and so perfect for P-Bar. So much fun just letting it bubble and build without it dropping into the bass. I had seen Kevin play P-Bar the month before and that set was a big part of the inspiration behind my new single Shutter Track. The lead synth line is definitely a little nod to him."
3. Traumer – 'Cyclo'
"This one hasn't left my box since I first discovered it. Another one that is all about tension and huge release! I love to play with that so much especially when you have a crowd like you do at P-Bar. Everybody is with you and can totally just ride it, play with the crowds energy like putty."
4. Herbert – 'Moving Like A Train' (Smith N' Hack Remix)
"The first time I'd pulled this one out of my crate since it first came out, was at P-Bar. I wanted to really dig back deep into my time on the dance floor and the tunes that really stuck out for me and gave me so much joy, this was one of those tunes. I used to love seeing DJs like Erol Alkan play with the crowds."
5. Basement Jaxx – 'Fly Life (Extra)'
"I can never get over how perfect this song is… it will never leave my box. First time I went to Panorama Bar I saw Soundstream play. It was one of my favourite sets ever from one of my favourite producers. He played this and it blew my mind hearing it in that context on that system. The shutters opened for that one too… Something about house clashing noises in there that drives people wild. It's almost the sound of war, with all the sirens and explosions overhead."
6. Sizequeen – 'Tribal Madness' (Airmale remix)
"This was a little bit of a curve ball for me to throw in the set. Don't think I had ever heard anything tribal like this in my time on the floor there. Kinda has those war like SFX sirens like Flylife Extra, but when those tribal drums hit halfway though, the energy really changed. Really twisted track."
7. Woody Mcbride – 'Basketball Heroes'
"This tune is one of my all time favourites. It's 148bpm but it still works really well slower in the repitch mode on the CDJ's. I played it after 'Shutter Trak' and took the set in a bit more of twisted acid direction. So fun to play, and it sounded amazing on that system."
8. Whatever, Girl – 'Activator (You Need Some)' (Jeri Curl Sucker Wearin' High Heel Boots Mix)
"This one used to be a staple in my sets as L-Vis 1990 back in the Night Slugs days, worked so well alongside the ballroom stuff and UK funky. Was really nice to reach for this one again in the Panorama bar setting."
9. Camisra – 'Let Me Show You'
"I never thought I'd play a song like this at P-Bar but why the fuck not?? It went off! Some how that space gives tunes new life in that context. Was another one I pulled from my dance music encyclopaedia of a head for that show. The week after I made an edit of that tune with DJ Deeon's 'The Freaks' to play on the IICON stage at Glastonbury… that's become a staple of my sets and a tune everyone expects to hear now."
10. Mr De' feat. Greg C. Brown – 'Sex On The Beach'
"There was only one tune I could close with and it was this one. It was 10am and the people had been there for hours and hours, smashing it out and I wanted to send them off into the clouds. This one gets all the couples and lovers in the mood for the next part of the night! We were so far from the beach, but the sun was shining through the shutters and it was the perfect end to an amazing night."
Stream Dance System's latest single 'Shutter Trak' below: