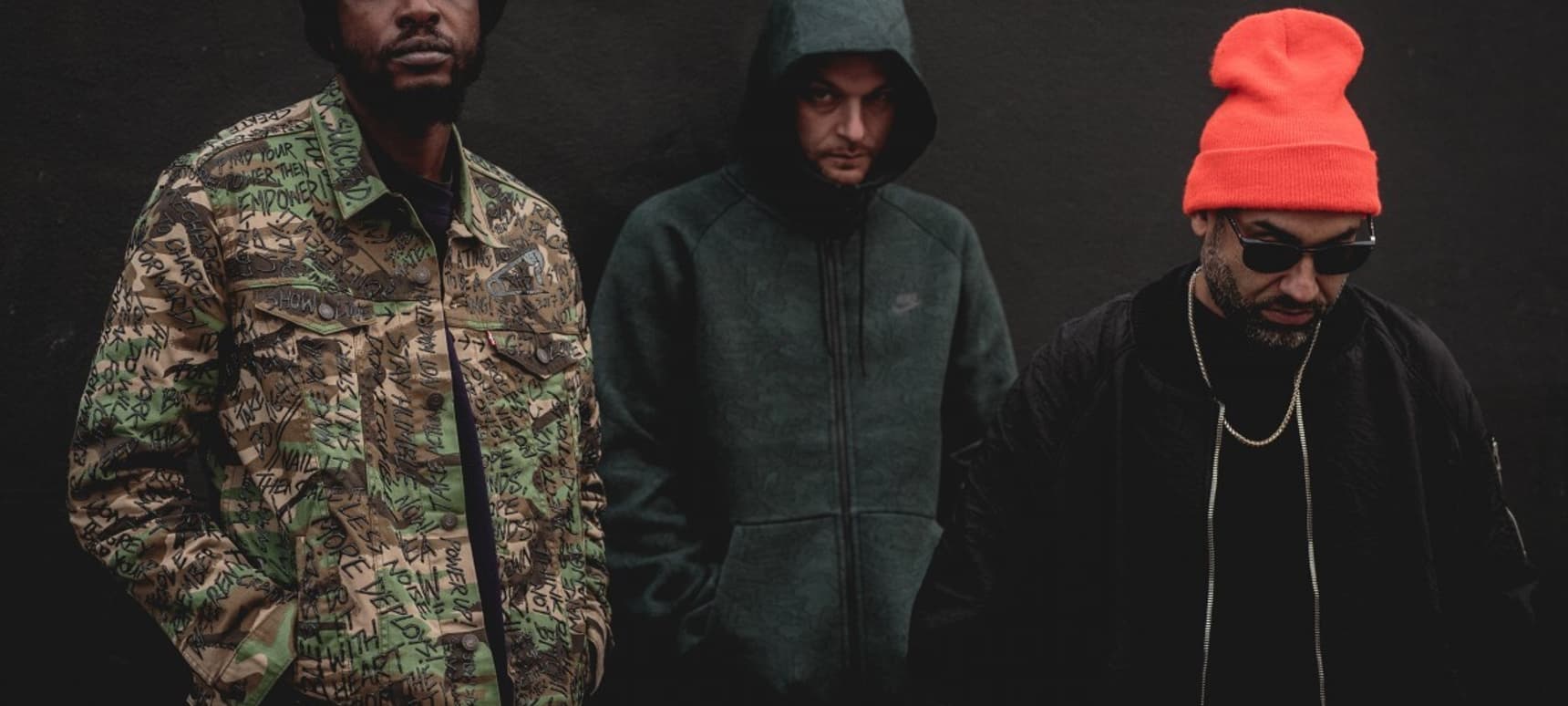 06.02.2018, Words by dummymag
The 10 best pre-millenium Metal records, according to Foreign Beggars
Foreign Beggars aren't your typical UK hip-hop group. The group met in Dubai in 1993, whilst playing in various rock and metal bands and subsequently formed a hip hop group that has become Foreign Beggars.
The multi-genre trio's unique trajectory has seen them evolve from underground hip hop heroes to a trailblazing electronic crossover act without ever forsaking an ounce of their inimitable energy, from studio recordings to a second to none live show. 2 2 Karma, their first solo project since 2012, is to be released on February 9th, and will feature artists and MCs including Kate Tempest, Kojey Radical and OG Maco, as well as production features from some of bass music's most sought-after producers – Alix Perez and Ivy Lab. Tasters such as 'Toast' and 'Waved' mean that we are very hyped for the release.
Despite hip-hop running through their veins, they haven't forgotten their roots, and much of their rebellious, don't give a fuck attitude originates from their early days as rockers. Especially within the frantic, psychotic milieu of metal. Wearing this firmly on their sleeves, their selections below are representative of their roots – their visceral, potent and mesmeric roots.
Pantera – Mouth for War
FB: "Pantera at their rawest, most unapologetic. Pure power energy with a lot of angst & soul."
Sepultura – Refuse Resist
"Off the Chaos AD album. The riffs are killer and it's a protest beast. The video was a problem too."
Testament – Low
"Testament doing Testament to the max. This is the CD I got caught teefing I referred to in 'Flashback' (produced by Alix Perez)."
Morbid Angel – Where the Slime Live
"This is a special Morbid Angel one for me, pure sludge! It sounds like the demons in hell have been drinking lean."
Meshuggah – Future Breed Machine
"Pure fucking power, Meshuggah invented a new genre that's heavier that most metal."
Deicide – Sacraficial Suicide
"Beats of a track originally recorded in the late 80's and it was on their first demo when the band was called Amon."
Napalm Death – World Keeps Turning
"Pure left wing activism and the track bangs so hard. Truly subversive lyricism, I read them out as a poem in my English class when I was 11."
Disincarnate – Stench of Paradise Burning
"James Murphy's project and just a fucking classic brutal death metal banger."
Death – Spiritual Healing
"R.I.P. Chuck Schulindner, one of the forefathers responsible for pushing musical excellence: Death Metal. Just listen to the track to understand."
Demolition Hammer – Mind Rot
"Unrelenting punk New York fuck you in the face death power groove shit."
Listen to Dummy's curated playlists on Spotify.