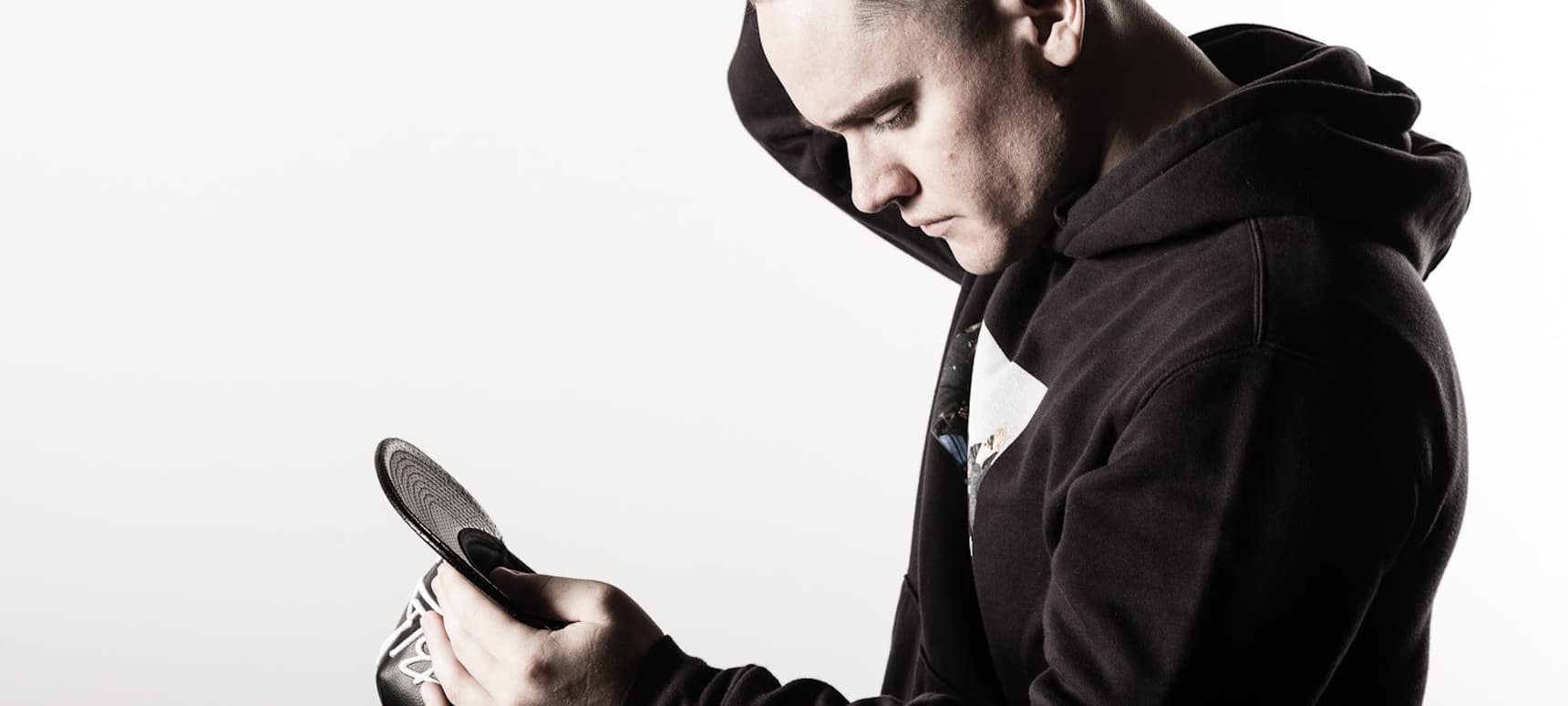 07.09.2015, Words by Natalie /
10 important proto grime tracks, according to Logan Sama
DJ, radio host and innovator Logan Sama has been steering the grime whip for a while now. Rising to prominence through the ranks of pirate radio, he put in work during his early days at Plush FM, later skipping to the slot before Roll Deep on the then pirate Rinse FM after being spotted by Slimzee. Sama then jumped ship to Kiss FM, where he ruled the grime roost for over a decade until his show drew to a close last year. One of the earliest adopters of grime, he's aired some of the best instrumentals on the circuit, subsequently laying the foundations for the scenes best spitters including Wiley, Dizzee Rascal, Tinie Tempah, Skepta, Ghetts and many more.
Cementing his place in the scene, Logan Sama releases his edition of the highly esteemed FABRICLIVE mix later this month. Marrying up classic producer and MC combos like steak and frites (served rare), he reflects on grime on its past and present state, looking forward to the future by injecting a dose of the new wave. There's instrumentals from Davinche, Wiley,Trends, Kahn and Neek and Spooky plus vocal talent that ranges from D Double E, Novelist, Jme, Jammer, J Dot, Footsie, Wiley and Kano, even backtracking to Meridian Crew squad President T (it's large) and Bossman Birdie. After spending months collecting acapella bars and creating what he calls a "sonic collage" over his mix, Sama has hit the nail on the head with his comprehensive overview of Britain's healthiest underground scene.
People regularly talk about the past and the 'first wave' of '00s grime, but a lot can be said about the formative years before the genre took its hold. The years when the scene switched dramtically as hybrid tracks bubbled up from garage, breakbeat and jungle scenes respecitively, merging together and laying the path for the moodier and darker sound of grime. Tracks that paved the way for new levels of 'do-it-yourself' production and MCing; an easily accessible scene where only Fruity Loops (or even just a PlayStation) and a mic, and a mate with witty lines was needed. To celebrate his FABRICLIVE mix and the sound he championed since its inception, Logan Sama digs deep and shares 10 genre-shaping, proto-grime tracks with us.
01. Musical Mob Pulse X
Logan Sama: "One of the most important tracks both sonically and also in terms of the DIY ethos behind Grime. Youngstar produced one of the first out and out '8 bar' tunes for this West London collective. It was rumoured to have been made on Playstation software Music 2000 and this inspired a new generation of kids to run out and stock up memory cards full of their musical sketches and ideas. It democratised music for British kids."
02. So Solid Crew Dilemma
Logan Sama: "Pre dating Pulse X by a couple of years, this is one of the first tracks that you could really say wasn't garage anymore. It was something new, inspired by the big jungle tunes that MCs were spitting on before Garage became the thing to do. EZ made this famous for the most part, playing it on dubplate in his sets alongside Todd Edwards and Bump N Flex records. This really stuck out and in a rave it was the biggest forward of the night."
03. Dom P & Dynamite Hungry Tiger
Logan Sama: "This record was about at a time when 'underground garage' and 'garage crews' were at their peak. So Solid had a huge album, Pay As U Go were the next to go through and Heartless Crew were killing the dances week in week out. A stripped down style, kung fu movie samples and a recognisable bass synth riff made this one a white label essential if you could get it."
Logan Sama: "Another record that was just as big for UK garage legend EZ as it was for then pioneer of this new sound, DJ Slimzee. The dubplate specials of this track played by the elite few helped make it stand out as the time stretched sample of the DJs name became famous in the mix as they chopped in the distinctive drum pattern of the intro. Another distinctive bass line riff made this one a classic across tapes and raves."
05. Masterstepz Melody
Logan Sama: "This came out in 1998 – a full four years before Grime was really a thing. But it sowed the seeds as garage became strongly influenced by hip hop style drum patterns and jungle basslines. This record was so distinct from what garage sounded like at the time. It was absolutely massive, all EZ had to was chop in the triplet claps from the intro and a rapturous noise would come from a crowd leaping in the air for joy."
06. DJ Zinc 138 Trek
Logan Sama: "During an era when DJ EZ was playing literally anything he wanted as long as he could mix it in, there were some incredible cross over records from outside of the garage scene that were featured in sets. Mr Oizo's Flatbeat, Azzido Da Bass' Dooms Night and Second Protocol's Basslick amongst a few of them. But none were bigger than Zinc's breakbeat anthem 138 Trek. Named after the bpm of the track and the sample of Captain Kirk at the start, 138 Trek really dominated the underground Garage scene and saw DJs rushing out to buy breakbeat tracks from the alter egos of DJ Hype, Zinc and many more."
07. Wookie Storm
Logan Sama: "Rumoured to be a counteraction to Zinc's garage to breakbeat crossover 138 Trek, Wookie flipped the script with Storm. Usually known for his melodic yet tough soulful tracks, this is one of the moodiest and angriest sounding records I think I have ever heard, making it was perfect for a newly emerging MC led pirate radio circuit. It really sorted the men from the boys if you could mix it from the edge."
08. Wiley Know We
​Logan Sama: "This might still be my favourite Wiley record to this day. As an MC, producer and DJ, Wiley was part of a new generation of artists that had crossed from jungle to garage. He brought with him a new youthful perspective on making music that threw out the garage conventions and created tracks like this. The thunderous horns, distinctive drum patterns and rolling bassline made this one a real favourite at raves like Sidewinder, which allowed traditional garage and this new sound to co-exist and cross pollinate."
09. Heartless Crew Superglue
Logan Sama: "Heartless Crew were the first garage sound system. Selector Fonti alongside mic men Bushkin and Mighty Moe were running dances across the UK with their mix of great selection and uplifting vibes and lyrics. They were the peoples champions in an era of garage where people just wanted to hear great music and not worry about genre boundaries. This led to their famous 'Crisp Biscuit' style where big 70bpm r'n'b, hip hop and dancehall tracks were mixed into the most popular garage beats of the time. They also made a few lethal dubplates themselves and this was by far the biggest…their theme-tune."
10. Sticky ft Miss Dynamite Booo
Logan Sama: "Sticky was a producer who brought a unique influence to garage and helped shape what grime would become. Coming from an r'n'b and reggae background, his tough basslines and stiff drums were worlds apart from the sickly sweet 2-step of the late '90s. He also was responsible for some of the biggest MC led tracks including this one. In a time when MCs were coming to the fore, there was a distinct lack of females representing. Ms. Dynamite not only represented for the females but she took on the men as well with this record. It was absolutely massive at the time and she inspired a generation of young girls to try their hand at the MC art."
'FABRICLIVE 83: Logan Sama' is due for release on 25th September (pre-order).