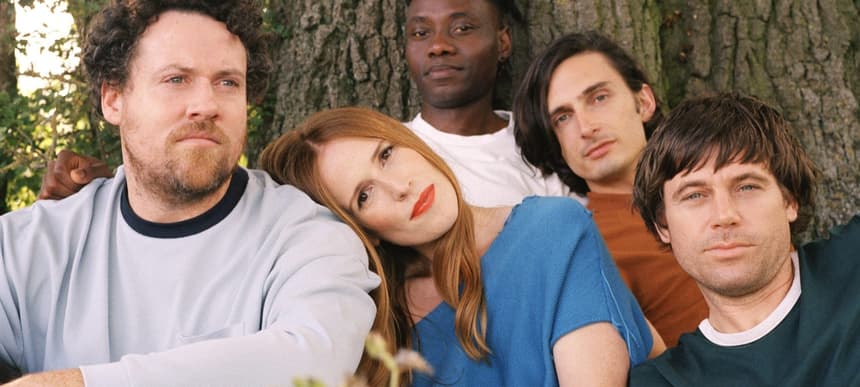 11.04.2022, Words by Billy Ward
The 10 Best Ridiculously Positive Songs, according to Metronomy
"You'd hear it blasting out of Citroen AX's driven by people who'd just passed their driving tests..."
Back in the early days of Metronomy, Joe Mount – the band's frontman, songwriter and singular permanent member – got his dad to help make the first CDs and demos he put out into the world. It's now been 16 years since the group released their breakout album 'Pip Paine (Pay The £5000 You Owe)' in 2006 and a lot has changed. Steering the outfit from a lo-fi side project to being one of the mainstays of 21st century British pop music, Mount has spent the last 2 decades pushing Metronomy's creative boundaries while keeping his clever melodies and production at the forefront.
Back in February, the band released their seventh album 'Small World', a record put together during lockdown that nods to the ways our worlds shrunk as we were asked to stay at home. Weary of producing an all-out pandemic album, however, Mount's writing on the LP revolves around the passing of time and embraces a return to simple pleasures, nature, and a more slow-paced, family-oriented lifestyle. Following a difficult couple of years from which 'Small World' was born out of, Mount believes we could all do with a bit more positivity in our lives. Luckily, we sat down with Metronomy's main man to run through his all-time favourite uplifting tracks, winding back the years with Bob Marley, Ice Cube and some smoke-filled anecdotes from his school days.
1. REM – 'Shiny Happy People'
"The thought process behind this playlist is one of re-evaluation. I'm listening to songs my younger self hated and trying to get to grips with them now as a more mature listener, it's a sort of self-help/therapy session through music. I would hear lots of songs as a youngster that I just honestly did not get. Although I was 9 when this song was released, Shiny Happy People and REM came into my consciousness at the same time that I was listening to Nirvana. To me, it was totally at odds with what guitar music was about. Where was the angst?!? Who was shiny and happy? I was grungy and grumpy. WTF."
2. The Boo Radleys – 'Wake Up Boo!'
"Imagine waking up for school on a crisp summer morning as the end of term approached, you'd turn on the radio and hear this song. How was I supposed to feel? On the one hand it captured wonderfully the excitement of being young and the approaching summer holiday. But on the other, where was the nuance? Where were the rude words that I'd find in Green Day songs? God I was conflicted."
3. Stevie Wonder – 'Sir Duke'
"I got into Stevie Wonder through my sister and some of her jazzy friends. I love him so much, he makes music that affects me in a way that no one else's can. Through his lyrics he's been a very insightful and important social commentator for many years. So, I would not in the slightest describe him as a feel good songwriter. But, Stevie does sometimes have a tendency to just go with the flow and write liquid cherry blossom. 'Sir Duke' is a pure feel good song. I actually have no problem with it, it's a good way to get into Stevie Wonder and it teaches you a bit about jazz along the way."
4. Bob Marley & The Wailers – 'Three Little Birds'
"Bob Marley was hijacked by all the stoners at my school. For that reason I never took him seriously, which is a massive disservice for which I apologise. But let's set the scene; you're getting stoned at your friends house, you probably already feel a bit paranoid because some adults might burst in at any moment. You're also smoking very strong skunk because unbeknownst to you your friend is using it as a gateway drug. Someone says 'this Portished record is a downer, let's listen to Bob Marley'. So they put this song on. Suddenly you're being told not to worry about a thing, which only makes you more afraid…you're in a death spiral."
5. The Sundays – 'Summertime'
"This is an example of a feel good song that feels so good that it almost tips you into a state of depression. There's something about the instrumentation and Harriet Wheeler's voice that dates it in such a way it becomes achingly nostalgic. Still, there's no better song to play in the summertime with the love of your life. NB – Listen to their version of Wild Horses which Susanne Boyle went on to cover for the other side of this coin."
6. Talking Heads – 'And She Was'
"In the run up to the release of the new Metronomy album – SMALL WORLD OUT NOW – I was talking about songs you'd hear in your parents car as a child. This for me is a classic 'parents taste in music' song. But of course, back then I had no idea of the type of band Talking Heads were. This is a feel good song about a woman moving freely in the world, written by a man. Perhaps it's darker than I first realised."
7. Len – 'Steal My Sunshine'
"I was an actual teenager when this song was released, imagine that? It would be played at parties where we'd try to copy American films, it would be on people's mini-disc players. You'd hear it blasting out of Citroen AX's driven by people who'd just passed their driving tests. It soundtracked many a failed teenage relationship. Oh god, this one's doing the same thing that the Sunday's one did, it's becoming too poignant now, turn it off!"
8. Deee-Lite – 'Groove Is In the Heart'
"I was at a party not so long ago when this was played. I saw a woman immediately leave the dance floor, she stood not that far from me fuming and said "I absolutely hate this fucking song". I've never seen someone react quite so badly toward a song before, I was impressed. I guess it's one of the most ubiquitous feel good party songs you're ever likely to hear. It goes down a treat at a wedding or at a 40th. Perhaps a day will come when people start having it played at their funerals."
9. Daft Punk – 'Crescendolls'
"I couldn't bring myself to put 'Get Lucky' on this list, not even I can find a positive spin to put on that song. This one however, is an easy win. Pure club feel good banger, always ascending, always moving forward, like a musical version of seeing a light at the end of the tunnel. I challenge you not to tap your foot to it and at the same time I challenge someone to make some more feel good instrumental house music!"
10. Ice Cube – 'You Can Do It'
"If the name of the game is positivity, then I'm not sure I can think of a more positive message and song than this one. I'll put this on when I'm doing some particularly difficult weeding or manual labour. It's great for when you've had a load of sharp sand delivered from Wickes. Enjoy the playlist!"
Stream 'Small World' below:
Read next: The 10 Best Pieces Of Gear Used On 'Memoria', according to Trentemøller