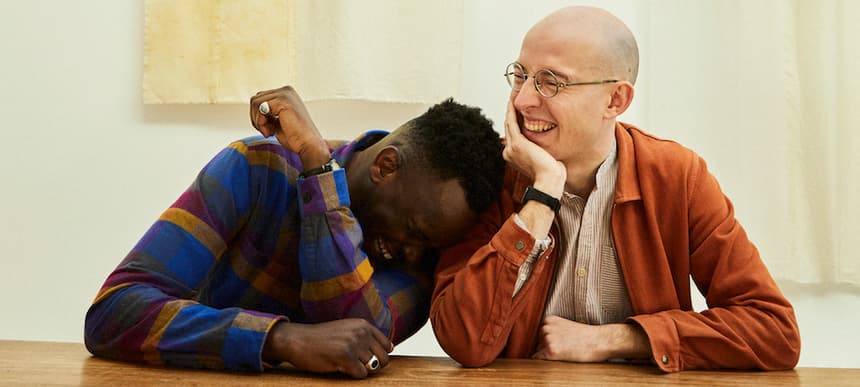 19.08.2021, Words by Maisie Goulsbra
The 10 Best Samples, according to Mr Jukes
"It sounds like nothing else I've heard before. Is it a drum or a synth?"
Producer Mr Jukes' music is stylistically akin to the golden age of hip hop in that it is heavily laden with rich funk, soul and jazz samples, elevated by the freshness of the 21st century's higher quality production. Mr Jukes is the solo endeavour of Bombay Bicycle Club's Jack Steadman, a project that he quickly realised worked best as an all-round collaborative effort, with his first album 'God First' featuring the likes of legendary soul singer Charles Bradley, De La Soul, BJ The Chicago Kid and Lianne La Havas.
Mr Jukes discovered Barney via a Spotify playlist while writing his first album, God First, and the two instantly clicked. Barney Artist (who has a track with Loyle Carner and Tom Misch) annunciates each line with warmness and charisma – fast forward to now and the pair have collaborated on all of the album's ten tracks, adding Lex Amor's iconic vocal and Kofi Stone's evocative storytelling onto tracks 'Autumn Leaves' and 'Check The Pulse' respectively.
Mr Jukes and Barney Artist have just announced a headline UK tour, and Mr Jukes has dug through the crates and selected his 10 favourite uses of samples for Dummy. Find out what he chose below.
1. Kendrick Lamar – 'Sing About Me, I'm Dying Of Thirst' (Grant Green – 'Maybe Tomorrow')
"Possibly my favourite instrumental of all time. Grant Green has been sampled countless times but this is easily the most beautiful and melancholy chop I've ever heard. It's a good example of a sampler's creativity as different chords are taken from different parts of the original and rearranged to create something entirely new. Bonus sample is the drums which are from a Bill Withers track."
2. Kanye West – 'Touch the Sky' (Curtis Mayfield – 'Move On Up')
"Just Blaze cut up this Curtis Mayfield track in such a clever way. There's a small section without vocals to use as the instrumental for the verse, but it does have strings over the top. What he realised was that the strings appear in only the right side of the mix so if you just take the left side you can get rid of the strings! I do this a lot with samples, as a lot of old records from the 60s and 70s were mixed in such a way that the left channel could just contain drums and the right channel just guitar. You can isolate exactly what you want."
3. Mobb Deep – 'Survival of the Fittest' (Barry Harris Trio – 'Skylark')
"This is a great example of how changing the pitch and speed of a sample can inspire a totally new composition. The Mobb Deep track is totally unrecognisable from the original sample as it has been slowed down many times. It is transformed from an ordinary bright sounding jazz loop to a dark, broody and mysterious sound. This is a bit of a theme of the Mobb Deep album and I love it."
4. A Tribe Called Quest – 'Find A Way' (Technova – 'Towa Tei')
"Something very cool happens in this song in which the original sample actually inspires the lyrics of Phife Dawg's chorus. The original is all in Portuguese and when you hear it you do actually hear something similar to what Phife sings in English. For me samples are a great springboard for inspiration. Sometimes all you need is a little nudge to bring out your own creativity, and often you can create something even more unique than if it was done from scratch."
5. J Dilla – 'Two Can Win' (The Sylvers – 'Only One Can Win')
"I am in awe of how Jay Dee arranges this track in such a refined way. A big challenge for producers who use samples is keeping the momentum going for three or four minutes long. When I compare the beat to the original from the Sylvers I always think, 'Wow I never would have thought of that'. You can really tell that Dilla has listened to the original intently and soaked it all in so that he can step back and know exactly which sections to put where."
6. MF DOOM – 'Orris Foot Powder' (Arthur Verocai – 'Na Boca Do Sol')
"On the flip side of that, sometimes all you need to do is let the sample play out! This one needs little arrangement as it is so powerful! This is also a good example of how samples can introduce records to a whole new audience. I went down the rabbit hole of Arthur Verocai's music (and that era of Brazilian music in general) after hearing this MF DOOM track."
7. Onra – 'The Anthem'
"Sampling spans so many styles of music and leads producers to all corners of the record store. For me that is one of the beautiful things about it. Whether it's Madlib's Beat Konducta series (in India and Africa) or Onra's Far Eastern sounds… sampled music introduces you to an eclectic mix of musical styles and cultures. This sample is so good, you can't even find it anywhere online. I think Onra didn't clear any of his samples and has kept them quiet…"
8. Dizzee Rascal – 'Fix Up, Look Sharp' (Billy Squier – 'The Big Beat')
"Sometimes a drum break is so powerful that you don't need much else to carry a song. Other songs have sampled The Big Beat (Jay-Z, Alicia Keys) but nothing comes close to how raw Fix Up, Look Sharp sounds. It's so hard to strip back a song to so few elements – most producers want to just keep adding stuff."
9. Kanye West – 'Blame Game' (Aphex Twin – 'Avril 14th')
"The best samples are always the ones that make producers say "why didn't I think of that!?". The first time I heard this I was kicking myself. The Aphex Twin original is such a beautiful piece of music, and lends itself so well to having a beat over it. The drums on this are so sensitive and understated, and that's the challenge for every producer.. to pick and choose the right sounds that will compliment the original sample."
10. Jeru The Damaja – 'Come Clean' (Shelly Manne – 'Infinity')
"This is such an esoteric and captivating sound that DJ Premier found and decided to base this whole beat on. For me that's the genius of it. It sounds like nothing else I've heard before. Is it a drum or a synth? What made him think "I can make a hit out of this?" Obviously huge credit to Jeru The Damaja for carrying the song. One of the most unique beats ever made."
Listen to 'The Locket' on your preferred streaming service here.
Read next: The 10 Best Songs by The Beatles, according to Jungle.