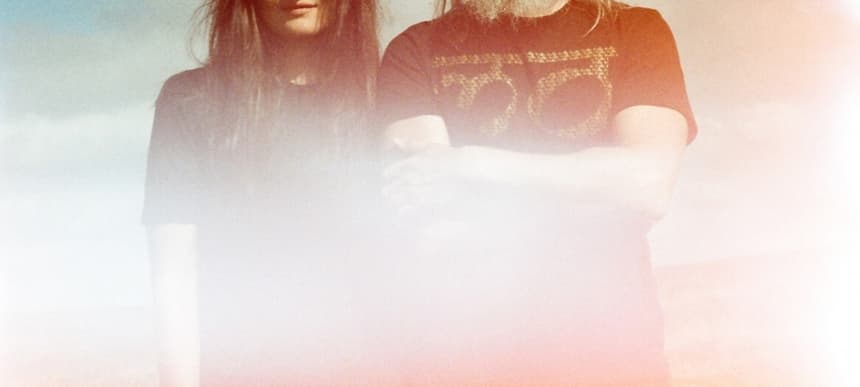 25.02.2015, Words by dummymag
The 10 best San Francisco tracks, according to Moon Duo
Moon Duo's last album, 2012's 'Circles', was conceived around Colorado's Rocky Mountains, but their latest was formed a little closer to home. Recorded in a dank Portland basement during a period of downtime from their usual non-stop touring schedule, 'Shadow of the Sun' is far from the calmer, more reflective listen that you'd expect from a band taking some time out: if anything, this period of stasis just made Moon Duo more restless and eager to expend their pent-up creative energy.
Ripley Johnson and Sanae Yamada formed Moon Duo in San Francisco in 2009 – initially as a counterpoint to Johnson's work with the more established Wooden Shjips, but arguably going on to eclipse them. In the six years since the cosmic rock duo formed, Johnson and Yamada have repeatedly upped sticks and travelled wherever the band needed to go for their music – the aforementioned Rocky Mountains and Portland, obviously, but also to Berlin, where all three of their albums have been mixed. And yet no matter what happens, Moon Duo always have been and always will be seen as a San Francisco band.
In ode to the city that birthed them, here guitarist Ripley Johnson discusses some of the lesser known bands from San Francisco and the Bay Area that informed Moon Duo's musical outlook. Obviously legendary West Coast punk groups like Flipper are here, but Johnson's knowledge of San Francisco's musical lineage extends to lesser-known names, like psychedelic rock group Frumious Bandersnatch.
01. Blue Cheer
Out of Focus
Ripley Johnson: "Named after a batch of Owsley acid, these guys were the heaviest band to come out of the Bay Area in the '60s. Leigh Stephens had a really fierce approach to lead guitar, and would make the most discordant notes sound beautiful."
02. Frumious Bandersnatch Woodrose Syrup
Ripley Johnson: "One of my favorite forgotten SF psych bands. The sound is kind of typical of the time, but I like that kind of thing. They only released a three song EP, but there are some comps that collect unreleased and live tracks."
03. Quicksilver Messenger Service Pride of Man
Ripley Johnson: "Mostly I like Quicksilver for John Cipollina's signature, vibrato guitar attack, and their long jams. This is a nice, more focused track off their first album."
04. Alexander "Skip" Spence Books of Moses
Ripley Johnson: "I guess a lot of people think of Skip as an American Syd Barrett. He played drums on the first Jefferson Airplane album, then guitar for Moby Grape. He wrote great songs. His one solo album, 'Oar', is really dark, recorded alone after his meltdown."
05. Fifty Foot Hose If Not This Time
Ripley Johnson: "Fifty Foot Hose were probably one of the first electronic rock bands. Their album 'Cauldron' has a weird mix of rock, pop, experimental sections, and pretty aggressive electronics for the time."
06. Chrome Heart Beat
Ripley Johnson: "I guess I see the connection between the SF '60s acid music and later SF punk in the band Chrome. It some ways it's not that different from Fifty Foot Hose, but the aggressiveness is really cranked up."
07. Flipper Sex Bomb
Ripley Johnson: "I'm not a big punk fan, but I like the weird stuff – and Flipper were pretty weird."
08. Crime Hotwire My Heart
Ripley Johnson: "OK, Crime weren't quite as weird, but this track is so shambolic and good. Most people know the Sonic Youth cover version."
09. Factrix Phantom Pain
Ripley Johnson: "I've heard this called proto-industrial. I don't know anything about that, but it's dark and cold and beautiful music. From their great album 'Scheintot'."
10. Monoshock Destination:Soil
Ripley Johnson: "Monoshock were a big inspiration for me, though I moved to SF after they had disbanded. I came across their opus, 'Walk to the Fire', in a record store and bought it based on the cover and because they were local. They were like a mix of Flipper, Chrome, and Blue Cheer, but at a time when no one seemed to be interested in that sort of thing."
Sacred Bones release 'Shadow of the Sun' on March 2nd 2015 (pre-order).