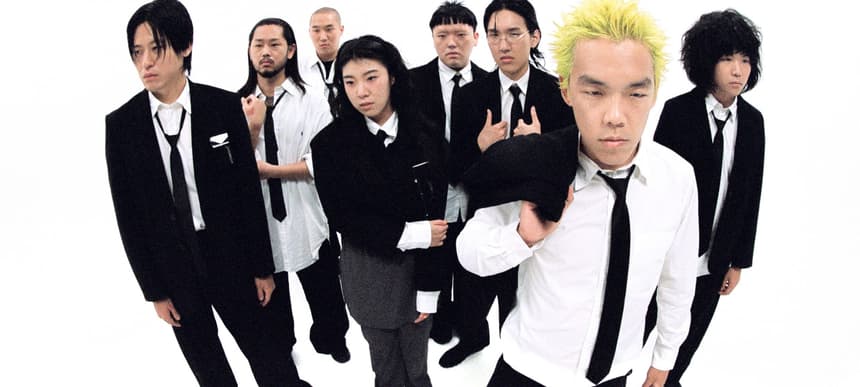 22.09.2022, Words by Billy Ward
The 10 Best 'Sexy Nukim' Tracks, according to Balming Tiger
"Enough to remind us of the mystery of our bodies..."
There aren't many groups in the world better equipped to put together a 'sexy nukim' playlist than experimental K-pop band Balming Tiger. Roughly translating to 'feeling sexy' in English, the Korean catch-phrase titles the band's latest hit single (featuring international superstar RM from BTS) while encompassing their gloriously avant-garde and seductive sound.
The Seoul-based collective's chaotic wonderland of alt-pop and hip hop has made them one of South Korea's most exciting groups in recent years, representing and reflecting issues facing the youth of today while aiming to further popularise Asian culture throughout the world. Founding member Omega Sapien's recent solo EP 'WUGA' featured NUXXE label head Sega Bodega, ensuring his bubbling amalgam of digital hardcore, hyper-pop and alt-rap bleeds through into Balming Tiger's creative output.
To celebrate the release of their biggest track to date 'SEXY NUKIM', the K-pop/K-rap band sat down with Dummy to put together a sexy playlist of their own.
1. N.E.R.D – 'Hypnotize U'
"It is a song that makes you feel 'SEXY NUKIM' properly in all parts of the music and lyrics. It's a song that made us realise that putting vocal techniques on sticky beats is not the only sexy R&B."
2. LSDXOXO – 'Sick Bitch'
"It is a song that creates synergy with restrained rhythm and destructive lyrics. We like the restrained sexiness that can be felt even in the singing style."
3. St. Vincent – 'Savior'
"It is an attractive song with explicit lyrics and sticky guitar riffs."
4. Rosalia – 'Hentai'
"It is a song that unravels the psychology of desperately wanting someone in a stimulating metaphor…'Ya te quiero hacer hentai' (I already want to make you Hentai)."
5. Channel Tres – 'fuego' (Feat. Tyler, The Creator)
"The hottest and most confident voices of the day are Channel Tres and Tyler, the Creator. It's a combination of the two, so we're done."
6. Jackson Wang – 'Cruel'
"It's the most memorable song we've heard recently. We recommend you to watch the music video if possible. This combination of the sexy performance with a psychedelic beat is great."
7. Omega Sapien – 'PLUM' (feat. Sega Bodega)
"The combination of Omega Sapien's chewy rap and Baauer's bouncy beat will boost your excitement."
8. Sega Bodega – 'Only Seeing God When I Come'
"Sega Bodega's neutral voice and cold sound are both empty and longing for love. It's like a silent roar."
9. Liu Lee – 'Fabulous Stain'
"From the visual of the album ('Jasmine') to all of the tracks, you can feel 'SEXY NUKIM' outstanding."
10. Leesuho – 'MOM' (feat. So!YoON!)
"The song title 'MOM' means 'body' in Korean. First of all, the texture of the song is horrifyingly explicit. A series of offbeat rhythm and metaphysical sound samples are enough to remind us of the mystery of our bodies."
Watch Balming Tiger's 'SEXY NUKIM' music video (feat. RM of BTS) below:
Read next: The 10 Best Influential LGBTQ+ artists, according to Jimi Jules