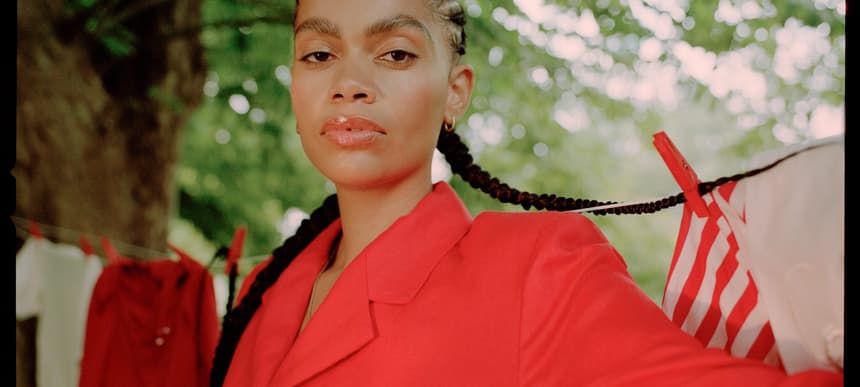 03.10.2022, Words by Billy Ward
The 10 Best Songs For Social Change, according to Joya Mooi
"Vouch to listen to this every day - you'll change..."
Amsterdam-based songstress Joya Mooi's desire to shape a better future fuels Side A of her new album 'What's Around The Corner', a thought-provoking body of work delving into the theory of social change on both a political and personal level.
The daughter of a South African freedom fighter, Joya's music aims to give insight into the experiences of a new generation from the African diaspora and spark change for the better, merging the worlds of pop, trap, R&B and more to toast her sonic expression. Keeping in line with the themes of the album, Dummy sat down with Joya Mooi to delve into her favourite tracks for bringing about social change.
1. Janet Jackson – 'What About'
"When I first heard the Velvet Rope, I was years too young to really know what it was about. But it spoke to me; the rage, the emotions. I truly admire Janet Jackson for telling this story about abuse in this vulnerable way."
2. Abdullah Ibrahim – 'Mannenberg'
"As a daughter of a South African political exile, this song holds so many feelings. From hope, resistance, resilience to identity. It's the anthem of the anti-apartheid struggle that set so many people in motion."
3. Kendrick Lamar – 'Alright'
"I mean, instant anthem. This song brings solace, it's an uplifting reckoning. It takes your hand, makes you stand tall and it shows you where we could be in the future. There's nothing like it."
4. Rochelle Jordan – 'LAY'
"Sonically it sounds like a love song, but there's so much to it. It's about the anxiety and emotions that black people got through with their loved ones in the face of racism, police brutality. Hoping deeply they return safely to your arms, every night."
5. Noname – 'Rainforest'
"Her delivery man…asking brilliant questions and being so nonchalant though factual about the environment and global injustice. And connecting anti-Black violence, capitalism, and colonisation so eloquently."
6. Mustafa – 'What About Heaven?'
"How do you cope with losing a loved one due to violence? 'What About Heaven' is so powerful – it's the emptiness, the pain, the larger chains of loss. Wanting better for your community. How can you not feel despair and want action?"
7. Mansur Brown – 'God Willing'
"So strange how songs without any vocals/lyrics, can move you. Fortunately I heard this song live in London and I couldn't stop crying. Music is such a strong language to come together as people – would vouch to listen to this every day – you'll change."
8. Georgia Anne Muldrow – 'Seeds'
"Really look up to Georgia as a writer, musician about being vocally conscious. You can hear in her music that she cares so much about the environment, Black representation and much more. Seeds made me question the food industry on a new level."
9. Nana Adjoa – 'I Want To Change'
"I think fighting for social change can be ruthless for your personal life. This song captures beautifully how hard it is to get yourself in motion and how uncomfortable it can get. Changing the world is also changing yourself."
10. Little Simz – 'Introvert'
"The entire album is amazing but especially this song and video struck me. It's powerful, it celebrates blackness in a universal way. She charges and goes off with drums, horns, guns blazing and bars for days."
Stream Joya Mooi's new album 'What's Around The Corner (Side A)' below:
Read next: The 10 Best Tracks On How Shit The People In Power Are, according to Finn Foxell