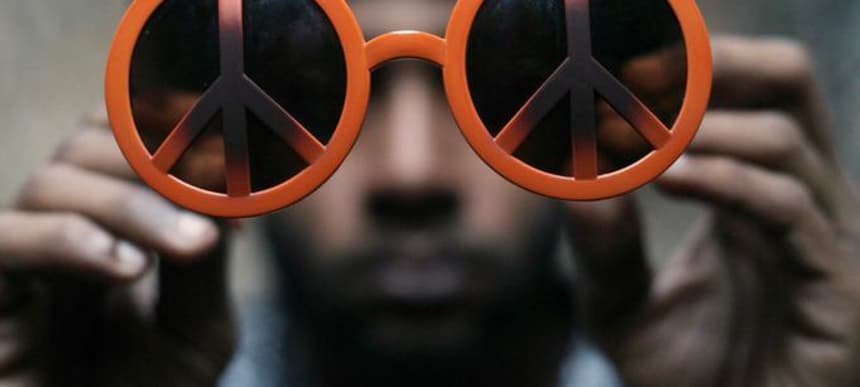 21.10.2014, Words by dummymag
The 10 best songs from my teenage years, according to Seven Davis Jr
Seven Davis Jr was born into the gospel world, and he probably would've pursued a career in this sphere if it hadn't been for a discovery of underground hip hop, house music, and cosmic funk. Led astray, he worked as a ghostwriter for rap groups, as a session vocalist, as a scriptwriter, and as a poet, until a chance encounter with Kutmah led to the release of 'The Lost Tapes Vol. 1', a collection of Davis cuts dating back to the late '90s. From that, he scored an underground hit in One, a song that arrived so fully formed that, to an outsider, it was as if Seven Davis Jr hadn't been making music for 15 years, but had sprung up out of nowhere.
Davis is set to play Simple Things festival in Bristol and Glasgow over the coming weeks, and before those appearances, he's decided to wax nostalgic, selecting 10 songs that remind him of his teenage years. Touching on his well-documented love of Portishead and Hendrix, as well as house singer Crystal Waters and Davis's secret history as a grunge fan, it's a guide to some of the music foundational to Davis's output.
Seven Davis Jr: "I used to listen to this on the bus on my way back and forth to school. I used to play the entire Portishead album over and over again. When I showed friends at school what I was listening to on the headphones, most thought it was pretty strange."
02. Jimi Hendrix Hey Joe
Seven Davis Jr: "I prefer the live versions than the recording, because the section at the end is where the song really comes alive. I remember hearing this song for the first time and falling in love with the story, even though the song is basically about murder."
03. Crystal Waters Pure Love
Seven Davis Jr: "This is still one of my all time favourite dance tracks. The combination of the beat, the drum swing, Crystal Waters' swag, and the lyrics is so good."
04. The Fugees How Many Mics
Seven Davis Jr: "The reasons I like this song are all in the verses, specifically Ms. Lauryn Hill's. However, I enjoy all the verses on this song. I couldn't get enough of The Fugees during this time – lyrically, it was just so fresh. Also, I had a huge crush on Lauryn Hill."
05. A Tribe Called Quest Find My Way
Seven Davis Jr: "How can anyone not like this song? Total vibes. When I heard the beat for the first time I completely flipped. Then when the chorus comes in – killer. Classic."
06. Brandy Brokenhearted
Seven Davis Jr: "Besides having one of the most beautiful, skilled voices in the business still 'til this day, I also had a huge crush on Brandy. I had a lot of crushes as a teen, but Brandy held the top space for the majority of those years."
07. Mary J Blige You Bring Me Joy
Seven Davis Jr: "To me, when I first heard this song, it was like house music to me. I've always loved, and still do love, Mary J. Blige. Really glad she is working on more dance music now."
08. Soundgarden Black Hole
Seven Davis Jr: "This song fuelled some of my darker periods. I think we all went through weird phases when were young – at least I'm guessing. Anyways, this song was my anthem when I started becoming independent and began to rebel against what I considered to be a 'brainwashed' society. Also, the lead singer has a soulfulness in his voice that I can really relate to – he means what he's singing!"
09. Nirvana Come As You Are
Seven Davis Jr: "Again, it's all about the lyrics in this song. I must admit, it took me a while to get into Nirvana, and when I did, most people at the time had already moved on. Eventually I grew to love Nirvana, and also the Foo Fighters, after hearing this song."
10. 112 Cry On
Seven Davis Jr: "It's no secret that I came from religious background, and although I consider myself 'spiritual' and not 'religious', I still enjoy some religious music. There is a passion behind it that you just don't always get from other kinds of music. 112 are also one of my favourite male singing groups – in the top three. Their harmonies and blending is just on point. I would listen to this song when I was feeling down, and it would always help me through whatever was happening in my teenage world at the time."
Seven Davis Jr plays Simple Things festival, taking place in Bristol from October 24th-25th 2014 (more information and tickets) and Glasgow on November 1st 2014 (more information and tickets).