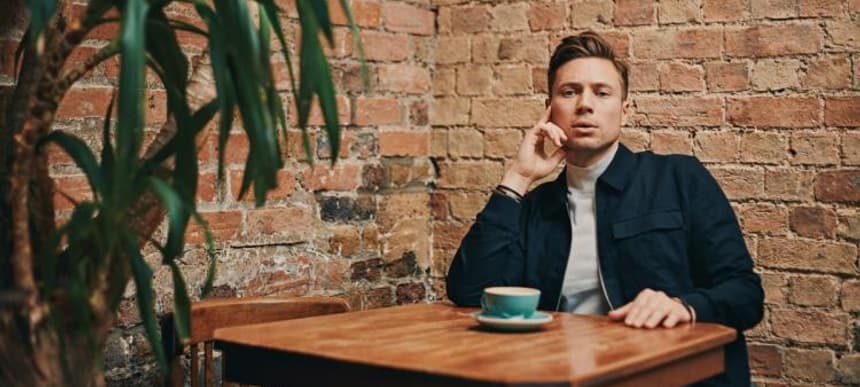 15.11.2018, Words by dummymag
The 10 Best Sonic Side Projects, according to Invisible Minds
Invisible Minds aka Tim Green lists his favourite acts operating under a separate guise...
Sonic side projects are an attractive prospect to an artist; it's a chance to explore realms of different genres they couldn't touch under their day-to-day moniker, or simply to get some time out from their usual band setup. Tim Green is someone who knows this – as Invisible Minds, he's been able to delve into more melodic, trip-hop inspired sonics, away from the kind of propulsive techno he bangs out on the regular.
When his debut single 'Yo Mae Leh' dropped in 2017, no-one knew who was behind the guise. He's since been uncloaked as Green, and now on the brink of releasing his debut 'Make Up Your Own Stories' album that arrives this Friday on Moshi Moshi, he's put together a list of his ten favourite acts operating under a different moniker.
–
1. Kiasmos – 'Drawn'

"Ólafur Arnalds and Janus Rasmussen's electronic act. Ólafur is an extremely accomplished talent within a modern experimental classical field that is becoming really popular recently. A less serious or regimented form of classical music, that doesn't worry about being accepted by more traditional people. I fell in love with their music a long time ago now. It's yet another sign of how incredible the music from Iceland is."
2. The Raging Honkies – 'Oh My'

"Michael Landau is one of the best session guitar players who ever lived. Extremely prolific career working with artists like Joni Mitchell, Seal, Michael Jackson, James Taylor, Boz Scaggs, Richard Marx, Steve Perry, Pink Floyd and Glenn Frey. This was his band in the '90s doing some kind of take on grunge. His songwriting skills I think are amazing and the drummer Abe Laboriel Jr is one of the best drummers in the world also… and now Paul McCartney's drummer."
3. The Sugarcubes – 'Planet'

"Björk's energy and youthfulness with The Sugarcubes was always a unique part to their sound. I love the strings on this track – you can hear the similarities of the arrangements I think to her subsequent solo work."
4. Thom Yorke – 'Black Swan

"I heard that when Radiohead did 'Kid A', they got the entire back catalogue of Warp records and were influenced massively by it. I think you can definitely hear it in Thom's album also. Incredible music as ever."
5. The Whitest Boy Alive – 'Burning'

"Erlend Øye's great side project from his solo work and Kings Of Convenience. My favourite song of theirs which I fell in love with when seeing them perform it live a long time ago. Live they really play it harder and more rockier!"
6. Spencer Davis Group – 'Gimme Some Lovin''

"Of course Steve Winwood is the solo/side project here, but I am always so impressed when remembering that Steve was only 15 years old when he performed and recorded this song with them. One of the real classic songs of our time. Steve Winwood is also a big influence to me, I grew up with him thanks to my Dad always playing his music."
7. Donald Fagen – 'New Frontier'

"I'm a huge huge huge Steely Dan fan! Donald's vocals, mixed with incredibly smooth music, super tight and high-level musicians performing the music combines to make such a great distinct sound. Really young childhood memories from this song."
8. Volcano Choir – 'Almanac'

"Justin Vernon aka Bon Iver is someone I always regularly turn to for listening. This track by Volcano Choir is one of my favourite songs in recent years. The build-up within this song is incredible. Such amazing energy and feelings come across. As ever, his voice just resonates so perfectly to the music behind it."
9. Nico – 'What My Last Girl Put Me Through'

"Originally this was released under the alias Nico on Wolf and Lamb records. I think now it has ben released under [Nicolas Jaar's] own name also, but just another sign of how versatile and interesting his music is and where he draws influences from."
10. Thomas Bangalter – 'Shuffle'

"Always one of my favourite tracks by him, on his own label roule, which was just such a huge influence on me. Also part of Stardust and the huge hit on the label, everything on this label was gold dust."
Listen to 'Make Up Your Own Stories':

Invisible Minds's 'Make Up Your Own Stories' album is released this Friday 16th November on Moshi Moshi.