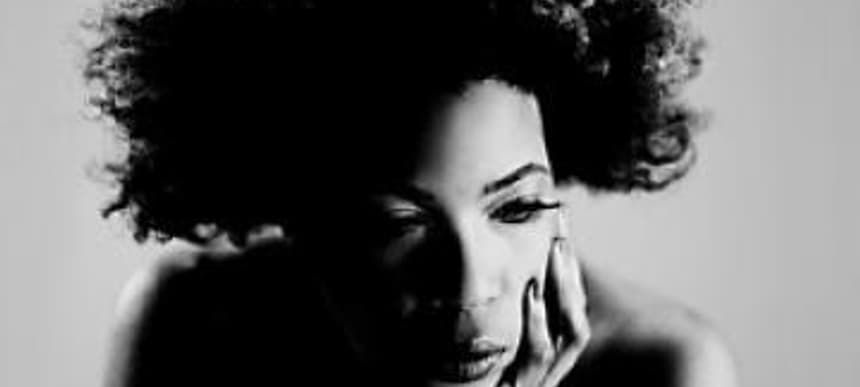 13.12.2012, Words by dummymag
The 10 best soul songs, according to Macy Gray
Singer and songwriter Macy Gray is best known for her huge international hit single I Try from her 2000 debut album 'On How Life Is'. What the five albums she's released since have unmatched in wild commercial success they've made up for in other kinds of acclaim, with Gray's trademark sound gaining her a dedicated following. Her latest is a cover of Stevie Wonder's landmark LP 'Talking Book' – described as a love letter to the great artist on the 40th anniversary of the original album release.
Here she shares 10 of her favourite soul songs with Dummy.
The Temptations Papa Was A Rollin' Stone
Macy Gray: "It's just an exquisite song. When the strings and the horns come in, and then those handclaps, and then the vocal – it's perfect. It's a perfect song, one of the most perfect songs I've heard in my life."
Angie Stone Wish I Didn't Miss You
Macy Gray: "She put this out right when I was breaking up with my boyfriend, and that's exactly how I felt about him. It's just the way she sings it – it's so powerful, you know? Her voice is so thick, you just feel everything she's talking about. She's awesome."
The Jackson 5 Who's Loving You
Macy Gray: "I remember as a kid, every time somebody had a talent show, they'd sing Who's Loving You. I never did talent shows when I was little, but it's just a genius vocal by this little kid. And when you listen to the words, it's a really deep song about love and all the rest of it, after someone leaves or you break up with someone. It's just wild that it's coming from… I think he was eight at the time? And the way he sings it, he sings it like a grown man. It's proper soul – everything a soul song should be, I think."
Barry White Never Gonna Give You Up
Macy Gray: "Barry White brought sexy into soul music, it's like, you wanna have sex right away. I think he has this magical thing in his voice that he put in the soul music. He made it erotic, you know what I mean?"
Hall & Oates Sara Smile
Macy Gray: "This is a beautiful song. It's proper soul, the feel of it and what it's about. It's hard to describe music, you know? It's really about how it makes you feel. My grandmother's name is Sarah, so every birthday, every May 29th, we always get together and sing Sarah Smile, my whole family."
Al Green I'm Still In Love With You
Macy Gray: "This song is so beautiful. It's just an awesome song. He was the ultimate soul singer – he had a falsetto, he had a groove, he had the right drummer. He made his own brand of soul music, but that song is so unforgettable, you know?"
James Brown Santa Claus, Go Straight To The Ghetto
Macy Gray: "The rhythm of it, and what he's talking about, it's actually a deep song. It's my favourite James Brown song – his voice is so thick and he's just rocking, you know? It's also my favourite Christmas song, and I just love what it's about. To turn it into a Christmas song I just thought was genius. My father was a James Brown freak so I know every one of his songs, and to me, this was the best thing he ever did."
D'Angelo Lady
Macy Gray: "This is that kind of song that just sends you… you close your eyes every time you hear it. It sends you to another place with that keyboard in there, and the way he sings it. It's real life soul, it just grabs you, you know? D'Angelo, he came out right when I got my first record deal. Not the one with I Try on it, but an album I made that never came out, on Atlantic. I used my advance money and I bought a car, and I remember we used to roll around and play the new D'Angelo album, and Lady was the one we played over and over again."
Aretha Franklin I Say A Little Prayer
Macy Gray: "This was my mother's favourite. When I was growing up, hip hop was really coming out, and radio music, that was the cool thing to get into. And she used to play Dionne Warwick and stuff like that, and it would irritate me. But when that song came on, Say A Little Prayer, that was the one song that I didn't mind that much. You talk about your parents and their old music, but that was the one song that didn't bother me, I always really loved that song."
Macy Gray I Try
Macy Gray: "I wrote this a while ago – like, way before it came out; maybe two years before I got my record deal. And after I got my record deal, it came out two years after that. When we were writing it and we were in the studio, I played the piano and I showed the guys how the song went and they were all bugging out, like they thought it was really great, and I didn't really get it. It was no big deal. I thought it had too many words in it, and I thought the chorus was too bouncy, because a lot of choruses are just one note. And then even when the label put it out, I was like, 'You guys are wrong, that's not the right song, that's not the right single.' It's cool to me, but I didn't get it – I still don't. I love the song but I don't get what all the fuss is about [laughs] because I feel like I have stuff which is way better. That's why it's so great to me – it's my biggest surprise."
Listen to Macy's selections on our dedicated Spotify playlist.