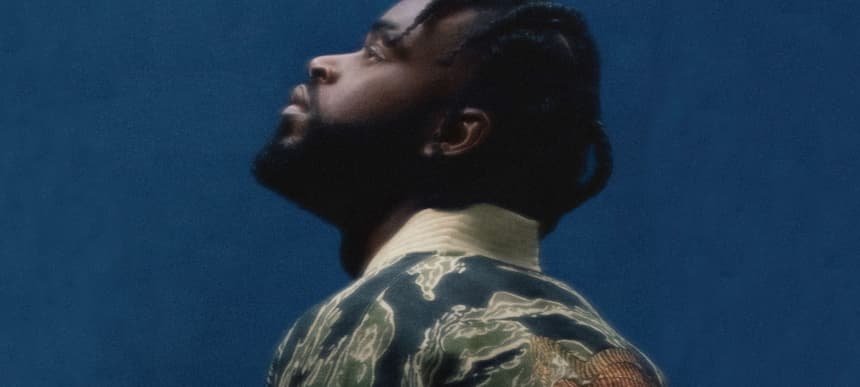 16.11.2022, Words by Billy Ward
The 10 Best Timbaland Productions, according to Mansur Brown
"There was no one making beats like that..."
Born in Brixton and still a remaining resident of the South London sprawl, Mansur Brown is one of the poster boys of a new wave of artist permeating through the concrete cracks of the UK capital. A guitar master first-and-foremost, Brown's distinctive compositional approach finds him blending the swing of Afrobeats artists like Burna Boy and Wizkid with the melancholic yet moody sound design of Burial. "Sometimes my music has a club feel, other times it's more introspective," he explains. "But running through all of it are feelings of happiness, of gratitude. I want it to feel rejuvenating."
Influenced by the rhythmic snap of early '00s Timbaland tracks, the South Londoner has a lot to say about the influential US hip hop producer who contributed to the chart-scaling success of some of the biggest musical names in history. Luckily, with the release of Brown's new double-sided mixtape 'NAQI' happening this Friday, we got the chance to sit down with the artist and rifle through some of his all-time favourite Timbaland productions that helped to inform the multifaceted musician he is today.
1. Aaliyah – 'Try Again'
"What I like is the beginning bass line, it has a kind of techno hit, but it's tasteful. It's very melodic and smooth with it, smooth and harsh but it's the right balance. Obviously Timbaland has that signature bounce, so it has that heavy hitting bass underneath when Aaliyah sings, which I think is the perfect marriage."
2. Timbaland – 'Bounce'
"It's a blast from the past because it was in the 'Step Up' film which is really jokes. I like that he has this sort of breath going on, Timbaland always has these cool uses of vocal effects, as well as the drums that are moving underneath. I like to think of it as an 'under water' approach, where everything's 'fat' but it sounds kind of liquidy I guess, and he knows how to put his highs like vocals on the top. He's experimenting a lot with the vocals on that track, there's the breathing that gives it this sort of heartbeat that is very impactful."
3. 50 Cent – 'Ayo Technology'
"The lyrics are a bit jokes on this one, but that beat is sick as well. What I really like about this tune is that it captures that vibe of being in school, when people used to bang on the desks and make beats that actually had a vibe. The beat reminds me again of that heartbeat, but it's like a fusion of Blade Runner sonics, and it has a very steam punk aesthetic. It reminds me of The Matrix, it has a very industrial sound and there's a very ethereal side to it if you split the drums from the melody."
4. Justin Timberlake – 'My Love'
"The percussion on this has a real Cuban feel to it, with all the different moving percussive parts, and that definitely influenced 'Fever' (Mansur's track) because I was really trying to incorporate South American rhythms. But it was quite tricky to do that as well as incorporating the electronic aesthetic, and the ambient sound. After trying to marry my sound with the Cuban and Columbian feel, and also the electronic sound, I think that Timbaland has a good way of marrying sample based stuff from other cultures with his music. That's why I like it, it incorporates that South America feel with a modern hip-hop sound."
5. Aaliyah – 'One In A Million'
"I love this tune because it's got real slow jam vibes, but it has that Timbaland hard hitting club feel. Again, it has the sweet R&B vocals that are captivating, but it just hits. The main thing I liked about it at the time was it had that dark edgy sonic to it that is quite reminiscent of 90s R&B, especially with Timbaland's heavy bass, I think he really pioneered that. So I think it marries those sultry R&B vocals with the heavy beats, which was a big influence when I was trying to get those 808s to smack and all that stuff while I was making NAQI."
6. Missy Elliott – 'The Rain (Supa Dupa Fly)'
"This one's sick because I think it's the classic Timbaland thing where he puts his feel in the song, but he's using different drums and different sample hits – like the snare has a very Clive Stubblefield feel to it, so there's a 70s sonic to the drums, but it has the Timbaland signature bounce, so it was sort of experimental with Missy's vocals on the top, mixing that with the production was so unique."
7. Bryson Tiller – 'Sorry Not Sorry'
"It's crazy because I didn't know that Timbaland produced this track, but when I found out I could still hear his influence in things like the hi-hats, and the beat is so syncopated but so modern, you can definitely hear his influence. It's trap right, but with the hi-hats there's a 1/16th on top of the 1/8th, so it has that crazy bounce and it's super syncopated, and obviously in his productions he has a very syncopated approach to his drums."
8. Jay Z – 'Dirt Off Your Shoulder'
"The sample in this one has an almost retro video game vibe to it, but the driving beat has a very 70s funk feel, like a Curtis Mayfield joint. The combination of those two styles again just highlights how creative he was, because there was no one making beats like that. It shows how much of a pioneer he was."
9. Missy Elliott – 'Get Ur Freak On'
"This song's sick again because Timbaland's continuous theme was his fusion of styles that pioneered the idea of taking from different cultures or different sounds. There's a very oriental sound in this one, you could imagine hearing it in a kung-fu film, and again it's the mix of the oriental strings with the beats, it's a perfect blend. The drum choices also have a very vintage sound, especially with the snare, so it's a marriage of so many different cultures and sounds which is a real inspiration to me."
10. Aaliyah – 'Are You That Somebody'
"I think this song's really cool because it has that guitar riff, and that guitar riff reminds me of something you could put in the Brit Pop era, or the indie era, because it has that very spiky sound. With the drums its pretty amazing because they almost do call and response with the vocal, all those little details are really impactful."
Stream Mansur Brown below: