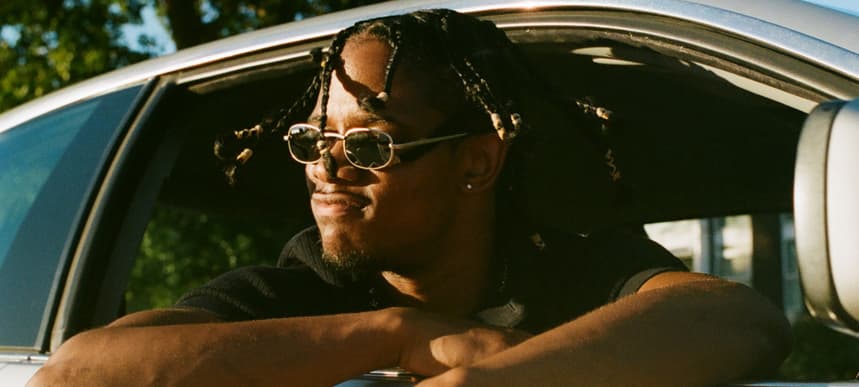 29.08.2023, Words by Billy Ward
The 10 Best Tracks For Listening On The Move, according to Kam-Bu
"A summertime classic perfect for every situation..."
One of the UK's most unique and differentiated young talents, South London artist Kam-Bu entered the rave scene via the unlikely back alley of UK rap music. He's had a great year so far, putting out his sophomore EP 'Built 2 Last' back in April, and now linking up with CLIPZ, Tia Carys and Lady Ice on the grime and jungle infused anthem, 'I LIKE'. 
Keeping up with his busy touring schedule, playing shows and festivals up and down the country, the rising rapper is on the move a lot. To celebrate CLIPZ's carnival-ready new single, which he features on, Kam-Bu has dug into the archives to tell us his favourite tracks for getting from A to B. 
1.  Kwengface, Joy Orbison, Overmono - 'Freedom 2'
"The link up of the year possibly, so sick! Naughty bass line, energetic bars, what's not to like?"
2. P-Rallel, Kam-Bu, BXKS - 'Evening Time'
"A summertime classic perfect for every situation, cruising in the whip, pre-drinks, club and shit maybe a night cap."
3. CLIPZ, Ms Dynamite, Ms Banks, Jaykae - 'Again'
"When living legends link up just sit back and take it in. Absolute belter! On repeat daily."
4. Groove Armada - 'My Friend' (Logic1000 Remix)
"Logic always delivers the goods. This one's in my running playlist."
5. Kam-Bu - 'Live-O' (HAAi Remix)
"HAAi with the weapon of the year. DJs have been pulling this remix left right and centre! Perfect break with techno flare and euphoric melody!"
6. Fred again, Obongjayar - 'adore u'
"Love how Obongjayar's voice just cuts through and evokes emotion, great listen!"
7. NEZ, Flo Milli, 8AE - 'To The Money'
"This one never fails to get me pumped! Out of bed and in the gym! Crazy bars and bass line. Love Flo Milli on this!"
8. Cassnova, BAWO, Kam-Bu - 'Ricky Hatton'
"This one's a travelling tune for me. On a train, in the car, nice little head topper with Bawo's nonchalant vocals on the garage bassline and my relaxed tongue and cheek flow that just rounds it off nicely. Casanova killed this, check his tape out."
9. Gorgon City, Flirta D - 'Sidewindah'
"This will take your head clean off in a dance, big big tune love the choppy vocals."
10. CLIPZ, Nia Archives, Beenie Man, Cristale, ShaSimone - 'No Time'
"Last and definitely not least, a big summer classic that just has to be in your playlist!"