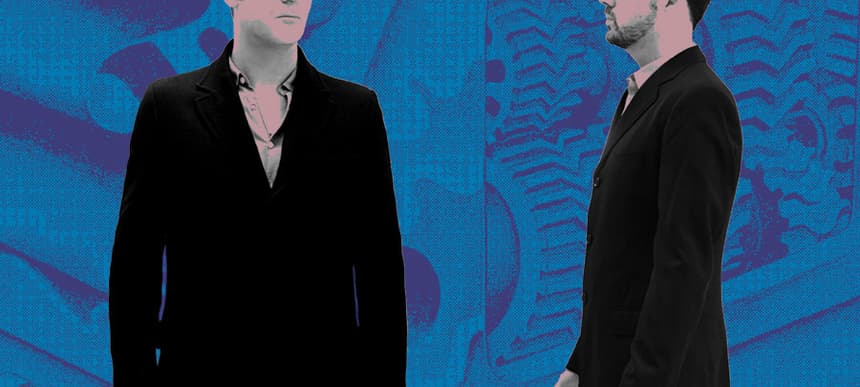 09.12.2014, Words by dummymag
The 10 best records about boxes, according to Cowboy Rhythmbox
Cowboy Rhythmbox is a new project by Nathan Gregory Wilkins and Richard X. Their club music is a fusion of all things pumping – Chicago house, weird vocal samples, electronic body music, hi-NRG dance tracks – banged out on broken synthesizers and drum machines that don't behave as they should.
Those with any familiarity with Richard and Wilkins's work before Cowboy Rhythmbox will know that their musical tastes reach far. Wilkins is an esteemed selector, having DJed and thrown parties for donkeys now, run labels like the ace (currently defunct, but set to be revived) History Clock, and hosting the Channeling show with Ivan Smagghe on NTS Radio. Richard X, meanwhile, is best known for his role as pop producer, having worked with everyone from Annie to the Sugababes to Rachel Stevens to Jarvis Cocker to Erasure. Not many people can claim to have done that.
So the story goes, Wilkins and Richard met when, in 2001, Richard walked into the vinyl distributor's warehouse that Wilkins was working at and handed him his first 7", I Wanna Dance With Numbers, an unholy union between Whitney Houston and Kraftwerk. It took five years for them to start working on their debut song Shake, then another four years to finish it. Their latest single is We Got The Box, a new release on Phantasy Sound that puts a vocal sample atop a limb-distorting rhythm and loops it until it loses all meaning. God knows how long they've been working on this one.
Both chaps have a very good sense of humour to match their musical knowledge, and they've put together this list for us today that fits with their chosen name: it's a bunch of tracks about boxes, a loose guideline that allows them runs through everything from synth pop b-sides to bone dry techno to experimental film soundtracks.
01. Santos Space The Box
Cowboy Rhythmbox: "A record that features Adonis, Ron Hardy, and Frankie Knuckles has got to be good, hasn't it? One of the ultimate jack trax. Early Chicago house is one of our biggest infuences."
02. Beth B & Scott B Black Box Disco
Cowboy Rhythmbox: "Spooky no wave disco from a seldom seen early '80s movie Vortex, starring outspoken singer, writer, actress Lydia Lunch."
03. 69 Jam The Box
Cowboy Rhythmbox: "Carl Craig is a major influence on Cowboy Rhythmbox. This track personifies everything that's great about machine music. Deceptively complex simplicity."
04. Thomas Jefferson Kaye Collection Box
Cowboy Rhythmbox: "A disco-friendly country record from 1972 called Collection Box. Not quite sure what he's singing about, but it's a fantastic record that uses the word 'box'."
05. Jack Master Bang The Box
Cowboy Rhythmbox: "This Jack Master being an alias of Richie Hawtin, who keeps this Chicago homage on the right side of pastiche, using all the right boxes to create a cavernous, hypnotic jam."
06. Fad Gadget The Box
Cowboy Rhythmbox: "Classic early Mute b-side, doomy claustrophobic Frank Tovey lyrics, and dark arp synths abound. We all want to escape the box."
07. JTC King of the Box
Cowboy Rhythmbox: "A modern producer that really understands how to work the box. This is the very definition of the word hypnotic."
08. Broken English Club Boxes
Cowboy Rhythmbox: "A project from the hugely talented Oliver Ho that brings to mind all manner of interesting things including classic On-U Sound and the films of David Lynch. Wonderfully sleazy."
09. Slava Tsukerman, Anatole Gerasimov, Helena Zvereva, and Paula E. Sheppard Me And My Rhythm Box
Cowboy Rhythmbox: "The blueprint for a handful of great records, and hundreds of terrible ones, released during the so-called electroclash era. Taken from the soundtrack to Liquid Sky, the best film ever made on the subject of aliens coming to Earth in search of heroin."
10. Black Box Strike It Up
Cowboy Rhythmbox: "This one is in here to prove that although we are extremely cool and have impeccible tast we're actually really fun guys. Please ignore how grumpy we look in our press shots, we're not like that at all in real life."
Phantasy Sound released We Got The Box on November 24th 2014 (buy).