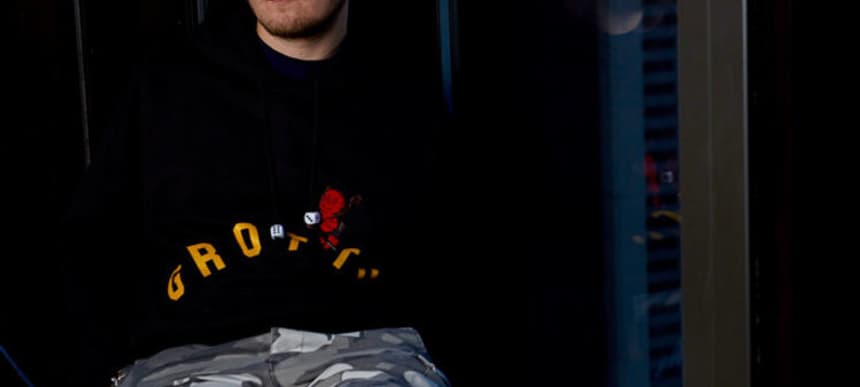 17.04.2018, Words by dummymag
The 10 best tracks to enjoy in your grotto, according to Lil Jabba
Lil Jabba is an awkward one but in the best possible way. Based in Brooklyn, he has injected a hint of darkness into minimalist, almost ambient compositions. Recording his last album, 2016's Grotto, in an actual grotto – the name of the studio in Brooklyn where he records – for the last few years, the painstaking hard work paid off as he shared entry into a strange and swampy world where dance music styles are eaten and regurgitated into something fresh and novel. Menacing basslines, aquatic effects and an overall ominous feel gave the album, released on Local Action, life and Jabba increased providence.
Sticking with the grotto theme, he has sat down with us to list his favourite tracks to vibe out to in a grotto, so scroll down and vibe out to his eclectic selections.
Persian – Silver Spaceships
Lil Jabba: "This track is like a cup of strong tea for me, soothing and a little bit jolty. comes in with some nice dirty bass too about half way through, top tune."
Curtis Mayfield – To Be Invisible
"Only heard this tune quite recently, a kind of defeated sounding Curtis Mayfield brings some real emotion on this tune–pop it on if you're feeling disillusioned."
Laszlo Bencker – Chip Down
"A short track from Laszlo Bencker with some nice drawn out chord progressions that always seem to catch me off guard, good quiet grotto vibes in here."
Gucci Mane – Iced Out Bart
"A wholly absurd track about his iced-out Bart chain that demonstrates Gucci at his best, real congested and flossy as hell. track hot, Gucci's on 100."
Future Beat Alliance – Hippocampus
"A long roller that gets me through while I'm painting in my grotto. keeps the energy high and has a dreamy pad in it; aka a recipe for productive work in my book. Get the ideas flowing!"
Saboten – 彼⼥女〜~ヨロコビ〜~⾺馬
"Saboten are an all-girl art rock band from Japan, this was off their first record put out in 1982. It has a proper Jabba vibe to it I think. No lyrics, just weirdness."
Holger Czukay – Persian Love
"Apparently, Briain Eno jacked his style heavily with the idea of sampling strange recordings he tuned into on radio. I know this track gets a lot of play, but it always does the job. perfect for relaxing in your grotto."
Lil Jabba – Grotto
"No grotto soundtrack is complete without the grottiest track out there by yours truly. One of my own favourite tracks and the embodiment of my work environment."
St. Vitus Dance – Tunnel Vision
"This track has a mystery that leaves you with an eerie feeling. Put out on Peacefrog Records at some point in the 90s, I can always get into this tune. again, keeps it rolling and rocking."
XP – Merkkus
"This track is one of my all-time faves, true grotto-style. Joey Beltram and Damon Wild came together for this one-off side project. just perfectly simple– evolves and has a really complex kind of warp going the whole time. I even like the rip they've done on this YouTube video, it's slightly slowed and warbled than the version I have on vinyl."
Follow Dummy's curated playlists on Spotify.