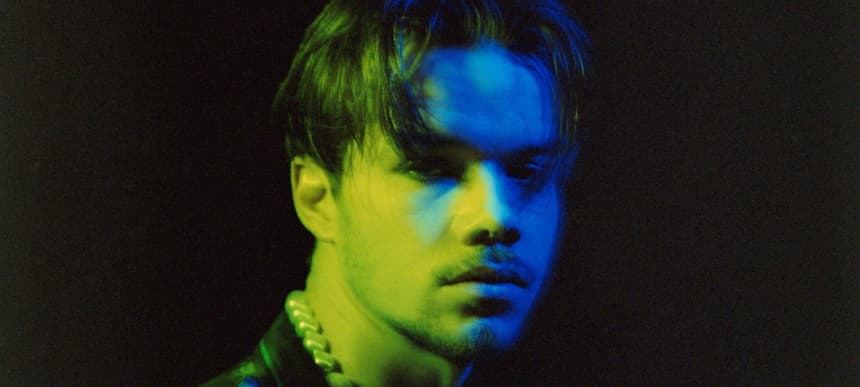 13.07.2022, Words by Billy Ward
The 10 Best Tracks To Transport You, according to Oscar Jerome
"Fresh, original and incredibly ancient at the same time..."
Being born in Norwich hasn't stopped Oscar Jerome from becoming one of South London's most exciting artists. Following in his father's footsteps as a guitarist, Jerome has cemented his name in the local scene splicing jazz, hip-hop, soul and funk unlike anyone else around him. Those lucky enough to attend Oscar's incredible headline show at Peckham Audio back in June saw an artist on course to achieve big things. And with his forthcoming UK/EU tour taking place across November and December later this year, the musician will be transporting his inimitable live performances further than ever before.
As his tour edges closer – tickets can be purchased here – we sat down with Jerome to discuss some of his favourite tracks that take him on a journey – be it emotionally, physically, or any other way imaginable. Twisting through greats such as Miles Davis and Alice Coltrane, to artists innovating brand new sounds and scenes like Maxwell Owin, see below Oscar's 10 Best Tracks To Transport You.
1. Oscar Jerome – 'Sweet Isolation'
"I wrote this tune while stuck indoors. From the very first time I played the guitar chords I was visualising walking through a baron landscape. The idea of feeling isolated in this vast expanse of nothingness summed up the mood of the track. That's why I had to travel to Iceland with my brother Alfie Laurence aka Moth to shoot the video."
2. John Martyn – 'Small Hours'
"This track has been a go to of mine for many years when I want to escape and be transported somewhere else. It was recorded on a lake at a farm near Reading. I love that the sounds of water and geese were actually captured in real time and sometimes in reaction to what John is playing. The space, simplicity and layers of ambient sound make the track feel both connected to nature and otherworldly."
3. Paul Brady – 'Arthur McBride'
"Paul Brady, one of the greatest Irish folk artists of all time, tells the story in this old folk song so beautifully you almost miss how violent some of the lyrics are. You can feel Paul's music is deeply rooted in the landscapes he is describing. He makes you feel like you are living within the narrative of this protest song."
4. Björk – 'Jóga'
"Pretty much everything Björk creates can transport you to another place in your mind. That's one of the many reasons I love her artistry. She's another artist who's music you can feel has a deep rooting in the landscape that she grew up in. When we went to Iceland to shoot the Sweet Isolation video, Björk was the soundtrack for most of the car journeys. Driving through these vast, harsh landscapes really helped me see where the melancholy yet beautiful mood she has in her work comes from."
5. Maxwell Owin – 'Blue In Green'
"Maxwell Owin is one of my favourite producers and a dear friend. He has had a massive impact on my life. His attention to detail in his music will work its way into your subconscious and take you to places without you realising. This interpretation of Bill Evans' 'Blue In Green' is no exception. He really takes you on a journey through all kinds of emotions on this one."
6. Carlton And The Shoes – 'Forward Jerusalem'
"Something about this track feels fresh, original and incredibly ancient at the same time. The vocal harmonies are so beautiful, paired with the rolling beat underneath it makes you feel like you are taking a long sacred journey by foot."
7. Ash Walker ft Lord Laville – 'Thunder'
"This tune really spoke to me from the moment I heard it. Ash is a master at creating a mood and his production combined with Lord Laville's buttery tones is a match made in heaven. This makes me feel like I'm floating above stormy clouds."
8. Alice Coltrane and Carlos Santana – 'Bliss: The Eternal Now'
"When I found out about this collaboration I knew it was going to be a vibe before I heard one single note. Alice Coltrane always has such a deep spiritual purpose behind her art and you can tell she uses it as a tool to transport herself as well as others to a higher place. The strings paired with the harp have such a dreamy and dramatic feel. I really think she brought something new out of Santana in this record."
9. Miles Davis – 'Someday My Prince Will Come'
"I first heard this track when I was about 13 while looking through my dad's CD collection. This record really changed my life. It opened my ears to the power of harmony and improvisation and their ability to create emotions and scenes within the mind. Wynton Kelly's piano intro sets the tone so well and the sharp contrast between Hank Mobley and John Coltrane's solos really takes you on an unexpected journey."
10. Thom York – 'Dawn Chorus'
"This is one of the most nostalgic songs I've ever heard. It makes me relive happy times in my past and feels both blissful and devastating at the same time. The simplicity and beautiful synth tone in this track is so well executed. Thom York is a master of melancholy."
Stream the Metropole Orkest's orchestral version of Oscar Jerome's 'Sweet Isolation' below:
Read next: Oscar Jerome's stunning new visual for 'Sweet Isolation' explores the beauty in the bleak