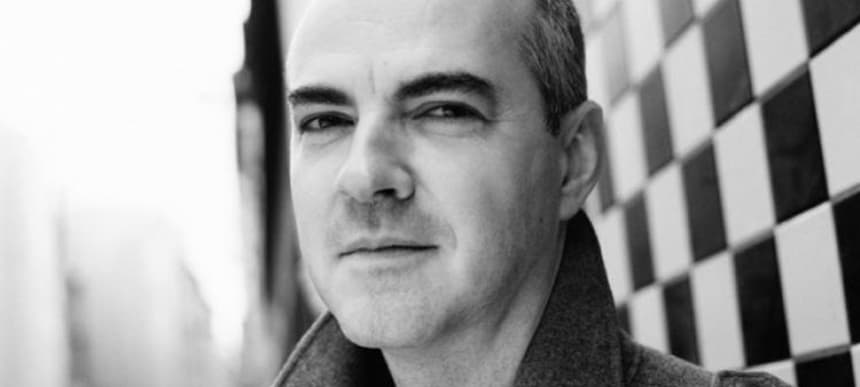 21.04.2015, Words by dummymag
The 10 best trip hop tracks, according to Nouvelle Vague's Marc Collin
Following the release of Marc Collin's new, trip hop-indebted album, the Nouvelle Vague co-producer highlights some of his favourite trip hop songs.
'Bristol' is the debut solo album from Nouvelle Vague co-producer Marc Collin. While Nouvelle Vague made their name covering songs from the punk, post-punk, and new wave eras, Collin's solo record takes its inspiration from a movement that emerged a few years down the line: trip hop.
'Trip hop', as genre names go, has been a source of much scorn, held up as a prime example of why music journos should never be allowed to coin genre names – but you can't deny the music. The term was used to describe a group of artists that emerged from in and around Bristol during the post-acid house years of the 1990s, who shared similar reference points (dub, breakbeat, ambient, soul, jazz, funk, hip hop, and other black sound system styles) and similar formal qualities, and who would go on to be hugely influential on the sound of popular music over the coming years.
The 14 tracks that make up Collin's 'Bristol' are all inspired by music from the trip hop era and reworked in a 1960s film score style, injecting a bit of Parisian chic into the West Country. Reintepretations of songs by Portishead, Tricky, and Massive Attack all feature on the album, sung by an array of French singers.
Following the release of that album, Collins compiled an introduction to the trip hop aesthetic, featuring both key originals (like Tricky) and artists influenced by the sound (like Goldfrapp), as well as lesser known groups (like Massive Attack peers Alpha).
01. Tricky Overcome

Marc Collin: "From one of the major artists from the trip hop scene. I remember the first time I listened to it, it was, strangely, through a French TV channel. I'd never heard anything like it before – the sound of the beat (especially the toms) and the construction of the track is amazing. I still don't know what's coming from samples and what is really being played! It was really the future in '95."
02. Portishead Numb
https://youtu.be/jKd30B1QE9w
Marc Collin: "To me, Massive Attack invented the genre and are the kings, but with Portishead, Geoff Barrow pushed the sound even further – his touch on production is amazing. With Ian Utley and Beth Gibbons, they were a real group, recording real guitars and drums and mixing them with samples from '60s film noir soundtracks. When I first heard Numb, I was almost shaking, as the sound of the drums was everything I wanted to hear! I saw them last summer, and it was even better than their show in the '90s."
03. Goldfrapp Utopia

Marc Collin: "As with Porishead, Goldfrapp – with their first album a few years later – were doing exactly the music that I wanted to hear. It seems I wasn't the only one to feel that way. Great songwriting, amazing vocals, and strange production mixing synths, real strings, drum loops, etc. Great reference to Ennio Morricone. Maybe the best band of the late trip hop era."
04. Emiliana Torrini Dead Things

Marc Collin: "Emiliana Torrini was not really a trip hop artist, but like a lot of artists in the '90s, you can hear in this track that she was very influenced by the sounds of Bristol. The way that she sings, the production of the beats, the melancholy – everything sounds trip hop there."
05. Alpha Sometime Later

Marc Collin: "Alpha were signed to Massive Attack's label Melancolik; that's probably how I discovered them. Entirely based around a Lee Hazlewood sample, this song is the essence of trip hop: deep melancholy, hypnotic vibraphone chords, subtle brush rhythm, strings, and a great vocal performance. Unfortunately, it seems that without the help of a great sample, the band couldn't reach this level afterwards."
06. Nicolette No Government

Marc Collin: "I don't know if this is really trip hop, but when it was released on the Shut Up And Dance label in the '90s, it was for me! Minimalist trip hop, let's say. A drum'n'bass loop (future drum'n' bass?) and an amazing, jazzy, Billie Holiday kind of voice."
07. Perry Blake An Ordinary Day

Marc Collin: "The main sound of trip hop was the mix of hop hop beats with melancholic string arrangements. It became a kind of easy recipe, but it almost always worked, especially with a great singer-songwriter like Perry Blake."
08. Jay Jay Johanson It Hurts Me So

Marc Collin: "Featuring a great sample from Francis Lai's score to A Man And A Woman, here we have some trip hop from Stocholm. I heard that one of the musicians from Jay Jay Johanson's group recorded in Bristol in the early '90s and suggested to Jay Jay to go in that direction. For sure, the sound of trip hop works very well with the crooner style of Jay Jay and jazz singers in general."
09. Massive Attack Angel

Marc Collin: "A real masterpiece. Massive Attack pushed the sound of post-punk bands like PiL further, and somehow added a kind of violence and coldness to their dub-soul sound, mixing the basslines and vocals of dub with post-punk guitars and synthesizer treatments."
10. Ollano Latitudes

Marc Collin: "My band during the '90s! We were very influenced by trip hop, but with a French and Bossa Nova feel that led to Nouvelle Vague a few years later. We used a sample of Julie London's The End Of A Love Affair, which Capitol denied to be the owner! Julie is my favourite singer."
Kwaidan Records released 'Bristol' on April 13th 2015 (buy).