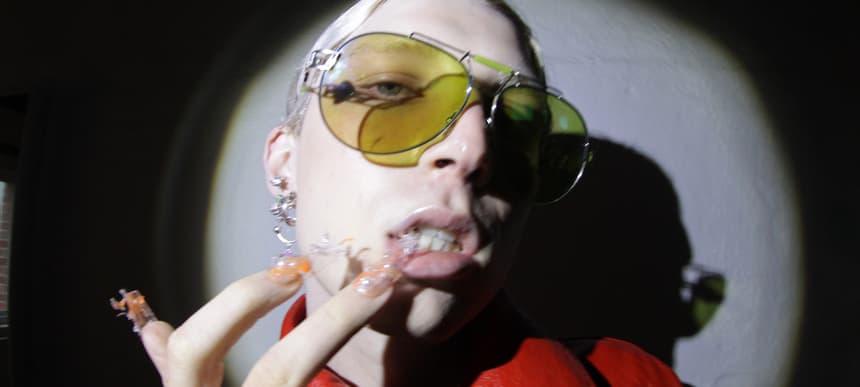 17.05.2022, Words by Billy Ward
The 10 Best Tunes On My iPod Nano, according to jamesjamesjames
"This would be a really good Guitar Hero song..."
Known for splicing the sugary sound of hyperpop with brain-melting basslines, jamesjamesjames draws inspiration from his pop heroes SOPHIE and Charli XCX to make what he calls "sexy Y2K techno music". With nods to Mall Grab, DJ Mike Q, Kaytranada and DJ Boring in his music, the experimental producer translates smoothly into a saucily poised live experience and has amassed a fiercely dedicated LGBTQ+ fanbase doing so.
While creating his latest single 'My iPod Nano (2nd Gen)', the recent news about Apple discontinuing the iPod for good was yet to break. With that in mind – and jamesjamesjames' early 2000s fuelled glitz paving the way – we sat down with the Melbourne-based artist to run through his favourite iPod anthems.
1. SOPHIE – 'Take me to Dubai'
"This is my sex song. It's so horny."
2. Bodyrox – 'Yeah Yeah'
"Versace Spring/Summer 2008…"
3. Calvin Harris – 'I'm Not Alone'
"Where to cop Calvin Harris fly eye glasses? They're so slay ugh…I remember I stole his album 'Ready for the Weekend' from Sanity (CD store) when I was 12 years old LOL."
4. deadmau5 – 'Brazil' (Second Edit)
"You trend hop TikTok bitches can't even spell deadmau5 with your Alexis Jordan shit."
5. Amber – Sexual (Li Da Di) [Plasma Trance Remix]
"Dancing in the summer rain. Kiss my friends on the dance floor. I'm wearing nothing but a Miu Miu mini skirt, bootleg bikini and New Rock boots."
6. Nicki Minaj – 'Super Bass'
"DO THE NICKI MINAJ BLINK."
7. Rihanna – 'Shut Up And Drive"
"And just like that? Suddenly I'm straight now? Sexy Rihanna drag race, wet t-shirt contest, muscle car, Nissan skyline, 0-to-60 in 3.5 seconds, turbo, nosebleed but make it hot…"
8. Paris Hilton – 'Nothing In This World'
"Name one thing Paris Hilton cannot do? I'm waiting…exactly… she is so powerful her mind amazes me sometimes (P.S. this would be a really good Guitar Hero song or TAP TAP REVENGE – omg we need a Tap Tap Revenge revival).
9. New Order – 'Confusion' [Blade Soundtrack Bloodbath Remix]
"The greatest opening scene and soundtrack of all time. This deserved an Oscar. No further explanation needed (4 Kurt & Juju)."
10. Kylie Minogue – 'Love At First Sight'
"Barbie Pool Party Mix Volume 2-esc, Australian icon, neighbour's queen, this song makes the straight boys GAY!!!"
Stream 'My Purple iPod Nano (2nd Gen)' and the salute remix below: