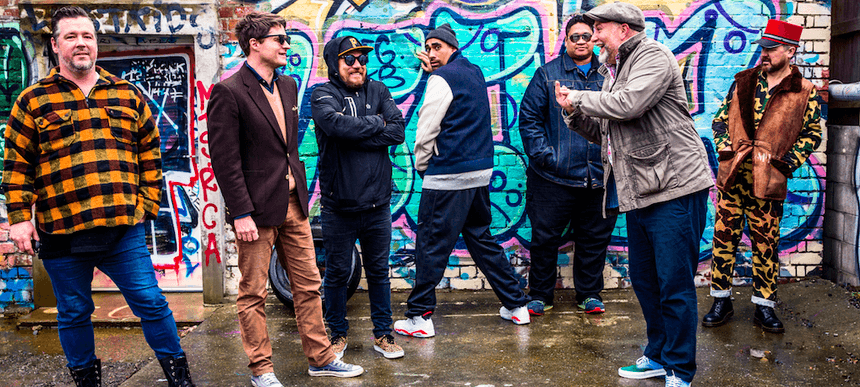 26.10.2015, Words by Natalie /
The 10 best twisted funk jams for a Kiwi summer, according to Fat Freddy's Drop
New Zealand seven-piece Fat Freddy's Drop recently returned to the scene with their fourth stuido album, 'Bays', recorded at the band's studio of the same name, a former '50s HMV vinyl pressing plant in Kilbirnie, Wellington.
'Bays' is a buoyant return after the worldwide success of 'Blackbird' in 2013, opening up with the 'slow burn funk' of Wairunga Blues and slowly sailing through reggae dub inspired waters with dusky jams like 10 Feet Tall and the trumpeted fare of Slings & Arrows, before exploring deeper realms of techno and ambient-soul with Razor and Makkan. With vocalist Joe Dukie leading the way, it's all a dream evoking journey that's more lullaby than hot mess.
To mark the release of 'Bays', we hooked up with Fat Freddy's Drop member Chopper Reed who wanted to air a few of the groups influences and inspirations via one of Dummy's 10 best lists. After much careful deliberation, the chosen theme was twisted funk soul jams for the impending Kiwi summer…much to the UK's distraught, as our summer hits the point of browning around the edges, like a distant memory. Pull the cocktails out, put the fire on if summer is waning for you too, and kick back to Chopper Reed's selections, which can also be seamlessly enjoyed on YouTube.
01. The Temptations Shakey Ground
Chopper Reed of Fat Freddy's Drop: "DJ Fitchie used to cane this at dance parties around Wellington back in the mid '90s. That bottom end is just lethal and goes to show that great tunes don't need to be rare or expensive to be effective."
02. The Equals Mystic Syster
Chopper Reed of Fat Freddy's Drop: "Part blues holler, part proto-house grind – this is truly visionary stuff from Eddy Grant and co."
03. Tapper Zukie Visions Of Love
Chopper Reed of Fat Freddy's Drop: "Shimmering synths – check. Rubber legged bassline – check. Punky dancefloor drums – check. I love how the vocal on this sounds a bit like Ian Dury."
04. Junior Byron Dance To The Music (Dub mix)
Chopper Reed of Fat Freddy's Drop: "There's nothing overly sophisticated about this tune but it captures the idea that making music and dancing is s'posed to be a loose old time. The weird sound effects that pop up at the end are a nice touch too."
05. Robert Helms Sekele I Like It
[Clip not on YouTube]
Chopper Reed of Fat Freddy's Drop: "Just a righteously funky edit of soul vocals and afro disco licks by Raphael Top Secret on the the No Chop, No Funk 12" (African Roadtrip). Simple but so good."
06. Jo Tongo Funky Feeling
Chopper Reed of Fat Freddy's Drop: "The nod to American disco is obvious but the raw energy in the horns is pure Africa – and the 'off' vocals in the bridge and strings are such a great counter tension."
07. Gwen McCrae Keep The Fire Burning
Chopper Reed of Fat Freddy's Drop: "Gwen kills the vocal and Webster Lewis and James Gadson nail the production, pulling in the best R&B, boogie and disco cliches in a delightful way. I dare you to sit still."
08. Omar (feat. Stevie Wonder) Feelin You (Henrik Schwarz remix)
Chopper Reed of Fat Freddy's Drop: "OK, so this has been played to death. But it still does the business on the dancefloor. We often fight over who is going to drop this when we're DJing."
09. Harvey Sutherland Bermuda
Chopper Reed of Fat Freddy's Drop: "Mr. Sutherland is from across the Tasman Sea, so we'll claim him as an Antipodean brother. Great layered keys and deft touch in the arrangement keep this building nicely."
10. Sunbear Let Love Flow For Peace
Chopper Reed of Fat Freddy's Drop: "A more mellow jam, but the production is so detailed. The vibe is undeniable and it's nice to play early doors or to chill everyone down once the lights come up."
'Bays' is out now on The Drop (buy / stream).