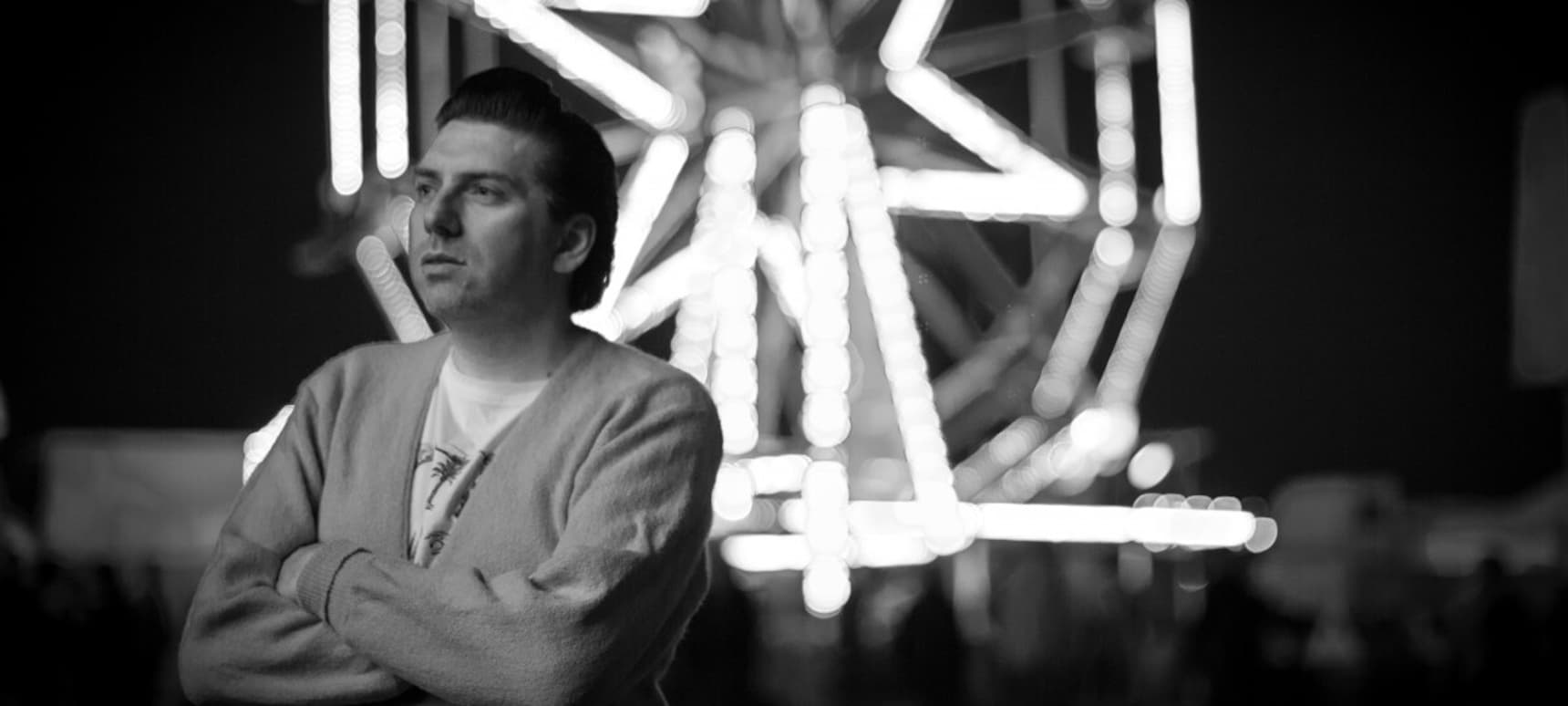 25.01.2016, Words by dummymag
The 10 best unsung heroes of UK dancehall, according to Wrongtom
Genre-crossing, reggae-rooted producer Wrongtom is widely known for his refreshing solo productions and eclectic DJ sets. During his career, he's been lucky enough to collaborate with genre figureheads such as Roots Manuva, Hard Fi, and Deemas J.
A versatile musical multi-tasker, Wrongtom had humble beginnings in a local jazz band, before extending his solo exploits by playing gigs throughout his native London and beyond. Never stagnant, Wrongtom has even been mixed up in the pop scene via production credits on a UK Number 1 album and a DJ slot on Hard-Fi's world tour, drawing to end on stage at Wembley Arena as 10,000 perplexed indie kids listened to a selection of Baltimore club and Italo house classics.
Dipping into the mainstream paved the way for success with his reggae/dub collective, Stoneleigh Mountain Rockers, who have worked collectively on projects for Trojan Records, Pama International (featuring 2 Tone luminary Lynval Golding), and the subsequent collaborative album with UK rap legend Roots Manuva on Big Dada.
After releasing 'In East London' alongside Deemas J on Tru Thoughts back in 2012, followed by his 'Possessed' EP last year, Wrongtom is now a label mainstay. In the lead up to his set at Dummy Presents: Tru Thoughts in London on January 27th, we decided to explore the DJ and producer's encyclopaedic knowledge of a genre very close to this heart – UK dancehall. We passed the baton over to Wrongtom to run through some of the unsung heroes of the scene; including early female spitter Ranking Ann, through to pivotal UK hip hop crossover act London Posse.
Read his selections below or tune in via our YouTube playlist.
01. Flinty Ranks Gunman Style
Wrongtom: "Before they became the Ragga Twins in 1990 you could find this legendary duo rocking East London dances and cutting sides for Unity Sounds under the names Flinty Ranks and Demon Rocka. The latter's Iron Lady is considered a bit of a classic now but loads of other 12"s are woefully overlooked, and the jewel in the crown for me is Flinty's Gunman Style replete with computerised bleeps just in case you didn't know it was made in 1987. Look out for the 'Wrongtom Meets The Ragga Twins' album later this year for more vintage dancehall action."
02. Sugar Merchant Tears Of A Clown
Wrongtom: "Hot on the heals of Fashion Records success with Smiley Culture, Greensleeves set up their UK Bubblers imprint to showcase the cream of UK MC's with a bit of lovers rock for good measure. Sugar Merchant straddled both styles leaning to the dancehall side of lovers here with his haunting rendition of Smokey Robinson's "Tears Of A Clown" from '86.
Sugar later found success with indie-ragga anomalies Audioweb who bothered the charts in the late 90's with "Policeman Skank" and a cover of The Clash's Bankrobber."
03. Tippa Irie & Daddy Rusty Acid
Wrongtom: "Tippa should need no introduction, what with chart toppers like Hello Darling and more recently guesting with Black Eyed Peas, ragga-noise maniac The Bug and on my 'Possessed' EP last year. Lesser known are his combination records with fellow Saxon Sound veteran Daddy Rusty. This one from '88 celebrates the new style sweeping the dancefloor – acid house – which Tippa admits he first heard "pon Top Of The Pops"."
04. Dominick Glad She Resign
Wrongtom: "Of all the UK MC's to have got their start in Jamaica – the last person you'd expect would be a white journalist from Ladbroke Grove – but Dominic Kelly found kindred spirits in deejays like Early B and Super Cat and wound up cutting sides for Jamaican heavyweights including Jammy's, Techniques and George Phang's Power House, who released his debut LP in '87.
I actually had no idea he was white til Papa Eli from Wreck It Up Crew was chatting about him recently and I remembered his cockney style on this cut celebrating Thatcher's resignation in '91."
05. Bionic My Beatbox Reggae Style
Wrongtom: "Speaking of cockney styles, London Posse broke the mold with their debut 12" in '87, the flip-side offering up the pioneering My Beatbox Reggae Style featuring MC Bionic going toe to toe with the late great beatboxer, Sipho Josanna.
Whilst Rodney P remains one of the most enduring voices in UK hip hop – not to mention a top bloke who saved the day for me at Shambala Fest when Ragga Twins got stuck behind a motorway pileup – I wish there was more Bionic material out there. His handful of tracks showcase exactly why Tricky refers to him as Britain's greatest MC. Bionic, if you're reading this – gimme a shout!"
06. Gadman Pon The Spot
Wrongtom: "Hackney's Jah Tubby is probably better known for his digital roots rockers but in the late '80s he set up the Y&D imprint to showcase a handful of lesser known UK chatters like General Slaughter, Sugar Dee and Frighty. I was lucky enough to meet former Y&D alumni Gadman a few years back, when he came out of retirement to join Wreck It Up Crew and wound up cutting a couple of tracks for my own Rongorock label. If you can track it down, there's some killer Gadman material from the late '80s, like Pon The Spot from the Y&D 'Showcase' LP. Why not grab yourself a copy of the 'No Human' 7" on Rongorock whilst you're at it? Plug plug."
07. Ranking Ann A Slice Of English Toast
Wrongtom: "Female MCs were shamefully overlooked in the early days of UK dancehall but Ranking Ann's brace of albums with Mad Professor remain some of the UK's finest moments for me, especially on the steel pan heavy track, A Slice Of English Toast.
Ann sadly dropped off the radar after topping the charts in '85 with Scritti Politti and the fantastic Flesh & Blood but she paved the way for many a lady MC over here, from Michie One to Ms Dynamite."
08. Papa T We're Really Ragga
Wrongtom: "In the height of the first UK hip hop explosion on the cusp of the '90s, MC and producer Overlord X ruled the roost at Island's subsidiary Mango Street, who alongside his own LP's and X Posse projects, released the criminally overlooked 'Ragga Hip Hop' compilations.
This as far as I know was Papa T's only release, although I've always had the sneaking suspicion it was Overlord X himself on the mic. Either way, I wish he'd made a few more like We're Really Ragga, which may sound a little dated now but is a great example of the cross pollination happening in British hip hop and dancehall at the time."
09. Frankie Paul & Chucky Star
Suffering
Wrongtom: "Harlsden's mic don Chucky Star teams up with Jamaican heavyweight Frankie Paul on this 12" out of Blacker Dread in Brixton. Chucky's been hard at work representing for north-west London since the early '90s but bizarrely many only heard him via a guest spot on Good Thing Going by Sid Owen aka Ricky Butcher off Eastenders (which was produced by another unsung hero of UK dancehall – Curtis Lynch, fact fans). This is the cut for me though."
10. Daddy Horseman & Ricky Ranking Chicken Flap
Wrongtom: "And finally, Horseman recently found himself in the spotlight thanks to a flourishing partnership with Prince Fatty, but his pedigree goes back to the '80s working with the likes of Gregory Isaacs, Steelie & Clevie and in this case, one of the unsung heroes of South London's soundsystem scene, Ricky Ranking who I've been lucky enough to team up with on a number of occasions thanks to Duppy Writer. Now, go do the chicken flap… Buck buck!"
You can catch Wrongtom playing Dummy Presents: Tru Thoughts at Miranda, Ace Hotel London on January 27th (free with RSVP).