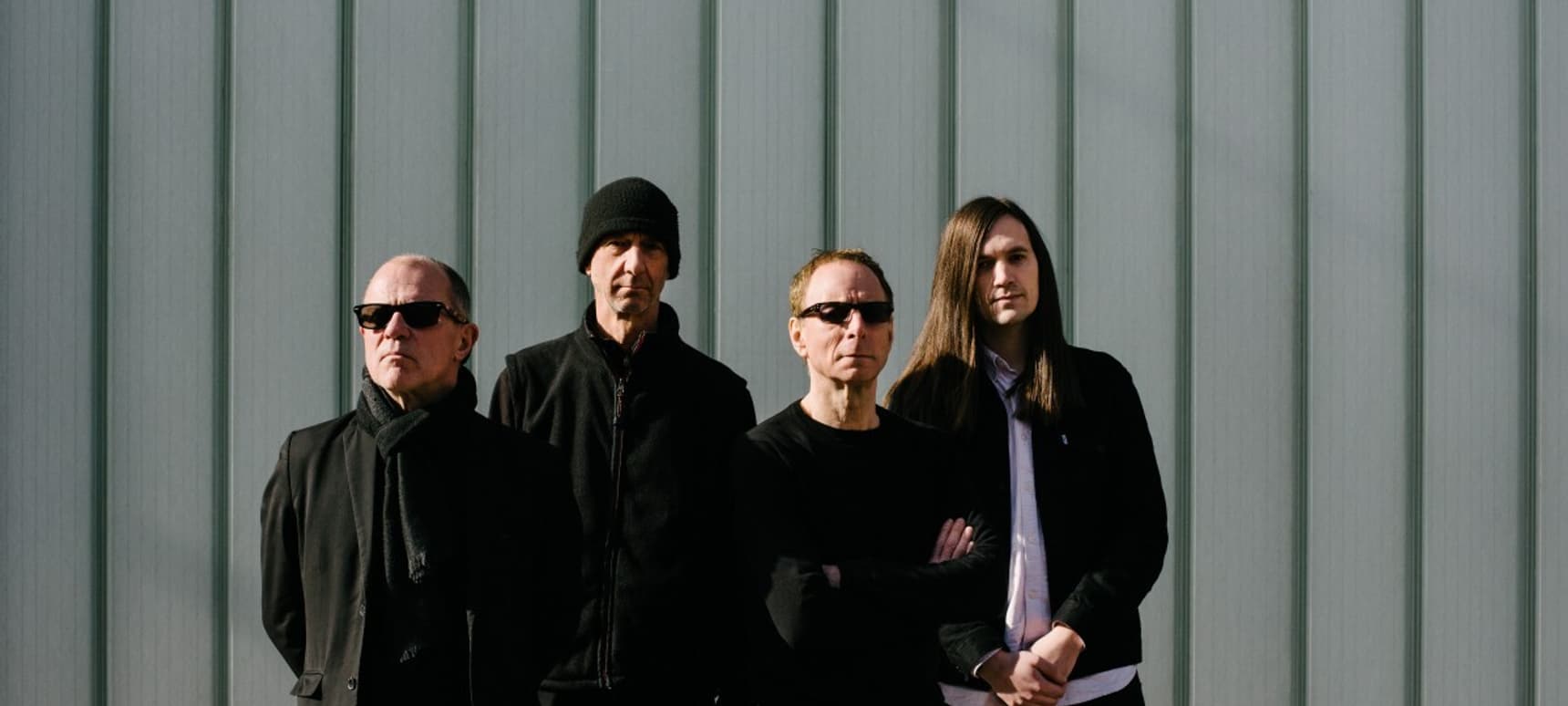 09.04.2015, Words by dummymag
The 10 best Wire covers, according to Wire
Wire have released over a dozen albums since their formation in 1976, yet their latest is self-titled. You might think this is a moment of self-reflection from the innovating post-punk group, a moment to look back on, and re-evaluate, their four decades releasing music… but Wire rarely look back. Few groups have demonstrated such a consistent forward drive, desire for newness, and commitment to experimentation over a career of this length – Wire famously even refused to play their old material at one point, enlisting a covers band to do it for them during their gigs in the mid-'80s.
So it's always been left up to others to play the 'hits'. Wire have been covered and reworked extensively – there have been tribute albums and re-interpretations aplenty over the years – but how do these fare in the eyes of the band? Here, Colin Newman counts down his favourite Wire covers, featuring a very diverse array of reworks, before the release of 'WIRE' and their lengthy tour to support it.
01. Lush Mannequin
Colin Newman: "I make no excuses at all for including two covers by Lush! They perform this song with all the confidence of someone who might have written it themselves. They take a few liberties with the arrangement, but it only succeeds to make their version more of what the song is already."
02. Lush Outdoor Miner
Colin Newman: "Again, much confidence on show, plus they get the chorus right! It's actually very satisfying to hear someone do a decent cover of a song you've written (and distressing to hear a bad one!)."
03. Laika German Shepherds
Colin Newman: "Perfectly realised from a song which didn't get a decent Wire version until 2011. It brings something new to the song while still completely allowing it to keep its identity."
04. Bark Psychosis 3 Girl Rhumba
Colin Newman: "Less of a cover and more of a total re-interpretation! This time through the lens of some kind of blissed out Funkadelic (don't ask me how!), I defy anyone not to smile!"
05. New Bomb Turks Mr Suit
Colin Newman: "First time I heard this I just burst out laughing! It's Wire meets the Beastie Boys, excellent! Nailed it!"
06. Flying Saucer Attack Outdoor Miner
Colin Newman: "This is very different to the Lush cover of the same song. It's serious lo-fi, and I believe got quite a lot of attention when it came out."
07. Fudge Tunnel Lowdown
Colin Newman: "Well it's all about the riff and they've totally got that! They even bring out the inherent funk which could have been tricky but they handled it well."
08. Malka Spigel Drill (small fat drill)
Not on YouTube
Colin Newman: "This is quite hilarious, especially the title (very Malka humour), with some serious sub bass. My missus, of course."
09. My Bloody Valentine Map Reference
Colin Newman: "What can you say? It's MBV and they covered a Wire song. It's one of a very short list of songs they have covered (the other well known one being We Have All The Time In The World, first done by Louis Armstrong)."
10. Fischerspooner The 15th
Colin Newman: "Probably the most famous one here. Seeing them do it live was especially strange as they come from somewhere very far from where the song comes from. The song, surprisingly, quite suits that stripped electro sound. Fischerspooner seem to have, sadly, sunk without trace now."
Wire live dates:
April 12th-13th: Prince Albert, Brighton
April 14th: DRILL (with Karen Gwyer) at The Lexington, London
April 15th: DRILL (with Tomaga) at The Lexington, London
April 16th: DRILL (with Boothroyd) at The Lexington, London
April 17th: DRILL (with Orlando) at The Lexington, London
April 18th: DRILL (with Xaviers) at The Lexington, London
April 20th: Engine Rooms, Southampton
April 21st: Music Hall, Ramsgate
April 22nd: Rescue Rooms, Nottingham
April 23rd: Kazimer, Liverpool
April 24th: Trades Club, Hebden Bridge
April 26th: Lemon Tree, Aberdeen
April 27th: King Tuts, Glasgow
April 28th: Brudenell Social Club, Leeds
April 29th: Club Academy, Manchester
April 30th: Fleece, Bristol
May 27th: Nuemos, Seattle
May 29th: Slim's, San Francisco
May 30th: The Echoplex, Los Angeles
June 2nd: The Sinclair, Cambridge MA
June 3rd: Music Hall of Williamsburg, Brooklyn
June 4th: Bowery Ballroom, New York
June 5th: Union Transfer, Philadelphia
June 6th: Black Cat, Washington DC
June 8th: Beachland Ballroom, Cleveland
June 9th: Majestic Theatre, Detroit
June 10th: Headliners, Louisville
pinkflag release 'WIRE' on April 13th 2015 (pre-order).