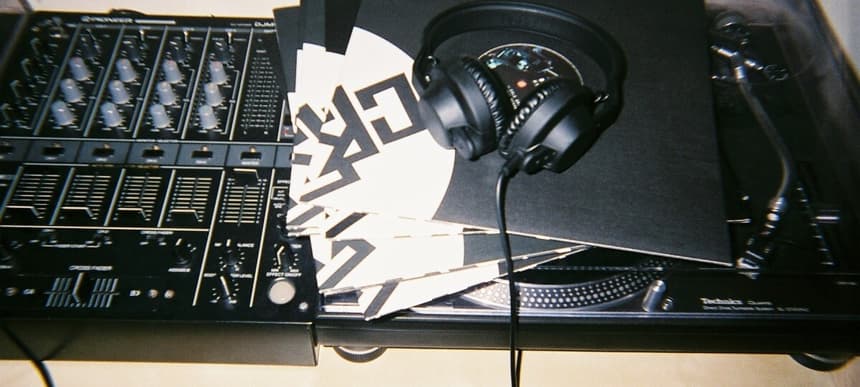 01.02.2016, Words by dummymag
The 10 defining Crazylegs tracks, according to Crazylegs
Established in Bristol, Crazylegs is an independent record label and music family that has been active since crew first started putting on club-nights in 2008. After debuting as a label in 2012 with Ziro's 'Coded / Oni', the label back catalogue now flaunts tracks from producers such as Bloom, Murlo, dJJ, Toyc and Crazylegs regulars TRC, Gage and ISLAND.
More than just an 'imprint', Crazylegs is a place for producers to develop, giving them a space to work alongside a close-knit family of artists, who are pushing electronic music in ambitious new directions without constraints. The ethos is to let producers breathe: enabling them find their own path, image, identity, and sound. As their discography suggests, pretty much anything goes – and previous releases have touched on garage, bassline, club music, straight up ballroom influences on Gage's crash heavy anthem, Bad Bitch, and the "weirder territories' in-between.
To mark Crazylegs' upcoming "first club party in absolutely ages" at Lightbox in South London with DBM (Deadboy and Murlo), Ziro, TRC, Gage, and Shandy – we asked the Crazylegs crew to share the defining tracks from the last four years of the label. From Ziro's inaugural debut through to infallible garage inspired cuts from TRC, some are ripe for peak-time in the club whilst others tread mainstream sensibilities whilst still maintaining every inch of credibility.
Read the list below and get primed for Crazylegs' return to the club on February 26th at Lightbox, South London.
01. Gage Telo
Rob ISLAND: "Telo was the first thing I heard from Gage after seeing him in the club for the first time and probably the first time I'd heard music produced that way. I was hooked. I loved the power of the track and the zaps. #zaplord
Ziro: "This seemed like a consolidation and perfect example of Gage's interpretation of club music at the point of writing. Just a really good snapshot and sign of the times, for the label and music in general."
02. TRC vs Murlo You & Me
Andy: "This was an important one in a lot of ways, our first foray into the world of singles and our first video too. The first manifestation of a big change of heart regarding formats and presentation too. Still one of the best tracks we've put out."
03. Bloom Cold Grip
Ziro: "The perfect Bloom tune for me. Crazy beautiful industrial carnage underpinned with just enough eski sensibilities to ensure it still destroys dancefloors as opposed to vibes. Just a real fave."
Rob ISLAND: "Choppy, raw, full, harsh and unpredictable but it still has groove. Ticks all the boxes in my brain. Plus Bloom's production is ridiculous."
04. dJJ just a lil
Gage: "I first heard this around the second half of 2014 and I don't think I've heard a better summer track ever since. The vocal and bass combination is so sweet, with ridiculously tough and saturated drums. A highlight of nearly every set last year."
Rob ISLAND: "I've listened to it thousands of times and counting, so it's gotta be up there with the greatest tracks of all time. Could probably just listen to that first kick on repeat for an hour."
Ziro: "My first example of J's production and my favourite house tune of the last few years in one go. Pretty much the definition of a perfect loop-based production. Viva la reinvention."
05. TRC & Princess Nyah Butterflies
Andy: "Just the most convincing bit of evidence yet that no one does garage better than TRC. Everyone will soon realise."
06. Ziro Coded
Gage: "This track was the first release from the label and it was made by another regular at the Crazylegs parties like myself. At the time that really helped drive me to push forward with my music. It's got the most fucked up percussion etched into a relentless groove and it still bangs in sets."
07. Gage & Kevin Jz Prodigy Bad Bitch
Bloom: "I love Bad Bitch, it's just an anthem. First time I heard it I knew it was massive, just how the wild vocal sits on top of the mad beat. It's really raw and a great collab."
Andy: "Hands down my favourite track on the label. Never could have predicted how perfectly these two would combine and we're still so proud to have made the connection. Unparalleled energy."
08. ISLAND VOLA
Andy: "Hard to pick a standout from ISLAND's debut but VOLA is the one that had me hooked from early. It's like chart music from an alternate universe, so addictive. Also remains the most played track of all time in my iTunes."
09. Toyc Keyframe (Bloom Remix)
Gage: "This for me is what an independent remix should be – Bloom's taken the original and went on one. Super daring and unique, and the response encouraged us to keep pushing further into weirder territories as a label."
10. Ziro Lionheart
Andy: "Lionheart more than anything represents the completion of the circle for Ziro, to me it's like his 'coming of age' track. Just total uninhibited unhinged brilliance from an incredible producer."
Crazylegs takeover Lightbox on February 26th with DBM (Deadboy and Murlo), Ziro, TRC, Gage, Shandy – more special guests to be announced (info).