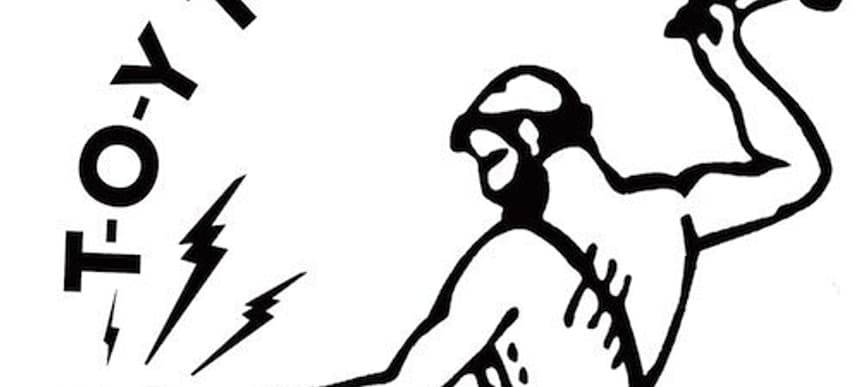 05.08.2016, Words by dummymag
The 10 defining Toy Tonics tracks, according to Munk
German label Toy Tonics have been purveyors of a unique house sound since they established the label three years ago. Proud to be forward thinking and never stagnant in what they champion, it's run between Berlin and Munich by razor sharp producers Kapote and Munk, who have only the best electronic music in mind.
Even though most of the artists on the label come from different parts of the world, all of the label's releases run through the same vein, and perfectly compliment the contrasting sounds of the two cities – from the straight techno vibe of Berlin to slightly funkier edge of Moroder-disco-town Munich.
A quick trip to the label's SoundCloud and its enviable productivity levels are apparent as a whole haze of perfectly formed house music unfolds, all fronted by Paze's instantly recognisable artwork. To give you an idea of their output – Toy Tonics has been home to a range of artists from London's PBR Streetgang to Mexican based Alixander III, and Australian producer Jad & The Ladybody. The Parisian creme of DJ blends supreme, Teki Latex, even appeared on the label back in 2013, providing vocals for Mercury's crystal-cut club ballad Tension and its crisp and acidic flip, Levitate.
Returning next week with a four track release to round off summer, they bring together four label regulars for 'Jockey Jams', which is another instalment in the label's irregularly plotted various artists EPs. Starting proceedings is Black Loops vocal doused, Rhodes riffing jam Sex Toy, continuing to Moritz Butschek hand clap ready cut Waterfalls, surfer Jad & The Ladyboy's hypnotic vocal club remix of PIXEL82's Going On, before finishing up with New Yorker Doug Gomez's old school funk jam Make Your Body Move (and with this track, doing that won't be be a problem).
Ahead of the release of 'Jockey Jam's on August 8th, we got one of the label's head honchos to put together some of the most defining tracks in Toy Tonic's short but insanely productive three years in action. Ranging from Tuff City Kid's stimulating remix of Metropolitan Soul Museum through to Jad & The Ladyboy and Munk's far-reaching additions to the diverse flavours of their 'Mushroom House' compilations – Munk himself shares some of the label's finest moments.
Read through below, and listen seamlessly via our YouTube and Spotify playlists.
Kapote
Fuck Music (Session Victim Remix)
Munk: "Kapote's style is influenced by the funky side of Detroit records from the '90s. Think Red Planet, Metroplex, and maybe some of the early Paris sample based house from the same period. The La Funk Mob and Motobass records. The 'Fuck Music' EP came with a remix by Berlin's disco live act Session Victim. It sounds like West London in 2001…"
COEO Native Riddim
Munk: "The biggest "stars" on Toy Tonics. These two boys from Munich have an impressive fat and functional house sound that is inspired by early Masters At Work. In fact, It's soul – that doesn't follow the "old" deep house formula music."
Rhode & Brown Make Believe Ballroom (Glenn Astro Remix)
Munk: "Two more Germans who are part of this new, young and growing German funk-house scene that is not so much related to the "old" deep house and minimal world, but has a passion for jazz, old funk records, and vintage synths. These kids try to bring the soul back into house music."
Jad & The Ladyboy Gervinho
Munk: "Toy Tonics started a new series that is dedicated to the Afro, ethno, and more psychedelic side of house music, with several EPs expected over the next few years. The first one included tracks and remixes by DJ Koze, Alien Alien from Multi Culti, Munk, Rebolledo and this great Afro house track from Australian producer Jad."
Lancelot 7am In The Afternoon
Munk: "Lancelot just mailed a bunch of tracks to Toy Tonics as he was regularly playing our stuff out. The tracks fitted and so here it is. This one came out in July 2016."
Metropolitan Soul Museum A&E (Tuff City Kids Remix)
Munk: "Toy Tonics is from Germany, and of course there is a strong relation to the other German kids moving in a similar musical camp. Lauer and Gerd Janson are better know as Tuff City Kids. Check that out."
Alixander III feat. Kim E and Gingy She's So Young
Munk: "This is definitely sick. Alixander used to be part of Azari & III but now lives in Mexico City and produces techno tracks for Toy Tonics with a level of KAPUTT that you just can't describe in words…"
Munk Nigerian Jam
Munk: "One more track from the Mushroom House compilations. Nigerian vocals, Mississippi funk grooves, and an MPC house beat that could have been produced by somebody like Todd Terje."
Ricardo Baez We Come Around
Munk: "Italian house promoter, DJ, and producer Ricardo Baez has been hanging with the Toy Tonics crew since day one – way back in 2013."
Whomadewho Keep Me In My Plane (DJ Koze Hudson River Dub)
Munk: "This one is from a few years ago but fits so well into today's vibes that it had to come out again, this time on the Mushroom House compilation."
Toy Tonics release 'Jockey Jams' on August 8th (buy). Listen to more playlists like this on our Spotify.