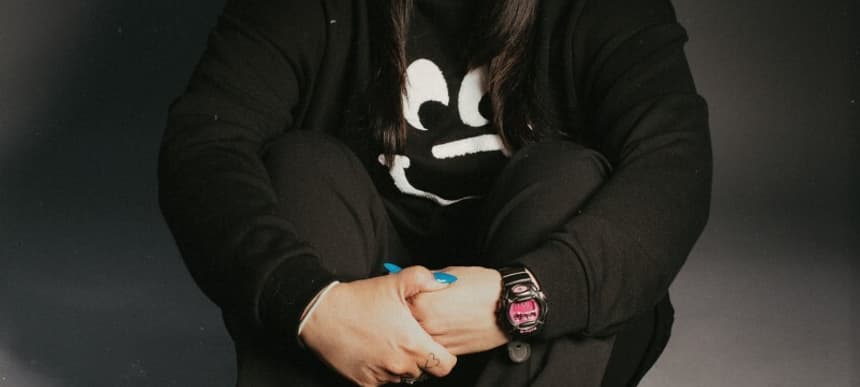 21.10.2016, Words by dummymag
The 10 tracks that inspired Jubilee's album 'After Hours'
From founding Nightshifters in the late '00s and being heralded the "Brooklyn bass sweetheart" for her sets that fly through bashment, soca, club music, freestyle, rap and all that lies in between, up to playing her part in Dre Skull's Mixpak crew reigning supreme at the Red Bull Culture Clash in this summer – is there anything the Miami-born, New York-residing DJ and producer Jubilee can't do?
An in-demand DJ foremost, production came second for Jubilee, with early releases coming in the form of grime-licked collaborations with Star Eyes and contemporary ghetto-bass roller Pop It!. Forging a strong alliance with Dre Skull's label over the past few years, it's no surprise that Jubilee's full-length debut would come live and direct from the Mixpak camp. And yes, 'After Hours' is the 11-tracker we've all been waiting for, which gives Jubilee the opportunity to step out of the 12" single box and take all the room she needs to move through her varied palette of inspirations without any barriers – whether it's channelling the Miami bass and freestyle anthems of her formative years on Bass Supply, moving with the present and teaming up with Hoodcelebrityy on carnival-inspired jam Wine Up, or getting deep into the sunset haze with Beach Ball.
Whether you're on your way to the club, neck-deep in dancefloor action, or heading home for your very own after-party: there's no denying that Jubilee keeps the summer fires burning with 'After Hours'. To mark the release today, we got Mixpak's first lady of bass to share a bevvy of tracks that played a big part in shaping the end result of her LP, from the true Miami-girl soundtrack of Debbie Deb to the YouTube dance video steeze of COA BaBii.
From Miami bass to dancehall realness, read through Jubilee's selections below and listen seamlessly on our YouTube playlist.
DJ Laz Red Alert
Jubilee: "I have been hearing this song on the radio since I was a little kid. It's SUCH a banger and it makes me happy. Every time I play it someone asks me what it is and I am like "it's a million years old". When I try to explain what kind of Miami sounds I like to people I always play this song for them as an example."
COA BaBii WIGN
Jubilee: "I found this song because I love these guys and their dance videos. I can get stuck in YouTube dance videos for days and I find a lot of good music through them as well. Helix made an edit of it for my 'Magic City' compilation."
Anquette Shake It (Do The 61st)
Jubilee: "Another one that's been on the radio since I was young. Anquette was signed to Uncle Luke's label very early on and they had some bangers. I loved this one so much because what is better than bad ass girls shouting out the neighbourhoods and cities that you love. I still play it all the time and it's just like new."
Konshens and J Capri Pull Up To Mi Bumper
Jubilee: "First of all rest in peace J Capri. She was a really lovely and talented artist that is gone too soon. This song not only has the wildest production but it has the best vibe and an equally as fun video. I often wish I could make a song this good."
Trina Long Heels Red Bottoms
Jubilee: "THE PERFECT SONG!!! Such a good bassline. Produced by Collipark. And it's no secret that I love Trina. I think this is just in my 10 best everything, to be honest."
Debbie Deb When I Hear Music
Jubilee: "Miami girl anthem. I am very inspired by freestyle music and this is one of my favourite freestyle songs. The second the first note of this song drops I get excited. It just makes me want to go roller skating with my girlfriends."
Ozone Layer Planetary Deterioration
Jubilee: "I used to hear this song at raves in Florida all the time and I never knew what it was called. There was really no way for me to find it but Burt Fox, the guy that mixed my album, bought it for me on vinyl recently. So now I can play it years and years later whenever I want."
2 Live Crew Throw the Dick
Jubilee: "Throw The Dick also known as Throw The D is one of my favourite 2 Live Crew songs. And there are A LOT of 2 Live Crew songs. I just love the production on it and it is a song I have heard on dancefloors for years. Anquette (mentioned above) did an answer song to this called Throw The P which I also love."
Mario Star Themes
Jubilee: "I love all Mario theme songs but there is such a rush when you are in star mode. There's this happy music while you are trying to get done as much as possible. I would love to always have a star."
Otto Von Schirach Salpica
Jubilee: "Otto appears on 'After Hours' for vocals on the song Bass Supply. I have loved his music for years and even though he has been around for a really long time, this is one of his more recent songs. He does a great job of keeping all the Miami sounds and in the video to show the weirder side of the city. Both the song and the video are both inspiring to me.".
Jubilee's album 'After Hours' is out October 21st on Mixpak (buy/stream).