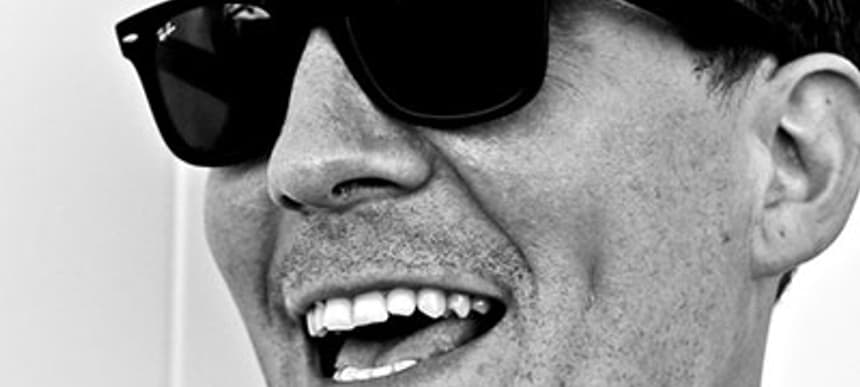 22.10.2013, Words by Aimee Cliff
The 12 best disco/house crossover tracks, according to Artwork and Dan Daxon
Artwork, one third of huge dubstep trio Magnetic Man and prolific DJ/producer, is on the cusp of launching his very own disco night here in London (the first edition of which is kicking off this Friday with Marshall Jefferson) along with DJ pal Dan Daxon, so it only seemed right that the pair curate a playlist for us showcasing their favourite disco-tinged tracks. Scroll down and hit play for what Artwork and Daxon call their "There's a disco in my house!" chart, aka an exploration of the irresistibly funky boundary between disco and house.
Cymande – Bra

Artwork: "A funk band from Balham inspired (cough) one of greatest early house basslines, listen at 2:50 to hear Jack the Groove by Raze…a little slower & funkier."

Klein & MBO – Dirty Talk (European Connection instrumental) (1982)

Artwork: "Classic track from Italy that went on to be played in all the influential clubs in the USA. The vocal version has one of the best laughs (after Sid James) ever to be pressed onto vinyl."

Kraftwerk – Nummern (1981)

Artwork: "Couldn't really have a chart like this and not mention this lot, the DNA of techno…they were doing this shit in 1981 bruv, ya get me!!"

Kid People – Life's a Party (1985)

Artwork: "Anthony Malloy is best known for his work with Paul Simpson on the Serious Intention records or with his own band Anthony and the Camp (check out What I Like… sound familiar?) but it's this little nugget we love from 1985…. big Paul 'Trouble' Anderson tune! TUMMMMPIN!"

Martin Circus – Disco Circus (1979)

Artwork: "There are so many versions of this killer track by the French rock group Martin Circus that it all gets a bit confusing. There's an unreleased Francois K edit that was bootlegged back in the late 70's. Apparently the man himself only gave out a few acetates to a handful of worthy DJ's but it still surfaced on a 12"….. and this was before Zippyshare . But we've gone for the "Special mix" from the Ballroom series that was kinda based on the Francois K's edit on Prelude… not really sure who did it…. but who cares."

The Coach House Rhythm Section – Time Warp (1977)

Artwork: "The Coach House Rhythm Section was the name of Eddy Grant's backing band and this slice of 70s techno was the instrumental flip to their 1977 hit Nobody's Got Time and will mash up any dance to this day."

Sinnamon – Thanks To You (1982)

Artwork: "A real dog tooth Farah South London anthem mixed by Shep Pettibone from 1982…let us all rave to the delayed clap."

Wuf Ticket – The Key Dub (1983)

Artwork: "Another Francois K masterpiece …. James Mason didn't make many records but the few he did are pure genius."

Cultural Vibe – Ma Foom Bey (1986)

Artwork: "Tony Humphries on the edits on chanting classic."

Quando Quando – Love Tempo (1983)

Artwork: "Why don't songs have vocals like this anymore…more of this sort of thing please."

Alexander Robotnick – Problemes D'Amor

Artwork: "Yes it's acid house…acid house from 1983, hats off!"

Candido – Thousand Finger Man (1979)

Artwork: "Yeah we know we have 12 tracks in our Top 10, but if you think we were leaving this out you are very much mistaken. When the piano comes in, it is still one of the greatest moments in music."
The first edition of Artowrk's No Way Back nights will feature Marshall Jefferson and takes place this Friday at London's Paradise. Get more information and tickets here.