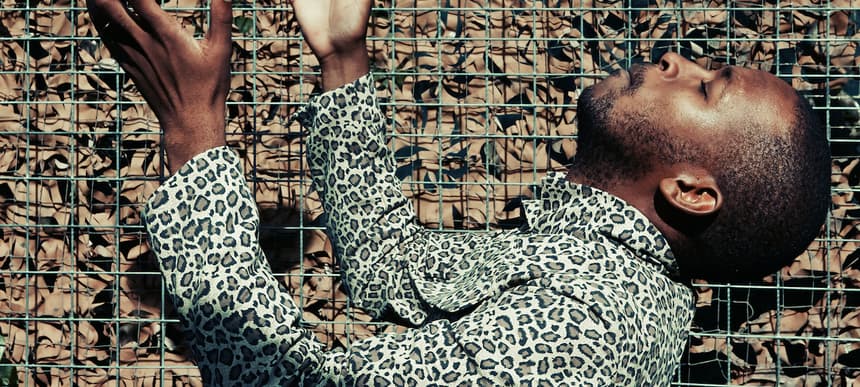 01.07.2015, Words by dummymag
The 14 best South African electronic music classics, according to Spoek Mathambo
Having already put out one excellent album in 2015 with his band Fantasma, South African producer, rapper, songwriter, and director Spoek Mathambo's most recent move has been a documentary series called Future Sound of Mzansi. The documentaries explore South Africa's contemporary electronic music landscape, looking into the past, present, and (naturally) future sounds to have come from SA across a multitude of movements and subgenres.
Future Sound of Mzansi is not an exhaustive history of South Africa's electronic music, but it is an in-depth look at some of the producers pushing electronic music in innovative directions who are emerging from the country today. Some of the artists interviewed have been making waves in the UK and further afield: John Wizards (who released an album with Planet Mu in 2013), Nozinja (the Warp-signed creator of Shangaan Electro), and Rudeboyz (whose tracks in the Gqom genre were recently issued through Goon Club Allstars) all make appearances.
"Still a country steeped in poverty, crime, and injustice, South Africans party like their lives depend on it," filmmakers Spoek and Lebogang Rasethaba write on their website, "From the sounds of deep house to glitch hop, kwaito-house, township tech, sghubu sapitori; durban qhum, daintly melodic electronica to dubstep; super fast khawuleza and shangaan electro. The groove is thick and infectious. And they give themselves to it."
With all three parts of the documentary now on YouTube, Spoek has given us a more personal look into some of his favourite sounds from South Africa released within living memory. "These are some of my favorite moments in South African electronic music, a set of classics that I've enjoyed over the last 10 years and more," Spoek explains over email.
01. Aero Manyelo Black Blue Green
Spoek Mathambo: "Part of an EP that Aero Manyelo released on the Paris-based record label Sound Pellegrino, this hard-hitting, all-out assault on the dancefloor is so fun. I get properly excited to play it on big sound systems. I happened to stumble onto it on my iPod, and it's been a permanent fixture in my sets for a few years."
02. Black Whole 1000 Seconds
Spoek Mathambo: "An instant classic that doesn't need too much explaining. It's such a vibe creator, a warm welcome to the dancefloor, bubbling and growing. Black Whole was a deep house collective/crew from the Ivory Park and Thembisa areas in Gauteng, most known for this smash hit and for being the group that Aero Manyelo was in before going solo. Aero still releases music from the other artists like Mogrigo on his Herbal3 Records label."
03. Sweat X Nuflex Cowabunga
Spoek Mathambo: "This is a really unique moment in South African electronic music. Marcus Wormstorm and I created this hip house/new rave/electro-booty-happy-hardcore style called 'Sweat.X'. We put out two EPs on London-based label Citinite, and that was the first time I started touring the world and sharing our vision of a new South African sound."
04. Bojo Mujo Activator
Spoek Mathambo: "This was one of the late Bojo Mujo's [tracks]. I would hear this song while clubbing, go crazy, run to the booth to ask what it was, and for a few weeks DJs would nonchalantly shrug their shoulders. I took my search to CD stores around Johannesburg and Cape Town and came up with equally blank stares until my mentor and homie DJ Mastercash put me on. Bojo's got a lot of almost gospel sounding songs, like Shiwelele and Hlonolofatsa. Activator is his other more direct, secular lane, which works better in my sets."
05. DJ CNDO Amerido
Spoek Mathambo: "This robot jam about drinking amaretto and smoking kush always gets me hyped up. It samples the South African rapper Maggz, and while the original obscure rap song has died, this little edit will live forever. DJ CNDO is also known for the mammoth tune Terminator, which was produced by DJ Gukwa, as well as Ngisemathandweni."
06. DJ Clock Dusk 'N Dawn
Spoek Mathambo: "I have always loved DJ Clock's first album, 'The First Tick'. It's an education in the possibilities of township tech style, from the vocal tracks to straightforward instrumental bangers like Dusk 'N Dawn. There are too many tracks to name, so just check the whole of 'First Tick'. This syncopated rhythm with the cold electro-techno synths really captured my imagination. I loved the mood, which is equally reserved and manic/hypnotic/tribal. It's a juxtaposition of African tribal energy and almost Detroit/German-like mechanical synthesis. I think this vision is still a strong component of a lot of SA house that I love, as opposed to the lush, deep house [sound]."
07. Mgarimbe Sister Betina
Spoek Mathambo: "A really strange and interesting time was when this hosted club set became a hit on radio and was even banned for the crude language. Supposedly, the beat is by DJ Mujava – a detail overlooked in registering/releasing the songs, as it was a live club set where a host just started flowing on the beat."
08. Bop Naja
Spoek Mathambo: "I cannot overstate Oskido and Bruce's importance to the South African electronic music scene, through their endeavors as DJs, vocalists, and record label impresarios (with the mammoth Kalawa record label). They've been active for close on 25 years, and have been important (if not crucial) in making SA house the powerhouse that it is today.
"This track has been a favourite of mine for a number of reasons, one being Zulu Naja's Shangaan vocals – I hadn't heard Shangaan flows on a beat like that before – and another being how crazy the beat sounds. Sorry that this YouTube link sounds so terrible – buy the track, you won't regret it.
"Another Zulu Naja classic is Voroso, with DJ Hunose, and Ndiya with DJ Cleo."
09. Revolution Light Of My Life
Spoek Mathambo: "This song has been giving me deep emotions for a long time. I think Revolution have been quite good at making uplifting, almost spiritual takes on South African tribal house. These twins are still very active in the house music scene, although I personally prefer the less smooth, almost muzak-y side of their catalog. They are some of the first SA house producers to come to prominence after a '90s scene mostly based on compilation DJs."
10. The Constructus Corporation 'The Ziggurat'
Spoek Mathambo: "Maybe the most hip hop-leaning entry on the list, it'd be remiss not to include this incredibly ambitious work, a concept album which was made in 2000 by some of the leaders of the Cape Town electronica scene. The group/collective was comprised of the rapper now known as Ninja (Die Antwoord), some features from Yolandi, and with the seminal glitch hop and electronica producers Sibot, Markus Wormstorm, and Felix LaBand.
"A concept album in the vein of Deltron 3030, complete with a graphic novel by illustrator Nikhil Singh, storytime narration, and character dialogue, 'The Ziggarut' was made of a stream of stories about an interstellar microphone champion called Random Boy. All these elements came together to form a creative masterpiece. It was both the climax of the record label African Dope, and the epically expensive project that maybe broke it down."
11. Glasser Home (DJ Spoko remix)
Spoek Mathambo: "After earning his stripes first making hip hop in the Pretoria township of Atteridgeville, Spoko moved on to become one of the creators of the sghubu sapitori sound (a precursor to Bacardi House), as well as the Shangaan Electro alongside Nozinja (they worked together). This remix is a great case of his marching band drums and synths working much like they did in Township Funk, except this time with the beautiful vocals of NYC artist Glasser, his labelmate on True Panther Sounds."
12. Rudeboyz (Menchess) Mitshubishi
Spoek Mathambo: "This Qgom track keeps surfacing on different labels, sites, sets, and compilations – it has real staying power. It's simple and stripped down with those colorful toms. The vibe transcends culture and language – I drop the song in different parts of the world and people always turn into limb-thrusting disco zombies. I think this track will be a future classic for sure, it was such a big hit when it came out a few years back. I missed the boat on giving it proper leng, but look forward to dusting it off soon."
13. Felix Laband Donkey Rattle
Spoek Mathambo: "This sludgy, syrupy track was a really unique take on the kwaito rhythm and syncopation. The ominous drone matched with the time it was used as the theme song to a really graphic anti-alcohol abuse PSA, ensuring that a wide range of people in SA will never forget this tune."
14. Nozinja Nwa Gezani My Love
Spoek Mathambo: "This was one of the tracks that put Shangaan Electro on the world stage and even made South Africans recognise the vibe that's been bubbling under their noses the whole time. I love the video and the fact that Nozinja is hardcore croooooning, like James Ingram or something."
Spoek's honourable mentions:
01. DJ Mujava Township Funk
02. DJ Mujava Alostro
03. DJ Sdunkero Choosing Love
04. Spoek Mathambo Control
05. DJ Call Me Marry Me
06. DJ Ganyani feat. FB Xigubu
07. LV feat. Okmalumkoolkat Sebenza
08. Cassablanca Mzu Bullet
09. PH Fat Lights Out
10. Black Coffee Juju
11. Sibot Super Evil Me
12. DJ Vetkuk vs. Mahoota feat. Dr Malinga Via Orlando (Remix)
13. Ruffest Uthando Lwakho
Spoek Mathambo's Future Sound of Mzansi documentaries can be watched on THUMP.