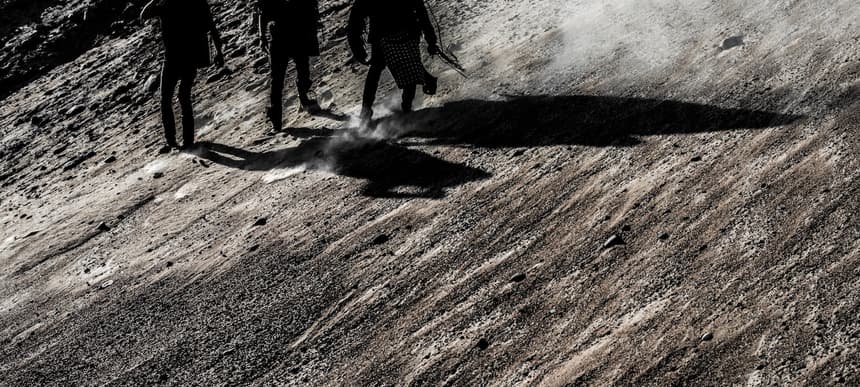 27.11.2014, Words by dummymag
The 16 best Finnish techno tracks, according to K-X-P
Helsinki electronic rock three-piece K-X-P have followed a year-long studio hiatus with a new EP, 'The History of Techno'. The EP title should be taken literally – rather than being a straight-up techno record, it takes its influence from the music that was foundational to techno, from krautrock to early electronic music to minimalism.
In keeping with the theme of that record, the trio's ringleader (and the "K" in their name) Timo Kaukolampi has plotted his own history of techno – but focusing exclusively on the techno born in his own country, Finland.
Finland isn't a country that's synonymous with techno and rave music in the same way that other regions and cities are, something that Timo puts down to the scarcity of equipment and import records in the early days, the lack of easy-to-come-by drugs, and the length of its harsh winters. Nevertheless, it's still a country with a vibrant if little-known history of electronic music, and has even birthed recognisable name exports like Mika Vainio and Jori Hulkkonen.
Beginning in 1968 and ending in 2013, Timo's compiled a guide to Finland's techno history that takes in DIY modular synthesizers, gabba, acid, pop music, and anything else with a pulse that might fit in between.
01. Erkki Kurenniemi Antropoidien tanssi, 1968
Timo Kaukolampi: "Finnish electronic music as it first started to lift its head; still wet behind the ears. Erkki Kurenniemi was an inventor, film director, and artist – he built this synth and called it Dimi. There was also a synth that you controlled by dancing, and one that used touch and sex as its interface."
02. Oiling Boiling Cyclops Dance, 1977
Timo Kaukolampi: "Proto-techno with huge 'P'. This obscure track was hidden as the last track of a jazz-funk record, making that vinyl a collector's item, and super expensive. Sähkö Records re-reased this in 2001."
03. Pekka Airaksinen Sukirti [edit], 1984
Timo Kaukolampi: "Another proto classic, or divine accident. Pekka Airaksinen started to program the TR-808 with some mathematical formula that he found in some old Buddhist art. Hi-hats were the air, bass drums the earth, all other elements in between. This record is like no other. This was partly re-released on Skweee master Randy Barracuda's label, Harmönia."
04. Ektroverde Inauguration of a Spacebank, 1998
Timo Kaukolampi: "Ektroverde is Mika Rintala – or, actually, his DIY modular synth, which he built in his bookshelf. Proto from prototype. This track is from the documentary film Futuro, by Mika Taanila."
05. Panasonic Untitled, 1994
Timo Kaukolampi: "There is one name in Finnish electronic music that's stronger than no other: Mika Vainio. He is still creating to most beautiful, abstract, scientific, and violent music ever to come out of this small country. Here he is with Ilpo Väisänen as Panasonic – or Pan Sonic, before they skipped that 'a'."
06. Melody Boy 2000 Monotone Fantastique, 1994
Timo Kaukolampi: "It's not easy to make this kind of list – so many tracks, so little time. I asked many very, very influential people what is the true Finnish techno classic, and three out of four said this track! Melody Boy 2000, aka Monojunk. Chapeau!"
07. Jimi Tenor Take Me Baby, 1994
Timo Kaukolampi: "Too pop to be techno, to techno to be pop. Jimi Tenor, the esoteric mastermind, with his first real solo record, 'Sähkömies' – which translates directly translated as 'electric man' or 'electrician'. A hugely influential track, which still gives you shivers with its deep electric sound and raw, dirty sexuality."
08. Marko Laine Read & Write, 1996
Timo Kaukolampi: "Marko Laine banging it away with his dark techno 909! Ron Trent would be thrilled with those snare fills. He also ran the most amazing record store, Mind Records."
09. Jori Hulkkonen Heights, 1996
Timo Kaukolampi: "Would be pure ignorance to leave Jori Hulkkonen out of this playlist. I could also post Tiga & Zyntherius, but this suits the list better. Enjoy!"
10. Freestyle Man Cyberchrist (feat. Irwin Berg), 1998
Timo Kaukolampi: "When those evil robot words come out from the speakers, you believe this dude Irvin is the Cyberchrist. Totally nihilistic record. Not sure if this video recording is on -8, but I have to say that some tracks just have a fucked mood. If I make an electro mix in the future, I'll also add Mr. Velcro Fastener – electro Finlandese was strong at the turn of the millenium."
11. Philus Acidophilus, 1998
Timo Kaukolampi: "Acidophilus is just an amazing classic! Mika Vainio is also Philus, Saab 96, and Ø (this has nothing to do with the UK Ø). Mika does many different styles of music, but everything has that most amazing sonic quality. Tracks on this playlist just present one thin slice of his musical spectrum and genius."
12. Uni Latch, 1998
Timo Kaukolampi: "Released on Ectomorph's Detroit label, these brave Finns do half of the track with rimshots and another half with claves. Brilliant raw drive and mood from the more electro side of techno Finlandese."
13. Aavikko Viitostie, 1999
Timo Kaukolampi: "Purists will say that this track has nothing to do with techno, but I think that, behind the robust sound, is something unique and phuturistic. They come from Siilinjärvi – that is near where my grandmother lived. Winter lasts nine months there – maybe that explains things."
14. Motiivi:Tuntematon 1939, 2005
Timo Kaukolampi: "I must put one of my own tracks here. Still blows my mind. I have no idea what we were doing with Antti and Veikka. There was no drugs (as I remember). Our next 12″ was released on Kompakt. Soon after that, Wolfgang [Voigt] stopped answering my emails."
15. Acid Kings Live @ Acidtron, 2008
Timo Kaukolampi: "Acid Kings. The name says it all, and this rare live clip kinda says it all about techno Filandese. Not fuelled by disco biscuits like the international chic Gucci crowds – these acid lovers believe in hootch and cheap government-controlled beer. But what can you say? We crawled out of the mud pit less than hundred years ago. Their acid is hot and rare. I saw them playing naked once, some years ago. Gave me a blister."
16. Teersom Orbital Rotation, 2013
Timo Kaukolampi: "Fresh track that has one leg in tradition and another in the future. Perfect mixture of heritage and a modern enough style. Music must move forward. Teersom, you prodigal son; may the 4/4 carry you far!"
Öm released 'The History of Techno' on November 15th 2014 (buy). The K-X-P play a free show at The Shacklewell Arms in London on December 10th 2014 (more information and tickets).