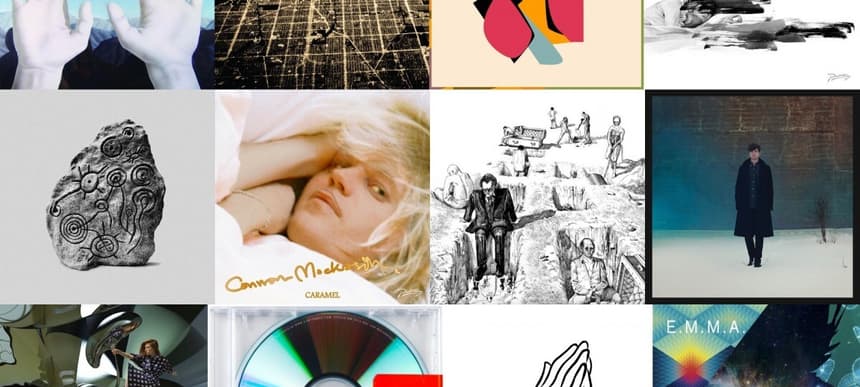 11.12.2013, Words by Aimee Cliff
The 20 best albums of 2013
The thread that seems to weave its way through all of Dummy's favourite albums of 2013 is nuance; curious and sensitive, many of these 20 releases explore the spaces between extremities, breaking free of the lust/heartbreak pop dichotomy and expressing familiar emotions in unfamiliar ways (and vice versa). The Haxan Cloak did it with his depiction of the descent (or ascent) into the afterlife, shaded with as much light as darkness; Laurel Halo did it by communicating the unspoken in the haphazard sound of 'Chance Of Rain'; Connan Mockasin did it with his blurring of person and character, of sensuality and strangeness, of reality and fiction in 'Caramel'. Even 'Yeezus', explicitly an album of extremes, sits uncomfortably on a knife edge between those extremes, cherry-picking elements of different cultures and forcing you to listen in new ways, while 'The Redeemer', on the face of it Dean Blunt's most accessible work to date, moves masterfully between frank expression and buried sarcasm.
Read on to find out more about the wonderful records that were our favourites of 2013.
20. CONNAN MOCKASIN – 'CARAMEL' [Phantasy Sound]
Connan Mockasin is one of those rare types of artist that can adeptly build a world for themselves and make music that seems to uniquely inhabit that space – a space that goes beyond simple influences and references points. Where his astonishing debut album 'Forever Dolphin Love' had a tendency to drift into extended passages of quiet introversion and psychedelia, on 'Caramel', Connan reinvents himself as the seduction supremo, a lothario writing the smoothest and most sensual, soft-focus soul and R&B.
The album's title came before the songwriting, so it sounds as silken, golden, and smooth as you'd expect a caramel record to sound. The lyrics reflect that. "Book that hotel, and I'll please you" is one of the more memorable lines from Do I Make You Feel Shy?, while the gorgeous, e'd up album closer I Wanna Roll With You sees Connan spilling his guts with a spoken word monologue buried so low in the mix you really have to strain to hear it. It's all a ruse, though, because while 'Caramel' might seem lascivious at first, by the album's second half it slips back into delicate, beautiful music with the instrumental suite of It's Your Body 1-5.
Through this reinvention, Connan Mockasin made an extremely satisfying second album that never felt like he was retreading familiar ground, and yet never felt like a radical departure. While it may not be an album that defines 2013, for Connan's personal artistic development, it was a triumph. [Selim Bulut]
Further Reading: Connan Mockasin on love, loss and making 'Caramel' in Japan
19. MOUNT KIMBIE – 'COLD SPRING FAULT LESS YOUTH' [Warp]
Success is often the quickest route to failure. Make the mistake of writing a hit debut and you'll be rewarded with the task of tackling that difficult second album. Fans want more of the same. Critics want something new. Who to please? South London duo Mount Kimbie didn't just pen a hit with their 2010 debut 'Crooks & Lovers', they crystallised the sound of post-dubstep and became its poster boys in the process. All of which left 'Cold Spring Fault Less Youth' with a lot resting on its shoulders. Thankfully Dom Maker and Kai Campos shrugged off any outside pressure with not so much as a backwards glance, and the result is all the richer for that. Where 'Crooks & Lovers' zoomed in close on a specific tone, its sequel splinters off into a dozen different directions: pop, country, cosmic boogie. It is restless, curious and contrary – and it is for these reasons that 'Cold Spring Fault Less Youth' has spent so long in my ears this year.
The album's compelling energy springs, in a roundabout way, from the response to 'Crooks & Lovers'. They've been on the road practically non-stop since it came out and, unsurprisingly, their live set has grown and evolved. It's more "live" in a traditional sense now than it ever has been, having added a full-time drummer to their guitar and bass. There's a jamming quality to much of 'Cold Spring Fault Less Youth'; analogue and digital instruments bounce off one another, melting into an indeterminable blur. That mix is not new, but in Kimbie's hands it feels radical. For all the breaking down of genre boundaries in 2013, there still exists a chasm between the laptop legion and the guitar-wielding gang. The bonkers-on-paper but brilliant-on-record decision to work with King Krule rams the message home: that was then, this is now. The old rules are no longer relevant. All that matters is feeling, something that 'Cold Spring Fault Less Youth' teems with. [Ruth Saxelby]
Further reading: Mount Kimbie talk to Ruth Saxelby about life lessons
18. MAXMILLION DUNBAR – 'HOUSE OF WOO' [RVNG Intl]
Maxmillion Dunbar is a complete obsessive when it comes to records. In interviews, he speaks with knowledge, enthusiasm and genuine passion for such a wide range of music, from house to techno to hip hop to punk to disco. For someone who consumes music so ravenously, there's a worry that their own music can be a series of reference points and hat tips rather than something that truly belongs to them, but 'House Of Woo', Maxmillion Dunbar's second album and his first for the excellent RVNG Intl., was one of the most magnificently idiosyncratic and downright magical things to come out this year.
The album was recorded over a two-month period at his home, where he was living with his girlfriend. There's a simplicity to Dunbar's intentions – to record an album in one place, over one period of time, while content to be in love and in the present – that's both admirable and rare, and it showed in just how consistent the album's tone and character was. "I always liked the idea of the LP as a snapshot of the person's vibe, not necessarily always a statement that lasts forever and ever." Dunbar said when we interviewed him earlier this year.
And honestly, the "vibe" that it captures is beautiful. 'House Of Woo' is one of the only albums I've heard that doesn't operate on the emotional extremes of lust or heartbreak, and it just feels that much richer and realer for it. It's a thrilling, emotionally rich record, one that captures the wide-eyed ecstasy of simplicity in its loose, exploratory jams. The album's best song, the hyper-sensual Peeling An Orange In One Piece, encompasses that feeling in its title alone, an intangible sensation of giddiness and awe that's impossible to describe but undeniably right. [Selim Bulut]
Further reading: 'House Of Woo' review
17. JOHN WIZARDS – 'JOHN WIZARDS' [Planet Mu]
In this moment, I'm struggling to think of an album that's more "2013" than the self-titled debut from South African six-piece/duo/one-man-band John Wizards. For a start, there's that line-up – the ad jingle guy (John Withers) whose boundless imagination met his laptop and spawned an album full of so many musical ideas he struggled to contain them, the chance collaboration and friendship with Rwandan refugee Emmanuel Nzaramba behind the whole project and the four extra musicians he had to recruit to make the album even close to playable live. Then there's the mixture of languages and musical styles on the record itself, a no-holds-barred blend of electro exploding into house, mutating into indie rock, mellowing out into chillwave; one minute a lullaby, the next an anthem.
This is undoubtedly a travelling album, in the sense that it was created in transit and moulded from the echoes of different places that inspired Withers (Limpop capturing the Shangaan Electro influence that's prominent in Limpopo, Muizenberg getting its colour and life from the beach-side town it pays tribute to), as well as in the sense that its bold sounds provide the perfect palette for travelling to, with the lunge and sway of opener Tek Lek Schrempf or the pounding, unshakeable tune of iYongwe acting as ideal soundtracks to watching landscapes shift around you.
But where the album's heart really lies is in the lilt and loveliness of tracks like the subdued Maria (a love song written by Emmanuel) or the tender guitar plucks and warm handclaps of the album closer Friend, both moments of intimacy in amongst the wide open spaces. It's cheesy, but nowhere else this year has cheesiness been so appropriate – this is music that transcends linguistic and conventional barriers on so many levels to unite its creators, performers and listeners in the purest and simplest of human emotions, from love to ecstasy. Of all my favourite albums of 2013, this is the one that I would confidently play to anyone I know, confident that they would find something in it to adore. [Aimee Cliff]
Further reading: John Wizards in conversation with Owiny Sigoma Band
16. FOREST SWORDS – 'ENGRAVINGS' [Tri Angle]
Wherever I've gone with 'Engravings' this year, few works have filled fill me with such a tickertape of vivid, varied images. I picture the poetry of the open American terrain as seen through the lens of documentary filmmaker Ken Burns; I see cold eyes of creatures staring out of blank abysses; samples of militaristic chants and decomposed voices resurface childhood fears of those feral flying monkeys from Wizard of Oz. For the most part, the fractured and vast world of electronic music keeps its focus on futurism. Producers able to pick from themes more archaic – without resorting to progressive tendencies or pretension – are usually few and far between. Following Forest Swords' much pined-for debut, I'd struggle to name many artists able to craft such consistently atemporal, primordial beats.
As the artwork, the tickling mandolin vibratos and the tribal beats indicate, 'Engravings' takes a holistic, worldly view of its mysticism. But where the album's lifeblood really intrigues is where it felt tied specifically to UK landscapes. Onward thrusts like steam engines chugging through the old industrial north – the start of The Weight Of Gold begins with ships blurting out to a nearby lighthouse, before Barnes' corrugated guitar playing enters. Anneka's Battle and Friend, You Will Never Learn's mystic airs and primitive percussion releases Pagan rituals out of deep, dark forestry. It's testament to the success of 'Engravings' that all these ideas meld so fluidly, no doubt aided by Barnes having worked on the album out in the chilly open landscapes of the Wirral.
While he's outside of any scene allegiance, contemporary ideas mingle in Forest Swords' vision. Gathering's schisms and scarce rhythmic economy almost offer a pastoral flipside to Night Slugs' 'Club Constructions' series. Irby Tremor's perverse opening takes grime's laptop-wielding new breed to the Dark Ages. Where 'Dagger Paths' was unwieldy like a wildcat, fortifying unlikely bridges between dub, punk and leathery, pyromanic electronics, 'Engravings' is something of a tamed beast; but by doing so, Forest Swords has been confirmed as one of the more fascinating lone rangers the UK currently has to offer. [Robert Darnell]
Further reading: Forest Swords talks watery influences and past lives
15. LAUREL HALO – 'CHANCE OF RAIN' [Hyperdub]
Trading on disruption, Laurel Halo's approach to both her music and her creative persona has always evaded definition. From gaudy guest vocalist for Strawberry Skies of Daniel Lopatin and Joel Ford's GAMES project to the abstract ambience of 2011's 'Hour Logic' EP, and the either gratingly bad or brilliant 'Quarantine' album –depending on your disposition –Laurel Halo has refused to find the easy way. 'Chance of Rain' is no different. An uneasy listen for the most patient ear, the record features almost no vocals at all this time around; an arbitrary symbol of humanity muffled, muted and forsaken to the soil and sand of dense sonic production. Here, a sneeze in Oneirai is scrambled into line with the regimented clatter of insistent movement, while a vocal transmission is filtered through, and buried in the quivering forward motion of Still/Dromos.
It's almost as if Laurel Halo realises that the soul of a human doesn't reside in what they say, but what they do. Or more specifically, how they feel. Because, whether it's the irate-looking posture of a resurrected Gustav Mahler in the purgatory of her album cover art, by dad Arthur Chartow, or the "club melancholia" referred to in a recent Dummy interview, there's an unshakeable sense of feeling terribly alone in a space full of bodies; a disconnect that no amount of guttural noises or dance routines will ever rectify.
That's because the emotional spectrum is far more complex than what is often reduced to a handful of words; the vocabulary of tone, mood and sonic palette are of far more importance in this case. Hence the title tracks that almost mean something but don't, and the sounds that skirt the fine (non-existent?) line between field recording, sound art and dance music. At the end of the day, words are words, people are people and sound is as nebulous a form of expression as it gets. 'Chance of Rain' reflects that superbly. [Steph Kretowicz]
Further reading: 'Chance of Rain' review
14. DJ RASHAD – 'DOUBLE CUP' [Hyperdub]
If there's one thing the 21st century loves, it's duality. It sings out in the constant examination of the crossroads between our digital and physical lives, and in the much chewed-over desire to balance economic pursuits with spiritual fulfilment. Musically, nowhere is duality better embodied than in footwork: a marriage between sharp, pinballing beats built to occupy the feet and strung-out soul samples to stir the heart. Granted, footwork has been around for the best part of two decades, but it's only in the past couple of years it's earned some global shine. On 'Double Cup', Chicago footwork ambassador DJ Rashad marks the music's coming of age with an album that celebrates its binary extremes.
Here, laid-back, loved-up tunes like Feelin and Show U How can sit next to taut bangers like I Don't Give A Fuck and Acid Bit and make perfect sense: they are two sides of the same coin. At every turn are examples of Rashad's formidable skill as a knitter of form and function, style and substance, mind and body. The ear is pulled in multiple directions at once and yet it never feels anything but whole. It's his most accomplished solo release to date and yet Rashad spends most of the album repping the rest of his Teklife family – Spinn, Manny, Earl and Taso – via a series of collaborations. One for all, all for one: 'Double Cup' is both a hugely enjoyable document of footwork's evolution and a highly recommended way into the sound of Chicago's underground for first-timers. [Ruth Saxelby]
Further reading: DJ Rashad talks to Dummy about footwork's evolution
13. THE HAXAN CLOAK – 'EXCAVATION' [Tri Angle]
Not everyone gets the chance to quarry the depths of their innermost fears and messed-up subconscious to the degree that Bobby Krlic does. It's weird, because you'd think that this fixation on metaphorically picking at your emotional scabs would be a passion best avoided, rather than actively pursued. But, as the Yorkshire-born, London-based producer proves, sometimes a masochistic penchant for emotional torture can yield astonishing, even oddly cathartic results.
Ending at the fall, a slightly melodic, heavenly synth beneath a growling bass line and elevating ambience in The Drop, an optimistic nudge to a potential afterlife that 'Excavation', buried alive in the sludge of human anxiety, oddly points to. 'We don't know what comes next, so why fear it?' it seems to ask, as Krlic opens up and looks inside the corpse of the human organism to reveal some universal truths in the most visceral way imaginable.
Hence, the spiralling, swishing spectres that crawl through the warped and wobbly ambience of 'Excavation', as an echoing click, with muffled kick drum in tow, leads to its inevitable conclusion. A crackling, incessant buzz and tormented violins bear Dieu, the voodoo word for 'god', along a clacking rhythm and stunted, deformed vocal sample. Hysterical, whining and off-tune strings whirl around Mara (the Swedish word for 'witch'), while a startling yelp and a disorienting ambient swirl follows in the grip of Miste. I couldn't tell you what that word actually means, nor could Krlic when I interviewed him earlier in the year, but the very sound of the word, as a moaning and hissing menace, generates an unshakeable sense of dread that permeates the album. Equal parts dense and empty 'Excavation' denies us the comfort of the trivial and presents us with a familiar sense of awe in all its sublime terror. [Steph Kretowicz]
Further reading: Watch a short film about the making of 'Excavation'
12. JAMES HOLDEN – 'THE INHERITORS' [Border Community]
Every artist has their obsessions. For years, James Holden has been talking about his interests in the psychedelic, in British folk traditions, in trance and ecstatic music, in unpredictability, in first takes. He's also been talking about the things he's against: pastiche, presets, schmaltz, quantization, formulaic structures, genre. Although it might've taken him 14 years to reach this point (Holden's debut 12" was released in 1999), his second album 'The Inheritors' seemed to just absolutely nail everything that he's about.
To be fair, Holden worked pretty hard to achieve those ends. Across the album he deploys just some of the following: a self-built modular synthesizer, so that no sound would ever be quite the same; irregular song structures, so that contrary to most techno records the tracks don't develop on the usual 16/32 bar moments; randomizer algorithms programmed by Holden in Max/MSP, so that the beats were never rigidly locked to the grid; recording to tape, so that it has a further depth of character; and single take recordings, so that the tracks weren't killed by over-editing and post-production.
Some might tut at the pains Holden goes to to ensure that he gets what he wants. But it's not an anti-everyone, elitist, or Luddite stance that drives Holden, but a refreshing and reassuring urge for him to ensure his art remains unique and his vision singular. The result of that toil is one of the most original and accomplished records to come out this year. Nothing else sounds like the scratching banshee crawl of Gone Feral, the discordant ritualistic march of Sky Burial, or the downbeat twang of Seven Stars. Sure, there are hat tips to Cluster-esque kraut rhythms (Rannoch Dawn) and Radiophonic-esque early synthesizer music (The Illuminations), but these are filtered through Holden's perception of those styles and musicians rather than direct revivals. It's hard to imagine that Holden could have come up with anything more rewarding than 'The Inheritors'. [Selim Bulut]
Further reading: James Holden on writing his first album since 2006, and what else he's been up to
11. DEPTFORD GOTH – 'LIFE AFTER DEFO' [Cooperative/Merok]
"Feel more with it than I want," Daniel Woolhouse sings in the first verse of the very first track on 'Life After Defo', a record that longs for the comfort of blank spaces and unconsciousness in the face of the loss of the opposite extreme – certainty, presence, defo. The South London-based singer-songwriter's debut is not only one of the finest break-up albums of the year, but one of the finest articulations I've heard of that disordered, numb mindset that follows the breakdown of something that seemed like it would go on forever. But, as he says so astutely in Feel Real, "forever meant nothing when we had nothing"; it's easy to imagine something will continue indefinitely when there's nothing at stake. What comes after is a sharper, harder reality.
Made with "a few guitars, a couple of synths, a piano, various USB controllers, a laptop and an electronic cigarette", as he told Dummy earlier this year, 'Life After Defo' is a devastatingly intimate album that, like Woolhouse's breakthrough cover of Mariah Carey, filters mainstream pop sensibility through a voice that wrings it of its artifice and speaks its language with an unparalleled openness. The hooks on stand-out tracks like Union and Objects Objects serve the dual purpose of driving the song home like something you'd hear on the radio and yet also of giving the impression of a listless voice, swilling around a mantra like the dregs of a drink in a glass. This album is pop in its most hypnotising, most narcotic form, taking its cue from the wholesale emotion of chart hits and leaping off into the dark, prickly territory of the full spectrum of unspoken feeling.
Live, Woolhouse's performances of these songs are so searing and pin-drop quiet that theyre' almost uncomfortably emotional; accompanied by a string section, as he was at our Dummy AGM a couple of months ago, the album reveals lush depths that extend right into the heart of the listener. Expressing existential woes in subtle-yet-effective bedroom songwriting, 'Life After Defo' has got that elusive balance of direct personal communication and mass appeal, along with all the warmth and colour of talking quietly to a friend behind closed doors, and that's why it's going to long outlast these 12 months as a staple. [Aimee Cliff]
Further reading: Stream remixes of 'Life After Defo' tracks from E.M.M.A., My Panda Shall Fly and more
10. AUTRE NE VEUT – 'ANXIETY' [Software]
When in need of a recharge of the batteries, a jolt of something purely adrenal, few works provided it in the manner of Autre Ne Veut's second album 'Anxiety'. Many of 'Anxiety's reference points (80s power balladry, soul-revealing R&B, Prince's mystical falsetto) continue where his debut and 2011 'Body' EP – with that cover – left off. But not just for reasons of recording restrictions, those records doused their reference points in reverb and set them against scatty rhythm tracks.
No signs of that on the straight-out-of-the-box shine on 'Anxiety', and to reach for an appropriate cliché, the dial on the emotion levels has confidently been turned to 11. It's something that made the album's title a bit of a misnomer to me at first, but clicked into place seeing these songs live. At Dalston's Birthdays in April, ANV spent much of his time static, pulling a beanie cap downwards over his forehead, wearing an extraordinary scrunched up expression of anguish-meets-orgasm. It became pretty clear: there's very little anxiety in 'Anxiety'. Rather, it's the result of an artist absenting it from their work and mindset to full effect. Sure, people have been using music to overcome their shortcomings since, y'know, the beginning of time, but here particularly there's that thrilling sense that it's by coming through this process that Arthur Ashin is able to deliver songs like Counting, about the pain of being at his grandmother's hospital bedside.
'Anxiety' has been the album that's put an invisible hand on my shoulder and led the way at the end of a shitty day, and it's fed that eternal tingle in the stomach anticipating Friday night. It's more than likely garnered me concerned looks in public as I've mouthed along with Play By Play, urging it to extend out into the stratosphere. But I could care less. A joy from the first fist-pumping chorus to the last. [Robert Darnell]
Further reading: Ruth Saxelby on why stand-out 'Anxiety' track Ego Free Sex Free pushes her buttons
9. E.M.M.A – 'BLUE GARDENS' [Keysound]
Before she released 'Blue Gardens', E.M.M.A. had only put her name to a handful of tracks – a low-key 7" for Wavey Tones called Rainbow Dust Pt. II (which sounds exactly as its name suggests it sounds) back in April 2012, a contribution to Keysound's compilation/mission statement 'This Is How We Roll', and the Rebel MC-featuring Jahovia as the album's lead single. Needless to say, there wasn't a lot of expectation or anticipation for 'Blue Gardens', so its release felt totally out of the blue, if you'll excuse the pun. It's really not often that a debut album from a totally unestablished artist will just appear, out of nowhere, and yet sound so complete – unlike many debut albums, 'Blue Gardens' didn't sound like the work of a musician undergoing a process of self-discovery.
It's also not often you hear something that sounds so completely unfamiliar.Nobody else is making music like this: bright, unashamedly digital synthesizers clash with swung club percussion and lose-your-shit basslines, while the twirling melodies nag at you and lodge themselves in an unoccupied spot in your head for months on end. It has its moments of weirdness, like Dream Phone VIP, set to a 3/4 rhythm which seems like it's constantly coming back on itself, tripping your brain up. It has its moments of melancholy, like Green Light, which somehow manages to sound both colourful and dark at the same time, and puts a million Burial-worshipping producers to shame by showing that second-hand signifiers of emotion are never a substitute for the real thing.
The fact that 'Blue Gardens' had so few sonic reference points was probably what made it take so long to really click. I gave it a 7/10 and admitted that I couldn't really get my head around it when I reviewed it back in July, but right now, I'd struggle to think of an album I've gone back to as much as 'Blue Gardens' this year. [Selim Bulut]
Further reading: E.M.M.A. speaks to Anthony Walker about her obsession with synths and elephant sounds
8. KA – 'THE NIGHT'S GAMBIT' [Iron Works]
One of the most positive things to come out of the increasingly fragmented rap scene is the new opportunity afforded to older artists who didn't manage to get their proper shine previously. Ka is one of these artists, a member of 90's group Natural Elements whose self-produced and self-released solo debut 'Iron Works', a project initially intended for peers and friends only, caught the ear of the GZA and earned him a feature spot on the Wu-Tang Clan founding member's 'Pro Tools' compilation in 2008. With the assurance that he could reach a wider audience without compromising his vision, Ka put out 'Grief Pedigree' in 2012 and 'The Night's Gambit' this year, released through his personal Iron Works imprint and promoted online via his own social media accounts and at a release day stall set up outside the now-closed Fat Beats record store.
Both albums are further examples of Ka's slow, deliberate executions of a vintage New York style – think of a chilly counterpoint to the macked-out narratives of Roc Marciano, the only other rapper to feature on the projects – but his departure from the comfortable boom bap rhythm has never been as pronounced as it is on his latest. It's cold and methodical to the point of being incantatory, though the spirits raised are internal; old wounds and moral dilemmas dug up and poured over on songs like the startling Our Father and Peace Ahki. Deadly serious and reverent yet experimental and charismatic, there isn't a rap album more sui generis than 'The Night's Gambit' released this year – nor are there many voices nearly as singular as Ka's. [Anthony Walker]
Further reading: 'The Night's Gambit' review
7. ONEOHTRIX POINT NEVER – 'R PLUS SEVEN' [Warp]
As Dan Lopatin told Dummy just before 2011's on-the-cusp-of-canonisation release 'Replica', that album's mournful minimalism was formed by limiting track components to a mere few. To compare the nuts and bolts of that process with his Warp debut, 'R Plus Seven' feels instead like the expression of an attention deficient stream-of-consciousness.
This emerges on glinting jigsaw puzzle Still Life and the cornucopia of Americans, while Problem Areas reflects Lopatin's interest in verbal manipulators like composer Paul Lansky. But besides 'R Plus Seven's' digitised sampledelia, this album shows huge advancements in Lopatin's role as a cultural extractor/excavator. This is heard from the off on the simulated organs of ­Boring Angel – the aural equivalent of a stained glass window reproduced in unnatural Photoshop tones – before it wanders off toward 'Glassworks'-esque rotations. Chrome County offers final closure, like a sprinkling of sweetener over all the machine music, but still lingers with an air of muzak-falsity in its uplifting orchestration.
Most striking of this replicant mindset is Zebra, which comes off like a sketchy legal high mimicking '92 hardcore's functional lifting of the on-it raver. Its crystalline vamps synthesise this to full effect, tugging at heartstrings deliciously as keyboard trills and stepping stone bass pushes at pressure points. But two minutes in and the chemicals have worn off: Zebra dissipates into a comedown of rattling abstraction. Interestingly, Four Tet's been playing the opening half of Zebra out for a while now, providing one of my most vivid memories of a dancefloor this year, and proving it's as sensuous as any rave track. The source and the simulation are left interchangeable.
Like many great experimental albums, 'R Plus Seven' isn't interested in ever fully showing its hand. In fleeting moments, it's a soundtrack to a cyborgian future society, or a comment on the lonely randomness of web culture. Around 'Replica', Oneohtrix Point Never's drone dramas and depleted eccojams were being taken to new levels of coherence and emotion. By 'R Plus Seven', he's building something that looks beyond the nature of emotion in music itself. Impenetrable like sheet metal, manipulative like the pleasure principle stimulations of an ad campaign, but also prone to unnerving waves of MIDI beauty: to me, this is Dan Lopatin's boldest achievement to date. [Robert Darnell]
Further reading: Adam Harper takes a closer look at OPN's "reinvention" of the musical game in 2013
6. DEAN BLUNT – THE REDEEMER [Hippos In Tanks]
All the folky strings, rich brass and choral vocals on 'The Redeemer' should be your biggest hints that this isn't Dean Blunt's first truly confessional work, and the ex-Hype Williams member is still playing the games he's always played. Presented as a mediation on love and religion in contemporary society, it contains some of Blunt's most conventionally good music – take the gorgeous instrumental Flaxen or the weeping electric guitar solo All Dogs Go To Heaven as examples – but it carries all the dissonance of his previous work: a narration of an inner-city break-up made through curt voice-mail messages, romantic sentiments openly cribbed from pop culture and heavy-handed Biblical allusions that hark back to the video he made for DVA's Where I Belong last year. What is certain is that he's the best of the artists holding a cracked mirror to society, reflecting on modern life with an ambiguity that isn't too hazed to find humour or call bullshit when it sees it.
It's enough to keep you involved with the album even if you doubt almost everything that's actually said, and the trickiness of Blunt's uncompromising clash of high and low sensibilities acts almost like a replacement for the empathy you feel for the broken singer-songwriter whose pose he adopts. When he plays the resigned piano ballad Brutal at the end of the album segues into the final voice-mail skit Par ("You have no more messages") it's obviously funny, but there is also a real cruelty to the way his hope is just cut down by the chirpy automated service. Defiantly maintaining this ironic middle stance is what makes 'The Redeemer' a strong addition to the Hype Williams catalogue, even if – on the surface of it – its clearest progression seems to be in its instrumentation. [Anthony Walker]
Further reading: 'The Redeemer' review
5. JAMES BLAKE – 'OVERGROWN' [Polydor]
I'm pretty sure I've never punched the air for a Mercury winner before, but when Lauren Laverne eventually managed to name James Blake as the prize winner this year, I was literally that thrilled. 'Overgrown' had seemed like an underdog, by the Mercury's criteria, in the face of chart-hitting anthems, political statements and the almighty David Bowie. But it was a prize befitting of Blake's album, and of this moment in his career. He's dropped the mysterious one-liners ("my brother and my sister don't speak to me") and replaced them with poems, dropped the minimalism and replaced it with development; in short, he's started to write proper, actual songs, and he's really good at it.
With 'James Blake' and all the exhilarating EPs that surrounded it, Blake had already proven his mastery of production, his ability to craft sonics that lunge and wilt like living creatures, so that was never in question. The next frontier for him, as he told me when I interviewed him earlier this year, was to make an album that his parents could enjoy. Hence, the poetic frustration of Life Round Here, an ode to long-distance love that's cut off in its ecstatic prime just like an affair played out in short visits. Hence, DLM and To The Last, out-and-out tear-jerkers and pledges of affection that show a new emotional maturity. Hence, Retrograde, one of the finest pop songs of this year, exploding into a neon-bright chorus that hits as suddenly as the feelings it taps into. Some might scoff at the idea of turning away from dancefloors to make something your mum could enjoy, but there are few artists so special that they can pull off both with credibility and honesty. Blake has had a long journey to the Mercury prize, but the blinding achievement of this album proves he's got much more yet ahead of him. [Aimee Cliff]
Further reading: Download Blake's completely essential Essential Mix from 2011
4. THE KNIFE – 'SHAKING THE HABITUAL' [Brille]
The Knife's first album in seven years could be an easy or a hard listen, depending on where you're coming from. In the same way that the video of women pissing, cross-dressing and, god forbid, dancing for Full of Fire doesn't come across so much as shocking but rather obvious for someone steeped in gender politics and queer discourse, the music itself – spanning the groaning, tapping, hyperventilating hysterics of Without You My Life Would Be Boring, a fifty-five second noise assault in Crake and the wonderfully bouncy frolic of A Tooth For An Eye – is entirely palatable. But this isn't necessarily music made for me.
As a band that infiltrated the mainstream world with Heartbeats – via Sony, courtesy of Jose Gonzalez – The Knife have gone beyond preaching to the choir and are now using their elevated stage and growing audience to push an explicit agenda and, hopefully, effect some actual change – and change doesn't come easy.
'Shaking the Habitual' is a record that extends well beyond the music, tracklisting, and vinyl itself, into the slightly garish juxtaposition of colours on Liv Strömqvist's comic book cover art – and a sardonic account of the plight of the wealth-stricken 'one percent' on the in-sleeve – and the serious references to theoretical concepts by the likes of Jeanette Winterson and Judith Butler. The aggressive rising tide of outrage in Full of Fire breaks off with "let's talk about gender, baby", tongue firmly in cheek, while pointing out how appalling it is that the conversation hasn't developed since Salt N Pepa dropped Let's Talk About Sex in 1991. [Steph Kretowicz]
Further reading: The Knife speak to Dummy about their politicised music as escapism, and listening to musicals while doing the dishes
3. KANYE WEST – 'YEEZUS' [Def Jam]
In 2013, Kanye West wanted you to know how much he doesn't give a fuck, and with crude, almost lazy lines like "unholy matrimony" and "eating Asian pussy, all I need is sweet and sour sauce", we in the Dummy office were pretty convinced that he didn't. Initially, this was a bit perplexing. Those blasé moments of defiance in which the lyrical tour de force slipped to reveal an angry and politically incorrect teenager – moments that were most likely the ones Rick Rubin was referring to as having been recorded in a mad rush two days before the album was due – were troubling, but with each revelatory listen they became inseparable from the flagrant brilliance of this album. Because in this crudeness, this defiance of the precision and line-toeing that might have been expected of such a bound-2-be-scrutinised record, lies the appeal of 'Yeezus'.
The Nick Knight-directed Bound 2 video alone says so much about what's so wrong and right about this album. Initially it's an uncomfortable watch, garish and even quite dull – but then it becomes apparent where all of these visual references have been lifted from. The American landscape that glows with patriotism, the lone ranger on his motorcycle, an unclothed Kim Kardashian. These were all images once owned by a mainstream white America; not any more. It's in challenging your idea of a comfortable watch/listen that West created some of the most brave and beautiful music of the year, and though his message may have been at times confused, his vision and passion were blazingly ambitious.
Many albums we listened to throughout 2013 felt like they were going for something transcendent and new, but then fell short, not quite making us believe in their vision; they had all the grand ideas, but they were (new) slaves to the formula, and managed to make, again and again, a "solid album" with "flashes" of something higher. 'Yeezus' achieves something higher. It's a man prostrated at the altar of the zeitgeist, flailing and speaking in tongues. It's Kanye with #nofilter, attacking pop and high culture from within, beating them both at their own games while refusing to play to their rules. What more could you ask for from the artist who last brought us a lush confessional opus like 'Dark Fantasy'; unlike Drake, who extrapolated on his own confessional style until he became a parody of himself this year, West had bigger ideas. He dashed something off practically straight from his subconscious, matched it with the contorted experiments of incredible internet-dwelling producers like Evian Christ and Arca, and what resulted was a writhing, screaming beast of a record; as ugly as a line like "unholy matrimony" and all the more exceptional for it. [Aimee Cliff]
Further reading: 'Yeezus' review
2. DANIEL AVERY – 'DRONE LOGIC' [Phantasy Sound]
The question of how to successfully convey the energy and skill of a DJ to an album is old and enduring one but Daniel Avery has an answer on his debut 'Drone Logic': just ignore the connotations of the format and put together a collection of really strong tracks. His album is a high-octane, laser-sharp expression of his appreciation for electronic music: "I've been DJing a lot – all over the place, and in different countries – and a lot of the tracks came about with different dancefloors in mind. And when it came to it, I wanted to put out an album that really represented the past year of my life, so that's why it's come out a lot more dancefloor focused", he told Dummy in an interview just before it came out.
It has its ecstatic moments (the title track Drone Logic and closer Knowing We'll Be Here) and more introverted ones (Platform Zero and Simulrec) but everything sounds fantastically crisp and clear, bridged and propelled by the occasional crackle of spoken vocals and one short interlude that sounds like serendipitously beautiful technical difficulties. There have been plenty of interesting dance releases that've smudged the lines of house and techno or tackled broad themes in 2013, but 'Drone Logic' stands out because of its tunnel-vision view, held in place by Daniel Avery's still-growing mastery of his craft. [Anthony Walker]
Further reading: Daniel Avery meets Selim Bulut for a pizza and a chat about electroclash
1. GLASSER – 'INTERIORS' [True Panther]
On the basis of 'Ring', NYC-via-LA artist Cameron Mesirow's debut album as Glasser, the idea that in 2013 she could occupy anywhere even close to the top of an albums of the year list wouldn't have even crossed my mind. It's not that it wasn't a good record, it just didn't suggest someone prepared to dredge their own guts for creative fertiliser. Instead there was a coyness to 'Ring', a sense that she was skirting around (and around) the issue. So I wasn't in the least bit prepared for the scale of Mesirow's second album: where 'Ring' tiptoed, 'Interiors' strides.
Big, bold and full of beans, 'Interiors' is an album about self-possession and sexuality. In place of the coyness is a sure, pure confidence: the pluck to name fears, embrace agency, and give shape to desire. "In light of the truth all you can do is bow," she sings on lead single Shape. It is Mesirow's own truth-telling that frees her. She unpacks her spatial anxiety, the paralysing powerlessness she feels in built-up spaces, and recognises it for what it is: a transference of fear about her own space, about existing on her own terms in the world.
Shockingly or not shockingly (depending on whether you're trying to write a link-bait headline or not. Or not? Sorry, forgot it was 2013 for a second then) but either way depressingly, the biggest story in music this year was regurgitated with vomit-inducing regularity: the circa Dark Ages old chestnut about how women should dress/behave/express themselves. 'Interiors' is both antidote to and refuge from that exhaustingly reductive noise.
Musically, lyrically, vocally, conceptually: at every point Mesirow pushes herself and her art into new territory. She is as specific about sound design as naming feelings. But most importantly, she rises above the complex sonics to present a thrillingly sensual and self-possessed vision of sexuality: a lover's skin is recast as a landscape to get lost in; a man she used to know is remembered by the "smell of his shirts and the feel of his body". Then there's Design, the album's heart, a three-minute idiosyncratic pop song about lust. Likening the object of her affections to a mouthwateringly ripe piece of fruit, it is both passionate and poetic, raw and delightful, yet neatly avoids any scrap of male gaze-soaked cliche. Instead it is Mesirow who does the gazing, who puts the onus on the bodily, rejecting traditional passivity and reclaiming female sexuality as active. I would have loved this album for that alone, this year or any year. But the fact 'Interiors' is so accomplished on every level pushes it into modern classic territory, another new space for Glasser to own. [Ruth Saxelby]
Further reading: Glasser on the "innerlichkeit" of 'Interiors'