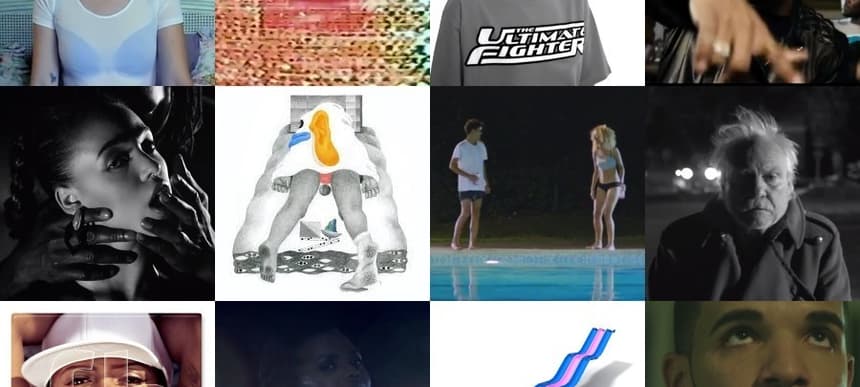 09.12.2013, Words by Aimee Cliff
The 20 best tracks of 2013
2013 was all about the element of surprise. In a climate of carefully composed, behemoth scale album campaigns, the musical moments that really inspired us were frequently those that also blindsided us. There was NYC duo Blondes, uploading their second album 'Swisher' to Youtube without ceremony and subsequently the incredible jam on this list; Atlanta rapper Future, rejecting the Loveeee Songs he's been producing of late in favour of staccato aggression, just because he can; familiar names like Four Tet, Mount Kimbie and Darkstar taking sharp left turns to check you're all still listening carefully, and brand new voices like Real Lies, Tirzah and Kelela appearing seemingly out of nowhere with pop songs that feel like they could have been around forever.
Read on to see the full list of the 20 tracks we couldn't get enough of in 2013.
20. SLAVA – GIRL LIKE ME
Here's a track that was probably upstaged a little by its weirdly stilted video, featuring an LA 'It' girl and a dude playing her little brother doing the dirty (with each other). But it's from there that the weird fragments of a perverted pop universe stem; a dissection of the subliminal signals of a corrupt media that speaks to Slava's sound. Here, a vocal sample of Ciara is split, shattered and spat out in a cocoon of thundering ambience and moody swagger. When you consider that its source is said "Crunk&B" performer's pun-tastic track Like A Surgeon (a playful nudge to the sex-change rumours?) you can hear, appreciate and love the bizarre position in relation to popular culture in which Girl Like Me operates. [Steph Kretowicz]
19. BLONDES – ELISE
Considering how ubiquitous lo-fi techno and hardware house jams were this year, it was nice to know that Blondes took their analogue obsessions into such clean, glossy territories on their surprise-release album 'Swisher' without ever sacrificing its toughness. Elise was the final track on that record, and as album closers go, there was little that topped it the past 12 months. It's a euphoric tune, not in that sense of it being anthemic or anything too obvious, but in a way that felt like 7am sunlight filtering through onto a dancefloor. That melody, built on a wonderfully synthetic organ/sitar combo plucked from the trusty Korg M1, invokes a headrush every time. [Selim Bulut]
18. AUGUST ALSINA feat. TRINIDAD JAMES – I LUV THIS SHIT
It eventually took a remix with Trey Songz and Chris Brown to give I Luv This Shit the Billboard R&B airplay chart's gold seal of approval, but the single stood out from the very beginning. August Alsina's smooth, pliable singing voice can recall both Songz and Brown at times, and producer Knucklehead already has a solid track record in rap, but the pair bring added finesse and pathos to this track, heightening the emotion of the slow-burning anthem and sealing their well-deserved acclaim. [Anthony Walker]
17. MAJICAL CLOUDZ – CHILDHOOD'S END
"Someone died, gunshot right outside/ Your father, he is dead." As Devon Welsh described to Dummy as he broke down 'Impersonator', Childhood's End steps so far inside personal emotions that Welsh felt trepidation in going in that deep. Rather than intorducing a narrative, these arresting opening lines are examples of the song's focus on abstract moods, centring on life's momentary surges and stabs that tell you things will never quite be the same again. Matthew Otto's drum pads mimic a throbbing ribcage and Welsh's vocal oscillates and exorcises all the pain. Complimented by Emily Kai Bock's stunning visual, this was as vivid and wide open as songwriting got in 2013. [Robert Darnell]
16. FKA TWIGS – PAPI PACIFY
The artist formerly known as Twigs has a knack for inhabiting vulnerable moments and rising above them with startling self-possession. While she stirred interest with 'EP1', it was the cracked sensuality of 'EP2', co-produced by Arca, that put her on the map in 2013. Papi Pacify – the finest track on said record – climbs inside the helplessness of being in thrall to a lover: "Whisper you're the one to fix it all / Even if you won't." That contrast is played out in the music, too, with her first-frost vocals sailing above the earthy bass. Naming a messy emotion is a power move – a reclamation of the senses – and when it's wrapped up in a 21st century pop song, that's gold. [Ruth Saxelby]
15. FUTURE – SH!T
As if to prove that he still had the juice after a series of weepy ballads and high-profile pop collaborations, Future unleashed the most aggressive, pointed track of the year to the crowd at the Magic City strip club in June. Sh!t is a song better defined by what it lacks – a smile, a lead melody, many syllables – than what it does have, but it extracts everything from its raw elements to capture five minutes of pure energy with zero losses. [Anthony Walker]
14. DARKSTAR – A DAY'S PAY FOR A DAY'S WORK
Songs can exist in a strange nowhere zone between the real and the dreamt-up. They'll tease at the memory bank, but reveal a mirage: that tune you're humming along to hasn't been sitting in the back of your mind for years after all. It's this uncanny quality that Darkstar breathe into A Day's Pay For A Day's Work. The track's bare bones – plaintive piano-woven nursery rhymes and Brian Wilson at his most blissed-out – are easy to trace, but this is imitation at its most elegant. The trio's second album 'News From Nowhere' was the sound of transition: with Darkstar evolving from Plastic People disciples to a Warp-signed group of expressionists, James Buttery made the welcome switch to full-time vocalist. But nothing stuck like this soured lullaby – its rippling familiarity voicing the regrets and ruminations that we're all vulnerable to as sleep slowly envelops. [Robert Darnell]
13. DRAKE feat. SAMPHA – THE MOTION
"I've made a lot of music about love being the only thing I'm missing," Drake told GQ earlier this year when promoting his third album, 'Nothing Was The Same'. "I think this is the first album I've made saying, 'I'm okay, I'm enjoying it right now.'" No track exudes this state of mind like the breezy, kicked-back pulse of The Motion, built around the soothing presence of London soul singer Sampha's voice and production. Sick of being lovesick, this year Drake finally made the perfect song about letting go of his demons rather than drunk-dialling them, reassuring himself, "she'll probably come around, soon as I settle down, that's the motion…" [Aimee Cliff]
12. FOUR TET – KOOL FM
Kool FM shouldn't really work. The kickdrum thump that introduces the track sounds quite hollow, the warbling strings are really ugly, the MC's "hey!"s appear to sit way too loud in the mix and the breaks and rewinds are all over the place. It feels like it might fall apart at any moment – it actually does in its midsection. With all that said, you only needed to hear the track out in a club once or twice (or, you know, 30 times) for it to make sense. The force of the bassline when it's first introduced, and the way it rebuilds itself into a devastating bass drop, is incredible. But it's Four Tet – he was never really going to go wrong, was he? [Selim Bulut]
11. REAL LIES – WORLD PEACE
Was there any other banger by a new band that hit the sweet spot as immediately as World Peace did this year? The song's main synth hook is taken from Computer Incantations' For World Peace, Jean-Luc Ponty's beautiful 197x instrumental that has been previously sampled on house tracks by the likes of Dølle Jølle and Those Guys, but it's not been used so effectively in a pop song context before, and it's hard to imagine it ever being used better. World Peace works for its simple, classicist songwriting – it's as easy to sing along to as a football chant, and when it kicks back into its chorus after the breakdown, the result is giddy, hands-in-the-air ecstasy. [Selim Bulut]
10. DJ RASHAD – LET IT GO
You could write a lengthy essay about the resurgence of jungle in 2013, and the impact that footwork's crossover with jungle, courtesy of artists like Machinedrum and Om Unit, has had on this renewed interest (similar tempo, similar flexibilities-within-constraints, similar rave mentalism). No track exemplifies this crossover and hybridization as well as DJ Rashad's Let It Go – built on a thundering amen breakbeat, Let It Go just feels totally fresh, a crossover from one of the genre's biggest original practitioners. But it's not fair to only think of it on these intellectual terms – it's also just a killer club track plain and simple, one that makes you want to dance first and think about it later. [Selim Bulut]
9. SHLOHMO – BO PEEP (DO U RIGHT), FT. JEREMIH
Bo Peep (Do U Right) is R&B in its most lean, most lovely form. Born from a 'Songs From Scratch' session in association with Yours Truly, it's one of the year's biggest triumphs in collaboration, as both artists' distinctive musical features cling effortlessly to each other; sensuality is trickled through Jeremih's delicate, distant vocal, distilled over Shlohmo's thick purple production and occasionally pierced through with euphoric strings. Bo Peep lulls you into its hedonistic fog, all lazy smooches and breathless affection, before suddenly opening your eyes in moments of pure bright ecstasy. [Aimee Cliff]
8. PLANNINGTOROCK – MISOGYNY DROP DEAD
When I spoke to Jam (then Janine) Rostron back in 2011, on the release of 'W', she expostulated on her reasoning for keeping her ideology implicit in her production. Two years later and it's pretty clear she's rescinded on that claim to ambiguity with Misogyny Drop Dead. As a track to define 2013, along with The Knife's Full of Fire, the bounding, whistling, moaning, screeching swagger of this most catchy of numbers teems with the bold thrill of unwavering conviction. To quote the lyrics from the track of disrupted disco grooves with an explicit political agenda: "funky idea". [Steph Kretowicz]
7. FUTURE BROWN – WANNA PARTY, FT. TINK
There's something deeply seductive about the drunken, nihilistic swagger of Future Brown's debut track built from the wreckage of superclub dance. From the deft hands of Nguzunguzu, Fatima Al Qadiri and Lit City Trax's J-Cush and pushing towards self-destruction, the hyper-sexualised hedonism of crackling, clapping, chiming synths melt into a mire of a new-millennial hedonism. Chicago's Tink stumbles around pissed at the club, muttering, deaf to the creepy chuckle and off organ-pipe echo, looping somewhere in the darkness. A bell tolls, the dance floor erodes and the end is nigh: "let's get fucked up while we can". [Steph Kretowicz]
6. MOUNT KIMBIE – MADE TO STRAY
The most blinding comeback of the year came in the form of this clenched fist of a track from beloved duo Mount Kimbie. My favourite thing about this track is its initially bewildering intro, slowly unfurling over three agonising/amazing minutes of percussion to eventually reveal the glimmers of an uplifting chorus. Rough-hewn and idiosyncratic, this is festival banger with the sideways approach that could only have come from the collective mind of Dom Maker and Kai Campos, achieving the balance – one which once seemed impossible – of sounding nothing like 'Crooks & Lovers' and yet everything like Mount Kimbie. [Aimee Cliff]
5. AUTRE NE VEUT – EGO FREE SEX FREE
On Ego Free Sex Free, Autre Ne Veut manages to distil everything that made his 2013 album 'Anxiety' amazing into a single track, short but epic in scale. It seems to stand not just for a life's ambition of sex, love and desire, the ultimate tribute to the dissolution of You and I, but for the club experience in its purest ideal. The verses heave like a lover awkwardly overstuffed with affection, their big dumb adorable face blessed and borne up by an angelic choir and ciphered R&B overtures. But the way the chorus comes in – it puts you in the centre of a universe of strobing lights, bodies in profile tinted blue and red, limbs, beautiful people moving slow. First-person plural. This isn't just sex, it's unity. [Adam Harper]
4. DRAKE – HOLD ON, WE'RE GOING HOME, FT. MAJID JORDAN
The hyper-real artwork on 'Nothing Was The Same' – Pixar skies and some seriously well-defined facial hair – spoke to much of it. 'Take Care' worked because of its fragility; this time round Drake's self-serving "sensitivity" was just too visible. But the coy Hold On, We're Going Home was a welcome exception to the record's icy extremes. Drake's male ego isn't entirely absent ("Cause you're a good girl and you know it/ I know exactly who you could be"), but like Usher's Climax last year, HOWGH carries a timeless air: a gentle reminder that mainstream pop can still pull off PG-rated courtship par excellence. Aubrey Graham has never dared sit so firmly in the middle of the road, but this oxymoronic risk alone makes this the warmest, most likeable track he's given us this year. [Robert Darnell]
3. SOPHIE – BIPP
Taking the general tone of the poppier-side of UK underground dance music away from neon-bright to flexy and plastic, Sophie's Bipp was a minor revelation and a major serotonin boost for dancefloors in 2013. Abstract textural pulls coalesce into a hyper-melodic banger, with a sugar-rich voice promising nothing less than total joy before casually falling out of shape again at the end like a playdough sculpture squashed and chucked back in the tin. [Anthony Walker]
2. TIRZAH – I'M NOT DANCING
A bass boom that sounds like it's been squeezed through a loose connection then a sharp, boiling kettle-like whistle that signifies it's about to kick off: Tirzah's I'm Not Dancing is a simple little thing, but there's no denying its anthemic heart. Old school pal Micachu's production has a deliciously raggedy quality, which works to highlight the pureness of Tirzah's voice. There's a diamond in the rough quality to her presence, an effortless quality that charms from the get-go. Tirzah might not be dancing but just try and stop me. [Ruth Saxelby]
1. KELELA – BANK HEAD (PRODUCED BY KINGDOM)
In its [vocal] first form, Bank Head appeared on Kingdom's brazen 'XL' EP. Flitting between cold metallic textures and the limber somersaults of the vocal, it was an introduction to the tightrope-walk that is Kelela's sound. But then, with Kelela's year-stealing Fade to Mind mixtape 'Cut 4 Me', came the extended version, withstanding the test that drives many songs into the ground: it got longer, and it actually got better for it.
So precisely, so expertly have Kelela and her production team nailed the art of creating a pop song that, as she told me over the summer, has "[an] element of withholding", that even when it's extended to its full form this track feels like something you can never grasp onto, something you can never swallow whole. It demands listen after listen, and still, after your thumb is sore from hitting replay, the agonising build-up of "need to let it…need to let it…need to let it out" never fails to tantalise, to frustrate and to not-quite-gratify in the most gratifying way. [Aimee Cliff]