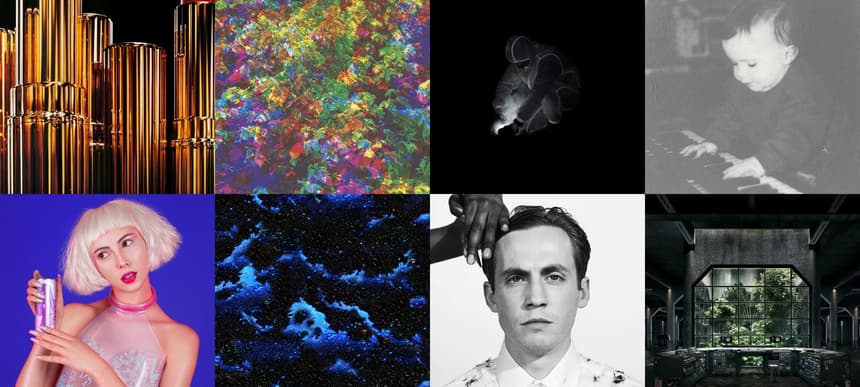 08.12.2014, Words by dummymag
The 20 best tracks of 2014
2014 was a very good year for new music and new artists. While our best albums list features plenty of more established names who've put out career bests, our best tracks list is, for the most part, dedicated to those artists who appeared out of nowhere and knocked us off our feet.
Voices come from the streets of South London (Novelist), from an imagined version of China (Fatima Al Qadiri), from Mexico City-via-Paris-via-Iran-via-New York (Lafawndah), and from… well, wherever the hell QT is meant to be from. But if there's one thread that connects all of these tracks, it's that the artists behind them are making bold, innovative, yet totally accessible music.
20. Throwing Shade Sweet Tooth (feat. Emily Bee)
Throwing Shade emerged in 2014 as one of London's most distinctive new producers, and Sweet Tooth proved that her sound – hazy, layered synths creating a mystical and mysterious atmosphere, set to garage-y rhythms – is just as suited to leftfield pop music as it is club tracks. Throwing Shade hosts a show on NTS Radio dedicated to music from around the globe – a bit of Soviet-era Czechoslovakian disco one week, a Muslim jazz special the next – but Sweet Tooth, with its almost spoken vocals from Emily Bee, had a sound that was, to our ears, very local. Selim Bulut
19. Doss The Way I Feel
Trance has been sneaking its way through the cracks and into a lot of underground pop music this year, and Ácephale signing Doss was one of the artists to lead the way. Doss described The Way I Feel, her cathartic first single, as EDM – "Emotional Dance Music". The song resonates with the relatable feeling that there's not another soul in the world that seems to understand your emotions. Aurora Mitchell
18. Evian Christ Waterfall
After bagging a production credit on Kanye West's 'Yeezus' last year, Evian Christ collected four 'brutal electronic rap' instrumentals for his 'Waterfall' EP. EDM trap bangers like Salt Carousel were satisfyingly heavy-hitting, but it was title track Waterfall that hinted at more experimental music to come. A trancehall banger with concrete-slapping bass and maniacal carnival melodies, Waterfall matched its abnormal sounds with an unexpected revelation: an isolated piano line appearing in the track's final act. The contrast between knackered beats, heavy bass, and evocative piano would be a trick he'd deploy later in the year on Tinashe album interlude Indigo Child. Selim Bulut
17. GEoRGiA Hard Lie This
GEoRGiA's 'Come In' EP ends with Hard Lie This, a talky wonder of a song that opens with a squeal and has roving brass throughout that gains traction. In short: intimidating as they come. Cocksure like M.I.A. at her best and rousing in its bluntness, it's as if GEoRGiA wants to inspire us to truly let loose. It's a smart way to end an EP, leading us to think what vitriol she can hurl next. Just don't take it lying down. Parker Bruce
16. Palmistry Protector SE5
Sometimes it's difficult to articulate just how Palmistry can be so affecting. Taken individually, the sonic elements of Protector SE5 include a low end that bubbles and pops under a sort of galactic stacatto melody, which fires across a soundscape drenched in the electronic producer's distinctive synth zips. A hyper-romantic future ballad for a South London postcode, the crisp snare, dampened kick, and Palmistry's heartfelt vocal delivery (As real is for me, real is for you) gives Protector SE5 an acute and meticulously applied sense of humanity to the hopelessly in love and inanimate. Steph Kretowicz
15. Caribou Can't Do Without You
After the cerebral introversion and boxed-up cadences of 'Swim', the name Dan Snaith carried with it a particular set of connotations. The Caribou output circa 2010 (techno-inflected, house-infused) was known for its ambition, its prolificacy and, above all, its beguilingly intricate mesh of kaleidoscopic rhythms and beats. If these tracks had a flaw, it was that they were lacking a little in soul – they were tracks built for head-down, eyes-to-shoes dance floor oblivion. When Can't Do Without You dropped in the summer, it signalled a pretty hefty paradigm shift. It's a track that Snaith claimed to be inspired by "the love in my life, whether it be my family or my friends", and it's a sentiment that shows on a song glowing with soul and warmth. But don't think these tracks are missing any of those dancefloor sensibilities – suffice to say, this is much more sun-soaked festival rather than sticky club night. Jack Enright
14. Danny L Harle In My Dreams
With a reputation for detached, alien pop earworms, PC Music's lyrical content has always seemed more geared towards soppy love stories and heartbreak, but Danny L Harle's In My Dreams felt a little different. A touching innocence infiltrates the immersive, emotional track, enunciating like a wide-eyed teenager finding their feet with their first love: I can't sleep thinking of you and me / Thinking of every day / Not gonna be okay. Alongside the xylophone chimes and blaring trance stabs, this is one of the most relatable and heartwarming tracks put out by the label so far. Aurora Mitchell
13. Lafawndah Butter
Lafawndah's globetrotting background – having an Egyptian/Iranian/English heritage, having lived in Paris, Mexico City, and New York, and having recorded her debut EP in Guadeloupe – characterizes her music, which finds a sweet spot somewhere between the rhythms of international dance styles and the structures of more conventional Western pop music. Butter, from her debut EP, was one of the best things we heard from any new artist this year, with Lafawndah using a spine-snapping zouk rhythm as the basis for her visceral lyrics: Let me hear my bones crunking. Selim Bulut
12. Bok Bok Melba's Call (feat. Kelela)
Bok Bok was a calm producer presence on Kelela's actually-pretty-seminal 'CUT 4 ME' mixtape last year, easing everything down plaintively with birds chirping to a peaceful, almost hymn-like ending on A Lie. The declarative, cocky Melba's Call from his 'Your Charizmatic Self' EP is a complete 180 degree deviation from that, with big, proud, strident electrocutions that boing-boing around. And, as always, Kelela is the ideal foil for Bok Bok's sounds, giving everything a hearty heft as the beat constantly doubles down on her. It's especially clear when the line I'm thinking too much echoes and repeats, as if Kelela is berating herself for her behavior. It's hard to let go is right. Parker Bruce
11. QT Hey QT
As the finale to his Just Jam set back in March, SOPHIE played the bounding Hey QT. This was before there was a face (or energy drink) to put to QT's name – everyone just thought that it was a new SOPHIE song. By the summer's end, Hey QT was getting released by independent powerhouse XL Recordings as the debut single from QT, a new popstar for our age. As with all things SOPHIE, A. G. Cook, and PC Music, there's a tiny hint of sex in the key lyrics of QT's song – I feel your hands on my body / Every time you think of me boy. I like to think that the song is a meta-commentary about the experience of watching a SOPHIE or A. G. Cook live set up in our rooms. In the end, we are all just hardcore crushing. Parker Bruce
10. Real Lies Dab Housing
Real Lies are often, unfairly, compared to older music (Deeper was the Pet Shop Boys, World Peace was New Order, North Circular was a sort of non-specific "'90s house", etc.), but anybody who's young, living in a city, and feeling disconnected – feeling like we might've reached the end of history – will know that the condition they write about is a uniquely modern one. Dab Housing was released as a AA-side with North Circular, and while it's the latter song that nails what Real Lies are "about", Dab Housing is probably the pick of the two just because it's a banger: great hook, properly dubby bassline, and a chorus you can chant along to. Selim Bulut
09. Fatima Al Qadiri Shanghai Freeway
Whether or not you bought into the more conceptual aspects of Fatima Al Qadiri's 'Asiatisch' – an album exploring Western presentations, perceptions, and stereotypes of China, made by somebody who's never been to China and whose only experience of the country is through these presentations – there's no denying that Shanghai Freeway has an unlikely allure. It has a simple, addictive riff, but it's underscored by something seriously sinister, a real sense of menace, dread, and unease. As one Youtube user puts it: "all I hear is WAR!" Selim Bulut
08. Dean Blunt 50 Cent
For lack of a better way to put it, to engage with Dean Blunt's music is to be torn apart. That's not only because of his audience antagonisms, whether locked in a death stare and raising his fist amid his own crocodile tears in a live performance, or listening to a song like 50 Cent. It's lifted from the East London artist's third album, 'Black Metal', and presumably named after the notorious rapper responsible for albums like 'Get Rich or Die Tryin'' and 'The Massacre'. But, like many things, looks can be deceiving, as behind the East Coast hip hop reference is Blunt's typically wobbly vocal that implies an earnestness that actually reveals itself to be false. Because beneath Joanne Robertson's celestial harmonies and the dreamy folk guitar rhythm, Blunt's lyrics expose a macho posturing projected on women and crime before warning, Never mess with explosives. Steph Kretowicz
07. Kindness This Is Not About Us
Kindness might've accidentally written a downtempo record with second album 'Otherness', but that's not to say there's a shortage of big pop songs. World Restart and Who Do You Love may be less immediate than, say, Cyan or That's Alright from his first album, but they're also a million times more rewarding. Maybe the best example of this songwriting style is This Is Not About Us: it's slower, but sexier, and its groove is bursting with energy, opting not for the more obvious four-to-the-floor rhythm but a crashing drum break, with piano chords, snippets of stray saxophone, and vocal harmonies dancing around it. It gets better and better with each listen. Watch alongside its extremely stylish video and you'll be addicted. Selim Bulut
06. Mica Levi Love
Though it's hard to imagine Jonathan Glazer's Under The Skin without its uniquely unsettling score from Mica Levi, it's entirely possible to appreciate Levi's score without the accompanying visuals. As Micachu, Levi is one of the UK's best and most on-it experimental pop musicians, and her soundtrack for the film saw her ignore the conventions and expectations of film music and design a strange and beautiful thing based around a few simple motifs. Love soundtracks some of the films centrepiece scenes, bending strings and synth tones to create something that's extremely powerful and affecting, yet emotionally ambiguous. Selim Bulut
05. A. G. Cook Keri Baby (feat. Hannah Diamond)
Although there were probably bigger, more anthemic songs to have come out on PC Music this year, Keri Baby is probably the song that captures the label's bizarre brilliance so expertly. A. G. Cook's instrumental is springy, restless, and ridiculously overloaded, while Hannah Diamond's vocal manages to be both completely vacant and yet, somehow, very expressive.
The main reason that Keri Baby works so well is for a very simple reason that it's just a really good pop song: after getting over its initial strangeness, it's hard not to appreciate it for its complex melodic qualities, the way that Cook and Diamond pull off so many different ideas within a concise two-minute pop format, the almost Dr. Dre-esque (seriously!) swing and pomp of Cook's instrumental, and, probably most importantly, its killer, killer chorus. Selim Bulut
04. Jam City Unhappy
Coming after his incredible (and incredibly influential) debut album 'Classical Curves', it came as a surprise that Jam City's next move was to retreat from futuristic, chrome-plated club constructions into a more traditional songwriting form. Look closer, though, and Unhappy is just as modern as anything from that first album, albeit in a different way. While Jack Latham still litters the song with Jam City-esque sonic hallmarks – think the synth pads of How We Relate To The Body, the high-pitched siren stabs of Strawberries – the smooth surfaces of 'Classical Curves' have crumbled away on Unhappy, revealing the grit, rubble, and detritus underneath.
Latham matches the song's radical sonic qualities with lyrics which could only be written in 2014, covering everything from never-ending overseas conflicts (Men are gonna regret / Growing up in total war) to pornography's effect on intimacy (Soon we'll get used to / Treating each other like the ones that you watch on XTube). Its website crystallises these ideas: in order to reach the embedded player to actually hear the song, the listener has to first bust ads and images for bodybuilding supplements, online get-rich-quick schemes, a militarized police force, and under-25 depression. Unhappy is a rare song to look at a subject matter beyond oneself and one's own experiences – beyond the typical themes of love, lust, and heartbreak – and instead connect to the bigger picture. Selim Bulut
03. Mumdance Take Time (feat. Novelist)
2013 saw a lot of discussion take place online and in music magazines about the re-emergence of instrumental grime, with about half a dozen articles on the topic appearing in places like FACT, Resident Advisor, Electronic Beats, and even Dummy within a pretty short window of time. While these articles might have framed the movement as some internet fad, 2014 showed that it was anything but, as many of these instrumental producers made steps towards working with actual, real life MCs and vocalists. Besides known MCs like Riko Dan working with the likes of Wen and Texan producer Rabit, new faces emerged like K9 (working with producers Dark0, Visionist, and Mssingno) and most notably Novelist, a 17-year-old MC from Lewisham whose steady ascent over the past 12 months culminated in a nod on the BBC Sound of 2015 longlist.
This was thanks, in no small part, to Take Time. Besides introducing the wider world to a new talent in Novelist, Take Time also highlighted a stellar run from Mumdance, whose return to production over the past couple of years have seen him bring a renewed creative energy to all of his work – and Take Time is one of the most raw, animated, and truly, truly bonkers productions of his career so far. Running parallel to all of these developments was the steady return of some of grime's main players to the genres that they kickstarted, like Wiley on his album 'Snakes & Ladders' and Skepta on That's Not Me, suggesting that there will continue to be interesting new developments over the next couple of years. Selim Bulut
02. FKA twigs Two Weeks
If last year's Water Me and Papi Pacify were FKA twigs's tentative opening jabs, then Two Weeks was the brash and brazen knockabout blow of 2014. It was, somehow, with this single track, that twigs shrugged off that 'up-and-coming' tag and assumed her rightful mantle of pop heavyweight proper. Two Weeks is darkly arresting and unyieldingly self-assured, with more than a hint of madness flickering between the lines. Here, it's in twigs's vocal display of barely-contained sexual jealousy – Two Weeks transcends the superficial Mills & Boone scope of sexual depth found in most pop music and instead plumbs the depths of 4am kebab-shop romancing (I can fuck you better than her). If you think that somehow cheapens twigs's sentiment, then you obviously haven't heard the track, where there is emotion dripping off every gilded, honey-soaked note.
Sometimes it's hard to discern true sincerity when every artist is engaged in an ever-escalating 'earnest-er than thou' arms race, but with Two Weeks, such appraisal is merited. This is a towering assertion of intense, imposing pop music, the kind of track that will later seem a chapter heading in an artist's onward progression. With or without a Mercury Prize to her name, 2014 was the year that saw twigs ascend to where she belongs – atop a big, shiny pedestal, most likely gold-plated. Take a pew, and hear her preach. Jack Enright
01. SOPHIE Hard
SOPHIE restricts himself to a sound palette that's small – almost ludicrously so – yet he's demonstrated an extraordinary range within that sound. No two tracks that he's put out over the past couple of years have sounded alikes – compare the pure pop of Nothing More To Say to the elastic Bipp to Lemonade's club fizz – and he's showing no signs of slowing down any time soon, with Hard being the wildest and most ridiculous thing that he's put out to date. It's also the most unusual, grin-inducing, exuberant, and truly, truly marvellous things to have come out of the UK in recent years.
It's tough to actually describe Hard, because it seems to speak entirely in its own language: there are no familiar sounds from vintage drum machines, no recognisable, codified instruments to give you your bearings, no kicks, no snares, and really no percussion in any conventional sense. It's probably easier to talk about it using nouns – 'silicone', 'rubber', 'aluminium', etc. – than adjectives.
A song about getting turned on by all things plastic – PVC, leather, botox, fake lips – Hard is like a rollercoaster, throwing new peaks and dips at you at every corner. Although it's less than three minutes long, there's just so much stuff that happens in it: by the end, it's turned into a mini-symphony of the songs constituent elements (vocal cut-ups, metallic clangs, bass, and twinkling melodies) all playing at once.
Not since hearing Rustie's 'Glass Swords' for the first time has something felt so unfamiliar yet so exciting. With Hard, it's like SOPHIE's captured the sound of joy itself. The only thing that seems more exciting is imagining what will happen next. Selim Bulut
You can listen to Dummy's 20 best tracks of 2014 as a Youtube playlist.