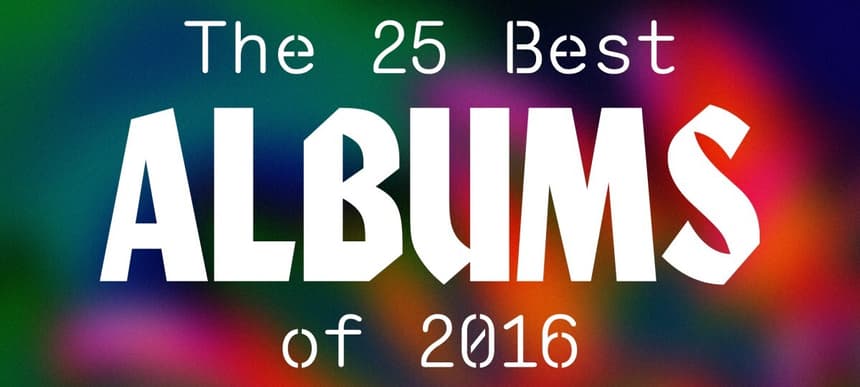 12.12.2016, Words by dummymag
The 25 best albums of 2016
From Brexit to Trump and deconstructed club music to venues shutting down left, right, and centre – it's been a funny old year. We've seen enough perception bending behaviour and corrupt activities in the past 12 months that at times, it has been hard to even open the door and step outside. For most, music is a healer, and it would be hard to deny just how fruitful this year has been in its array of hard-hitting albums, especially in hip hop and the mainstream.
2016 = a trash a f year with a really great soundtrack

— AFTER HOURS (@JubileeDJ) December 12, 2016
Like we mentioned in the introduction to last year's list (and probably in 2014, too) – the linear structure of traditional albums still shifting, with artists employing differ mediums to convey their messages. With this in mind, compiling this list was far from an easy task, and there are way too many albums that unfortunately, didn't make the cut. Instead, we tried our best to convey the full-length releases that hooked us in the most – whether it was the campaign and build-up, or just the weird and wonderful ways in which artists are delivering their wares in 2016.
So, from limited run magazines, surprise visual albums, false alarms, final goodbyes, intentional leaks, and never-ending name changes – here are the releases that Dummy enjoyed the most. Listen to our 2016 selections below or tune in via our Spotify playlist.
25. Equiknoxx 'Bird Sound Power'
In a year that's seen more than its fair share of deconstructed club music, Equiknoxx proves an exception to the rule that states that such music should be either un-danceable or un-vocalable. The stripped back take on dancehall showcased on 'Bird Sound Power' is just as weird and wonderful as the characters that have made the island sound as inimitable as it is today. Will Pritchard
24. Giggs 'Landlord' [SN1 Records]
On his first album in three years, Giggs came through with a menacing, real and very enjoyable album. Sticking to a winning formula, Hollowman navigates through cinematic production with tales from the trap. Highlights like 501 (Hollow and Heston), The Best and Whippin Excursion tell the story better than I ever could. Yemi Abiade
23. NxWorries 'Yes Lawd!' [Stones Throw]
The long awaited debut from the duo of Knxwledge and Anderson .Paak failed to disappoint. With the former laying down soundscapes akin to Madlib and J Dilla and the latter providing the soul, Yes Lawd! adds layers to Paak's persona while creating a lane that is all the group's own. Yemi Abiade
22. Rihanna 'ANTI' [Roc Nation]
Rihanna really went left with her eighth studio album and it pays off in abundance. It's sexy as hell, crossing the borders between trap, dancehall and R&B, to take the listener through the motions with seduction and beauty and, dare I say, defiance. Rest assured, we've seen a new Rihanna in 2016. Yemi Abiade
21. Jessy Lanza 'Oh No' [Hyperdub]
Taking the hardware-heavy sound of '80s Japanese technopop and boogie as a jumping-off point, 'Oh No' saw Canadian electronic artist Jessy Lanza levelling up in a major way. Her second album with Hyperdub, Jessy and her production partner Jeremy Greenspan knocked the puck out the ice hockey arena. Martyn Pepperell
20. David Bowie 'Blackstar' [Columbia Records]
The deathbed album of deathbed albums, David Bowie's 'Blackstar' was a furious interfusion of art rock and jazz. Lightly sprinkled with the sort of contemporary rap touches that could conceivably recall Kendrick Lamar or Young Thug, it was a masterful and bleakly final goodbye from a titan of pop culture. Martyn Pepperell
19. GAIKA 'SECURITY' [Mixpak]
To call 'SECURITY' a mixtape – which is what Brooklyn label Mixpak did when they put it out – slightly undersells the scope of what GAIKA set out to achieve with this release. With a high concept and postmodern take on the various interconnecting strands of UK black music, the tape picks apart dancehall, trap, grime and pretty much everything in between before wrapping it up as a performance art soundtrack. Will Pritchard
18. ANOHNI 'HOPELESSNESS' [Rough Trade Records]
With 'HOPELESSNESS', Anthony of Anthony and the Johnstons returned to us as ANONHI. Co-produced by Hudson Mohawke and Oneohtrix Point Never, 'HOPELESSNESS' saw the artist's chamber pop reframed as stadium electronica. Singing about political and environmental issues, ANONHI laid down a functional template for 21st-century protest music, showing that at the right moment, rebirth can be everything. Martyn Pepperell
17. Clams Casino '32 Levels' [Columbia Records]
With a few remarkable features from the likes of Kelela, Vince Staples, Mikky Ekko and long-term collaborator A$AP Rocky, the New Jersey native's debut album looks nothing but perfect on paper. Aside from a few undeniably polished pieces – such as the A$AP Rocky featuring Be Somebody and All Nite alongside Vince Staples – the rest of July's release failed to come across just as fresh and timeless as Mr Volpe's previous productions, possibly preventing the joint from achieving its full potential, peaking at number 172 on the Billboard chart. Undine Markus
16. Lone 'Levitate' [R&S Records]
Lone returned to R&S in May, just prior to UK club culture suffering some of its hardest blows yet, including the closure of London enclave Dance Tunnel and temporary loss of a longstanding clubbing institution, fabric. We're all still waiting, misty-eyed, for that time machine back to '89-'92, but for now, the bliss-soaked cuts that make up 'Levitate' – such as standout Vapour Trails and euphoric breakdown rager Backtail Was Heavy – are enough to transport you back to the rave heydey as you dance around your living room in a pair of thermals. It worked for me, anyhow. Natalie Davies
15. Young Thug 'JEFFERY' [Atlantic]
You know how Young Thug is unpredictable? Not many rappers could pull off the meme-generating magnificence of the 'JEFFERY' cover, but look at who we're talking about! Thugger dominates proceedings from the first track, with his trademark squeals and howls that make him so unique. Naming each track after some of his idols proved a masterstroke, and Pick Up The Phone may be his greatest hit to date, proof the Young Thug craze hasn't gone stale yet. Yemi Abiade
14. Lil Yachty 'Lil Boat' [Quality Control Music]
Assembling the strongest links across a handful of genres from trap to cloud rap, Lil Yachty's somewhat disjointed 14-track mixtape became an epitome of 2016 in many ways, almost becoming a genre-defining piece in the process.
Vocalising daydreams of fame, broccoli, and other unusual suspects – the commercially successful tape paved a way for Yachty to make his paracosms a reality, teleporting the artist from Atlanta to sold-out shows across the country. If there's one thing we can learn from the captain of the Sailing Team this year, it is to stay true to your homies (a.k.a. Burberry Perry) and refuse to conform, even when the whole world seems to deny your talent. Undine Markus
13. Kano 'Made In The Manor' [Parlophone Records]
The east London MC has arguably struggled to live up to the heights of his near-flawless debut 'Home Sweet Home', but a little over ten years later he's produced something that captures his artistic maturity in the same way that the first full-length effort reflected a youthful 'suck it and see' attitude. It's varied, intriguing, and boasts a depth of songwriting that will no doubt have listeners coming back to it a decade from now. Will Pritchard
12. Steven Julien 'Fallen' [Apron Records]
'Fallen' is probably the only 100% instrumental album in this end of year chart, which is testament to how amazing it is. Julien (aka Funkineven) is known for productions that make clubs move, and with 'Fallen', he exposes another layer of his musical range. One-half of the album is made up of dark and unnerving synth-driven cuts, and the other half is in one way or another, firmly focused back on the dance floor. Alex Morris
11. Jeremih 'Late Nights Europe' [Def Jam Recordings]
Jeremih proved once again that the major label A&R's don't know what works best when it comes to his music. 'Late Night Europe' was one of the best albums of the year, and just so happened to be a self-released free mixtape. His geography might not be as sharp as his verses, but we can let that one slide when he's back on top, putting out slick R&B tracks like London, Paris, British Headboards and Lebanon. Alex Morris
10. Chance The Rapper 'Coloring Book' [Self-released]
In 2016, Chance showed the world that he's a rapper to take note of. He apparently delayed the original version of Kanye's 'The Life Of Pablo' to finalise his verse on Ultra Light Beam, giving himself time to drop one of the most exciting albums of the past 12 months. Chance has essentially self-released a Grammy-nominated gospel rap album for the people, which includes features from some of the biggest names in the scene, with material that will appeal to atheists and believers alike. Alex Morris
09. Anderson .Paak 'Malibu' [Steel Wool]
Anderson .Paak was 2016's breakout star. Although releasing 'Malibu' in January, the album stills hold up as a wonderful body of work. Across 16 tracks he captures James Brown-era funk and Marvin Gaye-era soul into one tight package, and it is a hell of a ride. From The Season/Carry Me through to Am I Wrong, Come Down and Room In Here, Paak's superb musicianship (he played the drums on most of the songs) shines bright like a super-charged LED but maintains simplicity in its approach. Anderson .Paak is an old soul in a new era, and 'Malibu' is a worthy introduction. Yemi Abiade
08. Kendrick Lamar 'untitled unmastered' [Top Dawg Entertainment]
I wasn't expecting another 'To Pimp a Butterfly' from Kendrick Lamar, especially so soon after its release. Essentially eight unfinished tracks, 'untitled unmastered' still manages to engage and thrill. It is the very raw nature of the project that invests people, as K. Dot jams with friends and collaborators and blurs the lines between hip-hop, funk and free-form jazz. He coaxes some stellar contributions from Jay Rock, Thundercat, Cee Lo Green and a mob of others, and it feels so much more than a compilation album because Kendrick continues to demonstrate pure greatness on record. Yemi Abiade
07. NAO 'For All We Know' [Little Tokyo Recordings]
'For All We Know' is what happens when an artist has the ability to look backwards whilst looking forwards as well. Within this realm, London-based singer/songwriter/producer NAO and an immaculate production team including GRADES, Jungle and A.K. Paul, fused the syrupy sounds of late '90s neo-soul and R&B with room-filling future beats that pay an equal degree of homage to the UK and US schools of thought. Completed by her ability to transpose personal experiences into universal themes through lyrics; NAO delivered a compelling reminder of the importance of the moment. Be here now. Martyn Pepperell
06. KAYTRANADA '99.9%' [XL Recordings]
I cannot stress just how perfect this album is. Canadian producer KAYTRANADA went hard for his full-length debut and compressed his most colourful and multi-layered dance music to its most enjoyable elements. Peppered with inspired collaborations, '99.9%' is bold, slick and irrepressibly groovy, giving dance music in 2016 a scintillating alternative. Every guest, from Craig David to Little Dragon, is comfortable and assured over a KAYTRA beat, with each track offering something different to its predecessor. In the end, the record plays out like an adventure through different rooms in a club, but it's evident that nobody does it quite like Kaytranada. Yemi Abiade
05. Drake 'Views' [Young Money Entertainment/Cash Money Records]
'Views' broke every imaginable record this year. The first record to hit one billion streams on Apple Music, going platinum, and including Drake's first number-one single, One Dance, it proved the culmination of Aubrey Graham's ascent to mythical status. The album itself is typical Drake, littered with ready-made pop crossovers as he pays tribute his city of Toronto. Tracks like Weston Road Flows and the title track do best to convey his allegiance to the 6. The dancehall-influenced duo of One Dance and Controlla add variety, all while staying true to both the artist and his artistry. Yemi Abiade
04. Frank Ocean 'Blonde' [Boys Don't Cry]
I think there were about five separate occasions in 2016 where I sat, finger hovering over the trackpad, thinking Frank Ocean was about to drop the follow-up to 'Channel Orange'. The hype reached its peak when a dodgy recording of him playing a new track in the studio surfaced, which sounded like it was recorded through a doughnut. However, visual album 'Endless' was the first official taste of new material from Ocean in mid-August, with 'Blonde' following in its footsteps the very next day. Opening with the mysteriously cloaked Nikes, he sets the scene for an edge-to-edge listening experience that features a very-mini cameo from Beyonce on Pink + White, motivational self-help messages on Be Yourself, Andre 3000 dropping in for some subtle dissing on Solo (Reprise), and a look back over years gone by on my personal favourite, Nights. Natalie Davies
03. Solange 'A Seat At The Table' [Columbia Records]
Working through the themes of grief, anger, sorrow and power, Solange used 'A Seat At The Table' as a platform to articulate not just her own journey of self-empowerment but speak directly to, and for, the daily realities of black womanhood. Driven by baroque R&B production values, incredible features from the likes of Sampha, Lil Wayne, Q-Tip, The Dream and Kelela, and Solange's majestic lead vocals, it was one of the most vital records of 2016. Within this whole, considered touches like Master P's narration of the album, and co-writing and production from (amongst others) Raphael Saadiq, David Longstreth, Patrick Wimberly and Questlove, helped support Solange's grand vision the right way. Martyn Pepperell
02. Skepta 'Konnichiwa' [Boy Better Know]
After years in the making and numerous delays, May 2016 finally saw the release of 'Konnichiwa', the album Skepta had been promising since 2013 but had been threatening for his whole career. Featuring five previously heard songs, including That's Not Me, It Ain't Safe and the album's overture Shutdown, Konnichiwa was just as much of a summation of Skepta's recent work as it was a statement of intent. More than anything, however, it was a triumph.
The album went on to win the Mercury Prize, becoming the first grime album to win the accolade since Dizzee Rascal's genre-defining 'Boy in Da Corner' back in 2003, and recently reached gold status. For a genre that has long struggled to support or believe in itself, 'Konnichiwa' showcased an authentic, uncompromising grime sound, with a serious warts-and-all introspection that was able to capture the British public's imagination. Paul Gibbins
01. Kanye West 'The Life Of Pablo' [Getting Out Our Dreams II]
The best explanation I saw of 'The Life Of Pablo' was on Facebook. In a few short sentences, a friend broke it down as a spiritual redemption story told in reverse, with Kanye West playing the biblical role of Pablo (Paul the apostle), and Ultralight Beam representing the moment when Paul was struck by a beam of light on the road to Damascus and redeemed.
Created between 2013 and 2016 in a series of feverish (and sometimes sleepless) recording sessions scattered across Italy, Mexico, Canada and the United States, 'The Life of Pablo' arrived following a series of feints. Kanye's collaborations with Paul McCartney and Rihanna, the boom bap aesthetics of No More Parties In LA and 30 Hours, and multiple album name changes.
Launched with a fashion show and an exclusive debut on Tidal, it delivered some of the hugest musical moments of the year. Desiigner's Panda buzz going supernova on Pt. 2. That choir, and Chance The Rapper rapping his ass off on Ultralight Beam. Kanye getting his bars off over Madlib loops. Sister Nancy and Nina Simone samples and a scorching Rihanna vocal on the same song.
Yes, it was Kanye's album, but he shared the spotlight with so many. Martyn Pepperell
Listen to the album rundown seamless on Dummy's Spotify.