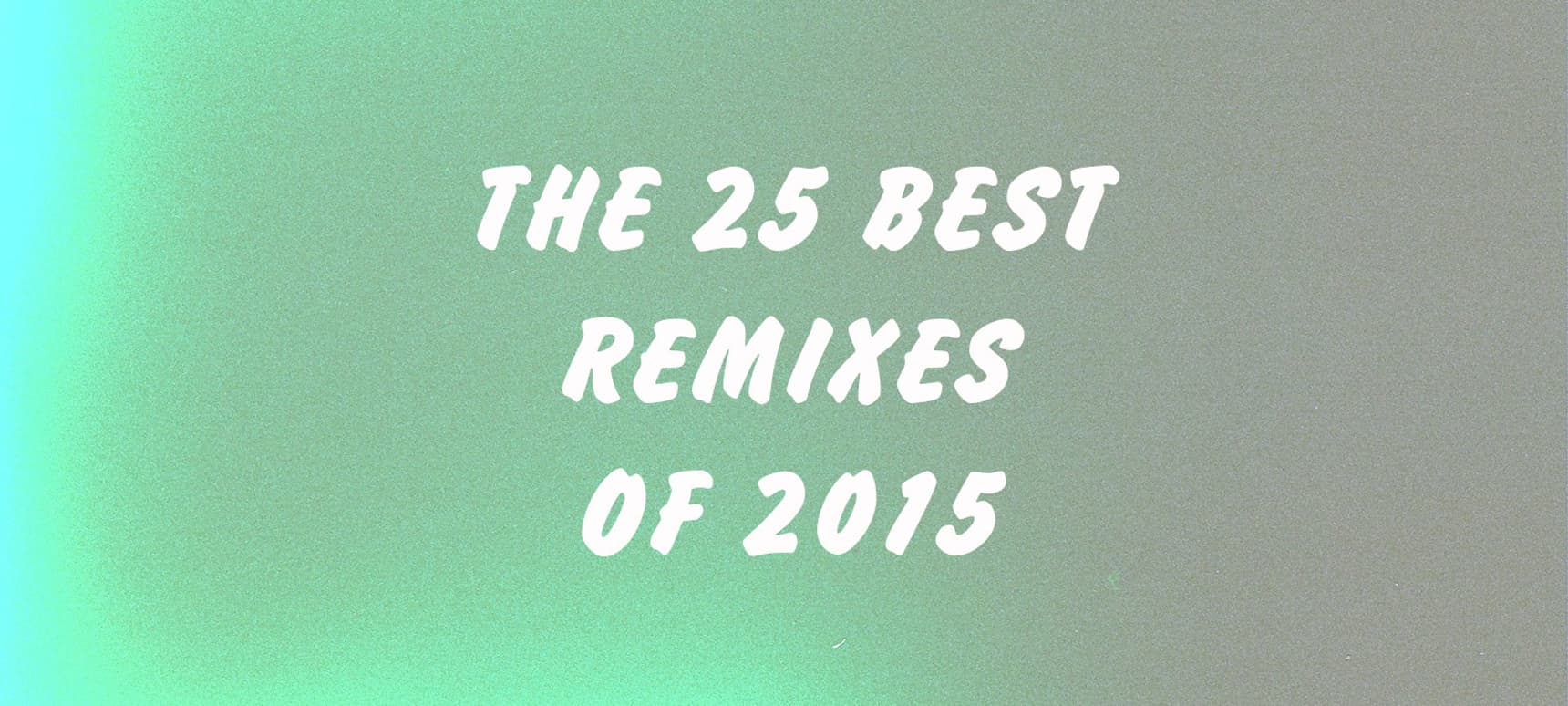 17.12.2015, Words by dummymag
The 25 best remixes of 2015
The remix is a great thing. They serve various purposes – from a producer pressing reset on a track you didn't really care for and turning it into a blistering club jam, or maybe even just a track you love getting a bit of a slight new spin on it that made you love it more than the orignal (a bit like Erykah Badu's towering take on Hotline Bling, which unfortunately seems to have been completely obliterated from the internet).
Whether you're a remix fiend or just roll with the punches, here's a bunch of rehashed tracks that we really quite enjoyed in 2015.
N.B. They're in alphabetic order, because numerical order is just too painful sometimes. Over and out.
Cashmere Cat ft Ariana Grande Adore (MssingNo remix)
After his Brandy flip and Mariah remix circulated online, London-based MssingNo had his first release come out on the Goon Club Allstars imprint in 2013 featuring bangers upon bangers, including XE2, 124th, and the Rihanna-sampling Skeezers – revealing his penchant for r'n'b vocals and knack for crafting infectious melodies. Since then he's reworked the likes of Plata to Jagwar Ma and singer TĀLĀ, but it was his remix of Cashmere Cat's pop number with Ariana Grande this year that was unmissable. Flora Yin-Wong
COMA Lora (Robag Wruhme Fandara Qualv NB)
Kompakt mainstays Coma's padding pop masterpiece Lora made it to #22 of our 50 best tracks of the year list but Robag Wruhme's remix was equally sublime. I first heard this track played by label boss Michael Mayer during his set at Oasis Festival in Marrakech this summer. An ethereal reconstruction that's bound to hit the hotspot of any dreamy dance music lovers, hearing this on a balmy evening surrounded by palm trees was definitely one of my best music moments of 2015. Natalie Davies
Dele Sosimi Too Much Information (Laolu Remix)
Arguably one of the biggest remixes from the latter part of 2015, the Innervisions crew have been hammering this one (understandably). It's been a guessing game as to who was behind the track, with unofficial rips and videos from the gigs posted around the web giving it a good old 'whodunnit' promo campaign. When the news launched that it was Nigerian / Swiss producer Laolu on the buttons, the hype only increased. It's perhaps the most recent release in these selections but without a shadow of a doubt, deserves a spot on this list (and probably next year's as well). Joe King
Dominica Let You Go (Bicep edit)
What more can you say about Bicep's 2015? The lads simply smashed it. Not content with dipping their toes into the balmy waters of balearic on Just, the Belfast boys proved that they can still smash out a heavy hitting house number when needs be. Let You Go is an unabashed, unashamed anthem that's been rinsed by every DJ worth a damn since it first came out. We've not stopped blasting it either. In the shower, down the pub, in the supermarket…Josh Baines
Eric Prydz Opus (Four Tet remix)
If the video of thousands of bewildered ravers frantically praying for a drop at 11am in Ibiza didn't persuade you then God knows what will. Kieran Hebden's elliptical reformation of Eric Prydz Opus is a beast far more deserving of the title than the original. A 10-minute exercise in patience and culmination – a blissful fever dream which seems to finish as quickly as it started buffering. Duncan Harrison
Erykah Badu HOTLINE BLING BUT U CAINT USE MY PHONE MIX
[Track no longer available online]
Every single trace of this remix seems to be have been obliterated from the internet but Erykah's version of Drake's 2k15 hit blew the original out of the motherfucking water. I couldn't listen to Drake's version without shouting LATE NIGHT WHEN YOU NEED MY LOOOOOOOVE in the same drawl as Erykah. A diss track on her ex-beau Andre3000, this one came from the heart. And the voicemail message in the middle? Cherry on the cake. You've reached the Erykah Badu hotline. If you're calling for Erykah, press 1. If you're calling to wish her a happy birthday, Kwanzaa, MLK, Black History Month, Juneteenth, or Hanukkah, press 2. If you're calling because you just saw her on BET, MTV, or any of the social media outlets, and you're checking to make sure you're still in good standing, press 3. If you're calling to beg for some shit, in general, press 4. If you're calling to beg for the shit but this is that pre-call before the actual begging, press 5. If you've already made the pre-call, and this is the actual call to beg, press 6…. Natalie Davies (shout outs to Sean Stanley for the voicemail transcription)
Gwilym Gold Flex (Zomby remix)
It's been a huge year for everyone's favourite agitated airhorn-vendor. As well as putting out a slew of brilliant releases for the shelves of his new home at XL, he turned in this heady jungle mix of Gwilym Gold's Flex. The stark and abstract elements from Gold's original were all resources for Zomby to chuck into a choppy, ethereal whirlpool and the results make one of the years most hypnotic reworks. Duncan Harrison
Hodge Amor Fati (Peverelist remix)
Bristol label Livity Sound have had a particularly productive year and the track that I kept coming back to most from the label came in the form of a remix. The Peverelist flip of Hodge's Amor Fati caused many a smile in the dance in the second half of 2015. Aurora Mitchell
Holloway Annoushka (Holloway & Rocks vocal mix)
London based club night Beat Werk expanded into the label world last month with their debut EP from Holloway. The 'Annoushka' EP, is a rowdy two-tracker with glistening, futuristic title track Annoushka paired with hyperactive b-side Vector Field, plus an additional four remixes to boot. Catching our attention was Goon Club Allstars bossman and Handsome Boy Moleskin, who gets busy with both a vocal and instrumental rework of the title track Annoushka. The vocal version employs grime MC Rocks, who rips venomous bars through Moleskin's retake on the instrumental with no remorse. The last line he spits ends with "dummy" so of course, it ranked high with us. Natalie Davies
Jack Ü ft Jusin Bieber Where Are Ü Now (Rustie remix)
Finding yourself involuntarily whistling the instantly-iconic hook of Where Are Ü Now against your will? Worried that you're not allowed to enjoy Justin Bieber's world-conquering collaboration with Diplo and Skrillex because of the world's misinformed preconceptions about pop, style, masculinity and credibility? Never fear! Rustie remixed it. Duncan Harrison
Jamie xx I Know There's Gonna Be (Good Times) (Dre Skull remix)
The Dre Skull remix of I Know There's Gonna Be (Good Times) was first aired by Jamie xx during the LA stop-off of his North American tour back in July. Featuring the original vocals from Young Thug, Mixpak head Dre Skull's adds additional verses from dancehall and bashment's 2015 stars Popcaan, Konshens, Kranium and Assassin. Natalie Davies
Kieran Hebden BACK2THESTART
Kieran Hebden (aka Four Tet) shared this garage-y lick BACK2THESTART on Soundcloud back in August. Described in the comments as 'shea butter smooth', the track is a guaranteed dancefloor stormer when the lights go down. You may also recognise those venomously catchy lyrics as a pitched down sample of Fight For This Love by Cheryl Cole (her new surname definitely escapes us). Previously aired on his Rinse show, KH made it available as a free download, so make like Lego and get this one in your library. Natalie Davies
Maejor ft Jeremih Get You Alone (Florentino remix)
Manchester's Florentino is definitely a talent to hedge your bets on for the year ahead. His unique mixture of influences form his native Colombia with reggaeton and the underground club sounds of the North is in it's own lane. Nothing will serve as a better introduction to his bold and irresistible sound than this ferocious, pounding edit of Maejor and Jeremih's Get You Alone. Knuckleduster Latino percussion rumbling beneath the silky vocals. Duncan Harrison
Mr. Mitch The Man Waits (Gage remix)
Before he released his debut album on Planet Mu at the tail end of last year, Gobstopper label boss Mr. Mitch put something shorter out on his own label in 2014. 'The Room Where I Belong' EP contained The Man Waits, a track that shows his development into a sound that maintains a balance between soft, crystalline melodies and the occasional harsh thud of a drum slicing through the ambience. Crazylegs producer Gage has now given it a thundering remix with chaotic, apocalyptic drums and sirens building up and piercing into the peaceful foundations of the original track. Aurora Mitchell
Murlo Cold Stroke (Kahn edit)
A grime 2.0 remixer's favourite, Cold Stroke already got reshaped by Gage and Sudanim before its latest incarnation. Made with the intention of being played at Boxed, Kahn's Murlo edit has all the hallmarks of a peak time banger, focusing on the centre hook of the original. Aurora Mitchell
Nick Hoppner Relate (The Black Madonna remix)
It's all well and good making really clever dance music that deconstructs club constructions and makes you really think hard about the relationship between hedonism, commerce and oppression, but fucking hell, isn't it better to have a laugh in the club and just enjoy some no nonsense, stomping, gargantuan big room house music every so often? The hottest DJ in the circuit takes a great record and turns it into a classic. Simple. Josh Baines
Ogris Debris See The World (salute remix)
Vienna via London producer salute is getting ready to take on the world, one track at a time. An affinity with garage, dubstep and instrumental grime sounds that drip from his music, salute is deeply inspired by classical music. Embarking into the remix field, salute takes the reins of Ogris Debris' off-kilter pop track See The World for a dazzling reconstruction. Splashing uplifting and euphoric hues on to the original track, salute leads the rework with piano keys and aerated synths – resulting in the perfect soundtrack for coasting around Venice Beach on a Chopper at sunset. Make like Ogris Debris, and see the world like a bird. Natalie Davies
Omar Souleyman Heli Yuweli (Rezzett Rerezz)
The second in a new series of Trilogy Tapes x Palace releases came from Omar Souleyman, including a flip from mystery producer (or producers?) Rezzett. Booming with that lo-fi, filtered production style that Rezzett are so known for, they took Heli Yuweli into more emotional depths. Aurora Mitchell
Panda Bear Come To Your Senses (DJ Marfox remix)
The ghetto sounds of Lisbon have become even less of a secret in the past 12 months. Aside from the capsule series on Warp and the well-received takeover of London's Dance Tunnel, Principe OG DJ Marfox came through with this high-profile remix of Panda Bear's Come To Your Senses. It's a hyperactive cocktail of kuduro deconstructions and warped, spacious vocals. Duncan Harrison
Royal T Shotta (Wen remix)
Wen took under underground with this remix of Royal T's gully instrumental, Shotta. It's a cavernous take on the track that flits between the darker strain of grime instrumentals (think Frontline and What) and something a little more uplifting. Wen, you're a wonderkid. Natalie Davies
Rihanna x Sami Baha Bitch Better Have My Money (Total Freedom edit)
The fast-rising Turkish producer made his name this year for heavily-stylised signature beats through unreleased tracks like CHUNKالله, alongside his Usher-sampling I Still Got It, and Christina Milian edits. Crafting sparsely epic, highly detailed percussive tracks, Baha's been championed by the likes of Lit City Trax/Future Brown's J-Cush to RBMA Radio. Mashed up with Rihanna's BBHMM by Fade To Mind's Total Freedom this year, this genius edit dropped in clubs by the likes of Janus's Lotic is a succinct round up of 2015. Flora Yin-Wong
Scuba Black On Black (Len Faki Goes Black remix)
I don't know much about Scuba. I wouldn't even call myself a fan. But I do know Len Faki created a monster with this one. His remix of Black On Black got me through the most bizarre week of 2015 – Amsterdam Dance Event. Stuck in a boutique sex suite of what seemed to be East Amsterdam's answer to Ace Hotel, I spent three days in near-solitude listening to this on rotation with a Patrice Baumel mix from 2014 and Sex On The Beach by PARTYNEXTDOOR. On Thursday my data cut out for 12 hours and Len Faki's catastrophic revision of Black On Black really penetrated my mood. A lost wifi sponge with an evil streak who, at most parts, didn't even have anybody to smoke a joint with. Natalie Davies
Spokes Ritalin (E.M.M.A. remix)
Spokes' track Ritalin was treated to a spectral remix from E.M.M.A back in May. Released by Coyote Records, the Encarta '95 enthusiastic doses the track up to take things down a level and the result is a spooky, floating track that'll quickly get you leaning to the side. Natalie Davies
Tame Impala Let It Happen (Soulwax remix)
Take an eight minute Tame Impala song, hand it over to Soulwax and get it back as a nine minute long dance anthem. That's mathematics. Take the Let it happen stems and let Soulwax saturate the shit out of them with Belgium-bred basslines and watch the booty begin to wiggle. That's physics. Now conjure all of your strength to refrain from referring to this remix as "funky" because whilst it is an appropriate adjective, nobody actually wants to be associated to that descriptor. That's impossible. This track is undeniable and is essentially a public service announcement from Soulwax, assuring the world that anything can be a #funky #dance #anthem if you put your mind to it. Mia Besorio
Wet Weak (Clams Casino remix)
Clams Casino demonstrated a musical metamorphosis likened to Baby One More Time Britney Spears into the post-2007 umbrella wielding version of herself with his remix of Weak. Of course, Clams Casino took a whimsical pop-ballad by Wet and soaked it in apathy and ambiguity. Could we really expect any different from a producer who is highly regarded for his ability to make sparse sounds feel fulfilling? Slow this one right down, play it loud and raise one up for the Brothers Grimm of the beats game. Mia Besorio