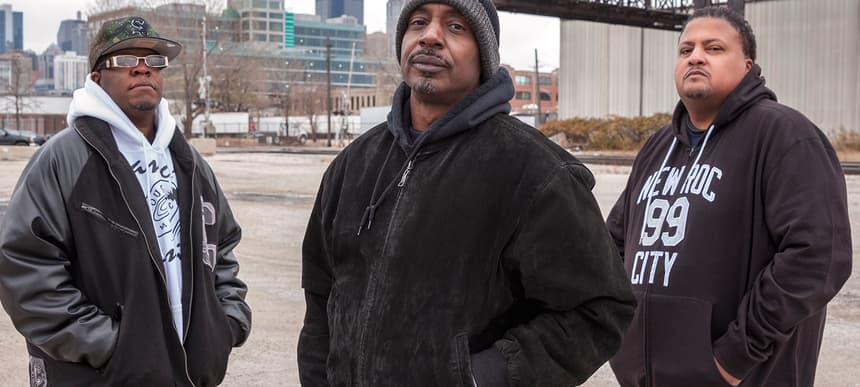 16.03.2015, Words by dummymag
The DNA of Dance Mania
The Dance Mania revival is still upon us, with Strut Records recently dropping 'Dance Mania: Ghetto Madness', a second killer compilation of classics and rare cuts from Chicago's rawest original house label.
Ahead of the the Ghetto Madness takeover of Room 2 at Fabric this Friday (March 20th), featuring label OGs Parris Mitchell and Tyree Cooper alongside new devotees Bok Bok and Bodyjack, Strut label head Quinton Scott takes us through some of the key tracks that helped shape the Dance Mania sound.
On The House
Pleasure Control (Dub)
Bright Star, 1986
Pre-Dance Mania, label founder Ray Barney had set up Bright Star Records, designed for more R&B-based house trax before he decided to release everything on Dance Mania. Here's one of the best moments from the label, featuring much of the team behind Marshall Jefferson's Move Your Body – the track's produced by Jefferson with Ron Hardy on the mix and Curtis McClain on vocals. The dub here is a raw, stripped back slice of early Chicago genius.
Duane & Co. J.B. Traxx
Dance Mania, 1986
Dance Mania's first release proper, courtesy of Jesse's Gang's Duane Buford (Duane went on to be a successful film soundtrack composer and played keyboards with Ministry). It set the label's direction from the start – raw, tracky, DIY, with a tougher sound than early Trax and DJ International. It's also one of the first 4×4 tracks to loop up James Brown. I remember being blown away by this while listening to great pirate station LWR and packing mailers at my first music job in the Jive Records post room.
Z-Factor featuring Jesse Saunders Fantasy (Instrumental)
Mitchbal, 1984
Jesse Saunders played a role in the genesis of Dance Mania, releasing The Browns' What's That as the first release on the label before Ray Barney took over the name for all of its future output. The DIY 'Dance Party Album' by Z-Factor (Vince Lawrence and Saunders) is a great pointer to the early house blueprint, influenced by European synth tracks they would hear on Hot Mix 5's WBMX shows. The vocal version features an off-the-wall lead from Screamin' Rachael and is also worth checking out.
Victor Romeo Presents Letreece Brown Love Will Find A Way
Dance Mania, 1988
Victor Romeo / Parris Mitchell's productions always mix raw energy with some great melodic touches (he was also a musician with Ten City and Club Nouveau). This was one of the best examples of the more soulful side of Dance Mania during the label's early years and was, of course, massive during the rave era. Victor was evidently in the dog house for spelling the singer's name wrong on the original 12"!
Liaisons Dangereuses Peut Être… Pas
TIS, 1981
More evidence of Chicago's glorious eclecticism, this experimental 1981 German synth track, produced by Conny Plank, became a Ron Hardy favourite at the Music Box and provided the musical backbone for Parris Mitchell's Ghetto Booty (which was in turn was sampled by Dave Clarke on The Compass).
Li'l Louis The Original Video Clash
Dance Mania, 1988
Had to include this incredible Li'l Louis classic, into his stride a year before French Kiss and already producing tracks planets apart from the rest of the pack. Louis had been associated with Ray Barney since his involvement with early Dance Mania hits like Hercules' 7 Ways and his own first release for the label, Frequency / How I Feel. Here, he lethally combines pounding, industrial 4×4 beats with analogue video game stabs.
DJ D-Man Da' West Side DJ'S
Dance Mania mixtape, circa 1995
Dance Mania's DJ Deeon remembers this as the first officially released ghetto house mixtape, the first to be professionally made with a printed cassette and sleeve. Having hawked his own DIY cassettes around the city's Chinese stores, this one inspired Deeon to go to Ray Barney and begin releasing his own tapes officially before becoming one of the leading producers of Dance Mania's ghetto era.
Steve Poindexter Computer Madness
Muzique Records, 1989
Steve Poindexter's name comes up a lot among Dance Mania artists as a DJ's favourite from the early years, and a key lesser known figure who changed the rules of house music. Computer Madness brought in a raw, big-sounding production style which cut through hard on dancefloors. On the making of the track, Poindexter told Resident Advisor, "I was tweaking, playing the drum machine, but I was moving stuff. I was trying to change the filter sounds. Wes, my partner, he came in, he's like, 'OK, while you're playing that, I'll just tweak the keyboard sound.' So we tweaked the sounds, and we got them just how I wanted it, and I was like, 'This is it—computer madness!' It just sounded like something that was out of the future."
Da Posse featuring Martell Don't Try To Fight It
Dance Mania, 1990
From the less fashionable end of Dance Mania's musical spectrum and untouched by silly prices on Discogs, Hula and Fingers with a soulful garage beauty sounding like a prototype for Morgan Geist's recent work as Storm Queen. As an R&B fan, Dance Mania's Ray Barney always preferred this side of the label's output and there are some good soulful house cuts dotted around the catalogue before the ghetto phase took hold.
Jammin' Gerald Black Women
Dance Mania, 1994
From Jammin' Gerald's first EP on Dance Mania, 'Factory Style'. As the resident at The Factory in Chicago (before it tragically burnt down in '93), Jammin' Gerald played sets influenced by hip house and Miami bass, and he kept the club's memory alive through name-checking it throughout his Dance Mania release period. This one was a massive Factory dancefloor favourite, sampling up a spoken vocal snippet from X-rated Rudy Ray Moore dialogue album, 'The Sensuous Black Woman Meets The Sensuous Black Man'.
DJ Nehpets Na Na Na
Dance Mania, 1997
Sampling R&B and disco vocals over raw house beats was a constant with Dance Mania producers during the ghetto era – Paul Johnson was on it early, chopping vocal phrases up in a new way and DJ Deeon regularly dabbled with funky cut-ups including the classic 'Deeon Does Disko' EP. This one from Dion Nehpets is from the later ghetto years, cutting up R. Kelly slow jam I Can't Sleep Baby (If I). Naggingly infectious, it lodges inside your brain on first listen.
2 Live Crew Ghetto Bass
Luke Skyywalker Records, 1986
With its stripped back beats and X-rated lyrics, Miami bass was a key influence in the evolution of the ghetto house sound and nobody does it better than genre kingpins 2 Live Crew. This one was a massive electro cut in '86 as the Miami sound grew globally and the flip-side, Trow the D, is pure DJ Deeon-style filth.
Strut released 'Dance Mania: Ghetto Madness' on January 23rd 2015 (buy).
Dance Mania presents Ghetto Madness (with Parris Mitchell, Tyree Cooper, Bodyjack, and Bok Bok) takes place in Room 2 of Fabric, London on Friday March 20th 2015 (buy tickets).