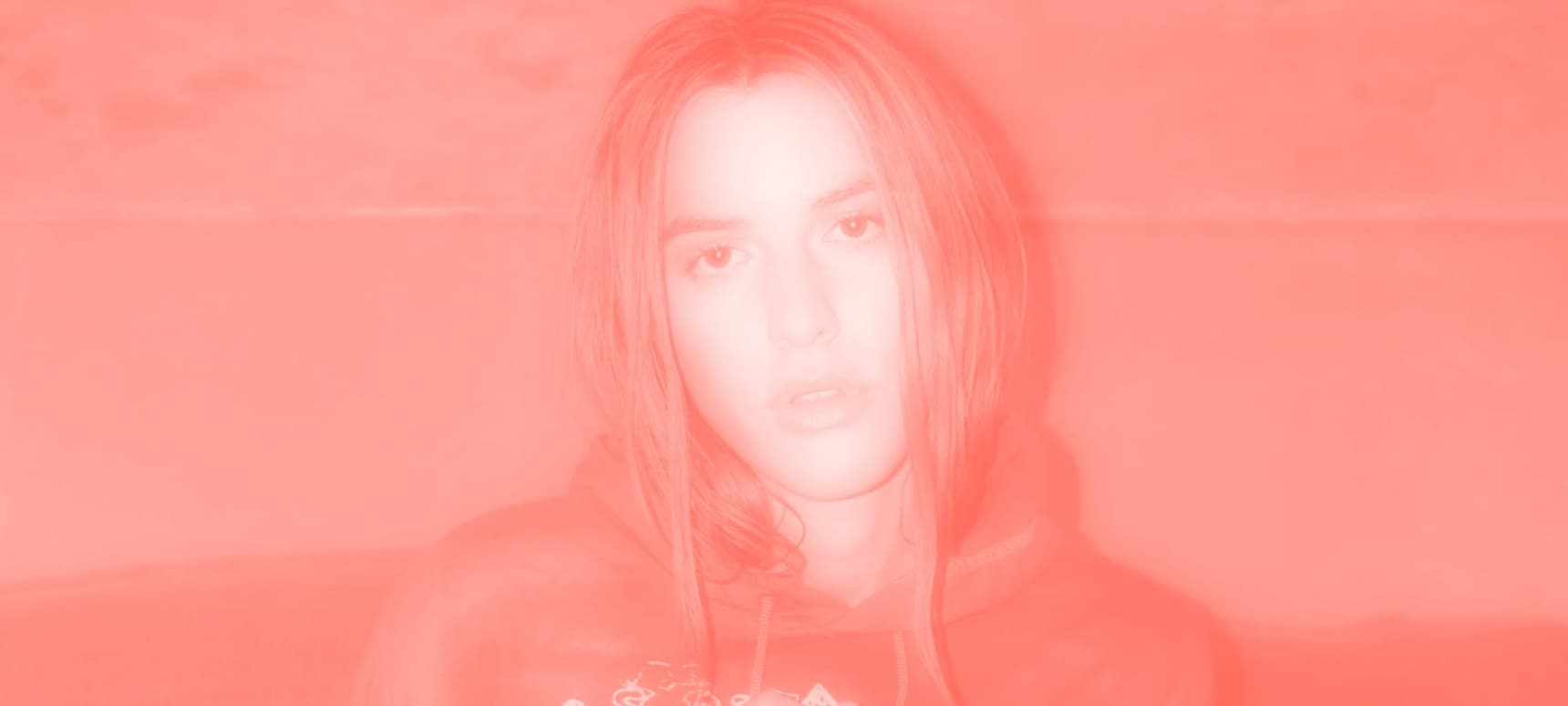 22.01.2020, Words by Felicity Martin
The 20 Most Exciting Artists For 2020
We list the twenty acts that will be pushing things forward over the next twelve months...
There seems to be a continual wealth of new artists coming through at the moment, and while we went for 15 last year, it only felt right to name 20 for 2020. This tips list isn't designed to predict the artists that are going to stream the most or chart highest in the coming year (if we wanted to do that, we'd follow the money). Instead, we're zoning in on the artists we're most excited about right now – sonically, aesthetically or just in terms of the statement their music is making.
Included in the picks below – arranged in alphabetical order – are some artists we're working with on our DMY Recordings label, so keep your eyes peeled in the next 12 months for new music from them. And to keep updated with our favourite music throughout the year, make sure to hit follow on our best new music playlist, our brand new artist playlist and our other genre-specific ones. You're welcome.
100 gecs
For a boundary-pushing digital group who even performed their first ever gig in the virtual world, the enigmatic duo consisting of Laura Les and Dylan Brady seem as if they have crash-landed into existence from the year 2050. 100 gecs never expected their glitchy, hyper-experimental sound would gain popularity, however they've since gone on to open for the likes of Brockhampton and slowthai. Combining seemingly incompatible genres into the same song, everything about the duo from their music to their appearance is refreshingly different. BW
Anz
Since her class 2019 EP, 'Invitation 2 Dance', on Finn's 2 B REAL label, Mancunian producer Anz has been firmly on our ones-to-watch list. Repping the 0161 with her fierce blend of UK funky and ghetto tech, Anz is all about after-dark raving in her hometown, and the aforementioned four-tracker is dedicated to her "lights on crew at [Manchester club] Soup Kitchen" and "to the boys who used to muscle me off the decks at house parties". FM
Arlo Parks
There's a maturity to Arlo Parks' music that belies her 19 years. The South London songwriter, poet and producer makes sensitive music that broaches the human condition, our relationships with ourselves and identity, while her sound itself is impossible to pinpoint: something in the middle of hip-hop, indie and emo in its 2020 incarnation. We're just one of the many places tipping Parks for success, which should tell you something. FM
Baby Rose
Plenty of comparisons have been drawn between the voice of Baby Rose and Nina Simone, something that might seem hyperbolic until you actually listen to her music and inevitably get blown away. The D.C-born soul singer has been making moves of late, with a COLORS session, a Grammy nomination plus co-signs from Kehlani, SZA and even Lebron James. FM
Celeste
When we met Celeste for dinner at the start of last year, she'd already made fans in the likes of Idris Elba and Spike Lee despite just a couple of tracks to her name. In the vein of greats like Amy Winehouse, her vocal reduces rooms to pin-drop silence, and Celeste's smoky, soul-meets-jazz sound has already copped the BRITs Rising Star award and won the BBC Sound of 2020 poll. There's no doubt her star is set to rise even more quickly in the coming year. FM
Deb Never
Los Angeles-based singer-songwriter Deb Never came up as a session guitarist, but it's a good thing she made the solo jump. Collaborating with Tommy Genesis recently, as well as Brockhampton, Deb's sound has been labelled as a blend of emo-pop with hints of 2000s grunge inspired by her home in the Pacific Northwest, packaged up with the chilly bite of her vocal. FM
Deema
With former experience alongside Novelist and Elf Kid in Lewisham grime crew The Square, South London's Deema has music in his DNA. Performing recently at our BRAND NEW party at Laylow, the rapper's effortless style combines youthful energy with an immense lyrical capability and since kick-starting a solo career has been able to hone his knack for bars even more. With a refined, chilled-out vibe, Deema has stumbled upon a unique sound where grime and UK hip-hop collides, and after a flurry of releases last year, 2020 is set to grow his fanbase even more. BW
Farrah
Taking elements of the Iranian music she grew up listening to, Leeds-born producer-singer Farrah filters these influences (including the sounds of the Persian setar) through a sleek, R&B-meets-pop prism. On a lyrical level, her music is highly personal and tackles the kinds of relationship struggles that many millennials will be able to relate to. We're excited to be working with Farrah on music coming tomorrow (Thursday 23rd), so follow her here for updates on that. FM
Jasper Lotti
A staple on our BRAND NEW playlist, Jasper Lotti has an enthralling energy to her. Blessed with a twisted sense of humour and dream-like production, the LA-based singer-songwriter-producer has been branded "dystopian pop". Whatever you want to call it, there's a highly future-facing feel to Lotti's sound, and recent EP 'XOskeleton' has found itself on heavy rotation in this office. FM
Lavida Loca
Born in Malawi, raised in Nottingham and South London, Lavida Loca is an impressive fresh face on the scene. Peppering her bars with Spanish and talking true tales of life on the roads, the 21-year-old was previously torn away from music after getting into trouble with the law, but this year she's got a laser focus on the music game. With a Kenny Allstar session under her belt and an impressive string of releases planned for the coming year, Lavida Loca is moving in her own lane. FM
LP2loose
Since living in the Netherlands from the age of fourteen, Peckham-born artist LP2loose has developed a diverse sound blending together the best of UK and Dutch rap. At such a young age, the 15-year-old possesses the focus and maturity of someone far beyond his years, with his 2019 debut single 'Bender' offering spectators a first glimpse at the technical flows and lyrical prowess setting the teen apart in recent months. Following on from latest single 'Waterkid' and signed to MOVES Recordings, 2020 is poised to see LP solidify his name as one of the best young rappers in the game. BW
Lola Young
Eighteen-year-old Lola Young has the most powerful and affecting voice we've heard in some time. When we caught her performing recently, as part of a residency at Broadway Market's Kansas Smitty's, her bold, confessional style cut like a knife through the packed bar. 'Intro' is Lola's first body of work, a remarkably confident outing that delves deep into complex emotions. Now signed to Island, the young singer is gaining ground fast. FM
Nayana IZ
Nayana IZ is the kind of artist who'll run around London rapping in a bridal sari. Born in India and raised in London, the boundary-blurring rapper is part of London's NiNE8 collective with Lava La Rue and Biig Piig. Fresh from touring with Dublin MC Kojaque, Nayana throws cut-throat rap, dub, Bollywood stylings and more into the blender. FM
Oklou
Hailing from a farming village in the countryside of western France, there's a quiet power to Marylou Mayniel aka Oklou's music. Hers is a name that's been floating around for some time thanks to the producer and vocalist's work within the NUXXE fold, but more recent effort 'Forever' is her most accomplished work to date, boasting understated production and fragile vocals. With a Tap Records signing now under her belt and more music promised for the new year, Oklou is a name we'll be hearing much more of in 2020. FM
p-rallel
Notorious for shutting down parties across London with his energetic fusion of R&B, rap and left-field electronic music, p-rallel is quickly proving to be one of the hottest rising DJs around. Having toured with the likes of slowthai and Lava La Rue as well as hosting a highly anticipated monthly slot on NTS, the young member of the Elevation/Meditation collective, including the likes of Louis Culture, Lord Apex and Finn Foxell, is set to propel himself and his friends into making some serious moves this year. BW
Pa Salieu
Despite the J Hus comparisons, Coventry rapper Pa Salieu has had no trouble forging a distinct path of his own. An early entry to 2020, the rapper's recent single 'Frontline' possesses all the attributes needed to cement himself as one of the most exciting and fresh voices in the game. With a sound combining aspects of his Gambian heritage with an unmistakably UK style, the 22-year-old is looking like a force to be reckoned with. BW
Rema
There's a steady stream of incredible music flowing out of Nigeria right now, and Rema is one of those leading the charge. Pitting sugar-sweet melodies next to mesmerising production, the 19-year-old is a new kid on the block when it comes to afro-pop, but with a Barack Obama co-sign and 14 million streams and counting on 'Dumebi', his debut track, there's little doubt that 2020 will be Rema's. FM
Snowy
Whether it's storming BBC 1Xtra after they refused to play his new music or sending for the whole of the grime scene on a grime track, Nottingham MC Snowy doesn't like to play by the rules. We released his Jason Williamson collaboration, 'EFFED', in the run-up to the 2019 general election via our DMY Recordings label. With a Death Grips-like chainsaw beat courtesy of Lenkemz, it's a tear-your-eyeballs-out ode to the state of Britain, and Snowy is showing no signs of slowing down. FM
Tamera
It's hard to judge an artist on the basis of two singles alone, but NW London's Tamera is an undeniable new talent. Recalling R&B and neo-soul greats like Erykah Badu, 'Romeo' was a thrilling debut track: blending the poise of the new charge of UK jazz with sweet, soulful vocals, we're looking forward to whatever 2020 brings from Tamera. FM
Theodor Black
Another of our DMY signings, South London's Theodor Black draws from jazz and hip-hop to convey the frustrations and angst of city-dwelling millennials, positioning him somewhere in between King Krule and Bakar. We released double single 'Slow Burns/Anxiety' (see above) last year, another example of Black's DIY ethic, with him producing and directing all his visuals himself. FM
Listen to our '20 FOR 2020′ playlist on Spotify:
Read our 50 Best Albums of 2019 list, our 50 Best Tracks of 2019 list, and follow our NEXT HYPE, BRAND NEW and other playlists on Spotify.