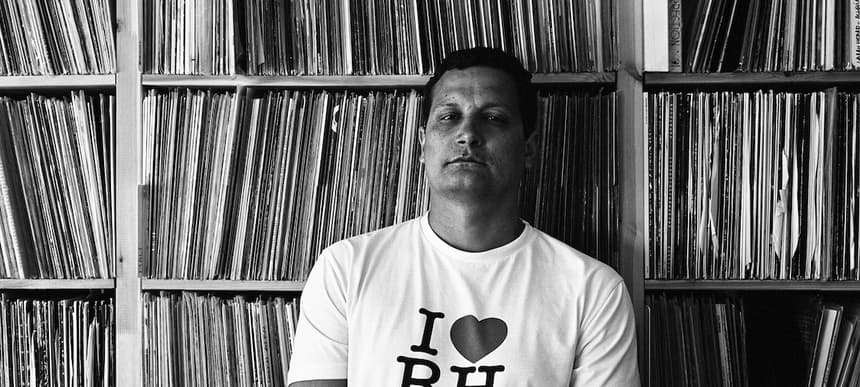 07.01.2016, Words by dummymag
The Dummy Guide to Rush Hour
The image of a close-knit, thriving scene where everyone knows each other has always been an appealing one. Going to the same parties, scouring the same record shops, sharing the same apartments: it's the kind of day-to-day a lot of us crave. Amsterdam has a population of just 750,000, compared to 8.5 million in London and just under half that in Berlin. As a city, its close confines mean it's a lifestyle you're more likely to find there over any other bustling metropolis.
"There's not enough space to have pockets or niches into their own thing, especially if you're already a sub-group of musicians making electronic music. It's very healthy," says long-time resident Young Marco. That's the kind of tightly bound world into which Rush Hour emerged and which it's long since become a hub for. That close-knit family ethos is just as vital to Rush Hour itself, too, where relationships both within the city confines and abroad have grown slowly in tandem with its expansion from record shop to the influential label and distributor that it is today.
The shop opened in 1997, a joint venture between current boss Antal Heitlager and Christiaan MacDonald, as their record digging exploits led to a mail order business which quickly ballooned beyond their student flat. There was a short stint in the basement beneath a hairdresser before moving to their Spuistraat spot, adjacent to the upmarket Nine Streets area, which they've remained in ever since. The label came soon afterwards, with one or two singles per year initially, releasing music by friends that shared a taste for the shades of house music not so fashionable in Amsterdam at the time.
"We were straight onto the Moodymann records, the Theo Parrish records," Antal explains over the phone. "But at the same time we were buying the West London records: IG Culture, all that stuff. And we were going into the disco sound, like West End or Preludes, that you couldn't really find in record shops." As Marco laughs about getting involved in the label in its early years, "It wasn't very cool. It had this dusty image around it, you know, 'cause kids back then didn't spend a lot of time in the record store, not like they do today. There's a big wave of young kids being into Rush Hour now, but back then Theo Parrish was more for 35-year-olds."
"People would come there to buy their vision of house music culture." – Aardvarck
In more recent years the label's become well-known for its re-issues – forgotten bits of magic from the likes of Dream 2 Science or whole back catalogues sifted through by Recloose – which have sat alongside new material. As Antal explains, that legacy was sparked by how they bought and sold records in the beginning. "We started with second hand stuff, and when we started to go through the wholesalers to buy new things we were always looking for the nuggets." Or as longstanding maverick of the Dutch dance scene Aardvarck attested, "They opened up with this small shop with their own vision of the music. They knew what to buy and people would come there to buy their vision of house music culture."
Equally important for the niche they were carving out for themselves was gaining a spot at the Paradiso club. A year after opening the shop, they sold out a trial run at the 1000-plus capacity venue with a bill headed up by Theo Parrish and Moodymann. "People were turned onto this sound immediately," Antal says. "We had never really heard disco mixed with house, mixed with jazz, everything mixed up." It kick-started a monthly residency where they brought a lot of their heroes – the likes of Kerri Chandler, Danny Krivit and Rick Wilhite – to the city for the first time. Along with pushing records that weren't on record shelves anywhere else, bringing those DJs to town helped create an appetite for that type of club culture.
From that point onwards, the activity of the label gradually grew with the relationships that developed through the shop. Steven de Peven and Aardvarck were early visitors, with Kid Sublime introduced to them by the former. All three put their names to some of the label's first releases, as solo artists as well as through the shifting incarnations of Rednose Distrikt. Antal recalls, too, that Aardvarck's nights became a regular meeting place: "We'd visit his parties because he would always play in alternative spaces like squats and things like that."
Other connections were made through shared record-hunting trips at home and abroad. San Proper, though he was still playing in guitar bands in the first few years, was digging through the store's racks from the beginning. And a similar friendship with Marsel Van Der Wielen of Delsin Records, another bedrock of the Dutch electronic music scene, is how they got to know Steven Brunsmann whose M>O>S releases are some of the earliest in the Rush Hour catalogue.
And it was out at night where a lot of those relationships were firmed up. While DJ slots were off-limits at more established spots, like the RoXY and nearby Waakzaamheid, the Bitterzoet club, which opened in 2001 provided an opening for a lot of those in the Rush Hour orbit. Four years after the shop had opened its doors, it strengthened a lot of the ties that had begun to be set down. "That was the first place where everybody would play and get a spot from Wednesday to Sunday," Antal recalls. "Everybody would go there a couple of times a week and then you would play there. That venue really was an accelerator for the scene."
It was around that time that Tom Trago, inspired by Kid Sublime, began to work on producing his own music and became more involved. And it was at that stage, too, when Young Marco moved to Amsterdam and later into a flat with Christiaan, cementing his first step into an increasingly prominent role within the crew. Squeezed together by the compact geography of the capital, they joined a local scene hitting its stride with the label emerging as its focal point. "We would be the source to export the music into other countries. That was kind of our job," Antal explains. "It was strongly situated around each other."
An increasingly prolific output culminated in a few landmark releases, which nudged the label's profile up a few notches. Aardvarck's 'Cult Copy' album in 2005, an ode to early-'90s Carl Craig, gained some traction with German techno crowds, while Antal describes how the broken beat, nu-jazz stylings of Rednose Distrikt "built the fanbase in Switzerland, the soulful-type audience in Germany and the jazzheads in the UK". They brought the first taste of wider recognition for that initial wave of Rush Hour artists focused in the Dutch capital. And it was the extra attention that followed which pushed the label to casting their net much wider.
"People started DJing abroad more, a lot more influences came in and everybody started working on their own island a bit more, in a way," Antal recalls. "In the beginning, you would have more time for each other: you'd be at each other's parties, we would see each other every day at the shop. But now the thing is just bigger." It ushered in a new wave of artists on the label and coincided with greater ties to the US producers whose music had previously been restricted to the racks. Whilst the label has since become strongly associated with the re-issues it puts out, the move to license them came as a natural extension of everything they'd been doing before that.
Two of the early examples in 2010 – Floorplan's 'Funky Souls' and Boo Williams' 'Residual' EP – were simply key records in the shop's early days that were no longer being pressed up. "When they came out the first time they were big, important records in our shop. We would buy copies direct, so a lot of the relationships were already there. And in the second phase, we re-issued them because the labels weren't pressing them anymore and apparently had no interest in doing so." Opening up connections across the Atlantic was something Rush Hour had been doing from the start, both through the shop as well as their early Paradiso residency; putting those releases out themselves was simply another way of joining the dots between Chicago, Detroit and Amsterdam.
Trawling for those hidden gems is a vital strand of the Rush Hour DNA. Marco and Christiaan were overseeing a lot of the day-to-day around this period when, along with those old shop favourites, they worked with artists to release material that had often come out way before the shop's inception. Recloose and Anthony "Shake" Shakir compiled tours through their back catalogues, while Marco spearheaded re-discovering the early analogue glow of the 'Dream 2 Science' EP. That two-year period manned by the pair of them was an especially prolific one for offering a platform to material that didn't get its just dues at the time.
Since then, there's been a renewed focus on new music balanced between Amsterdam and the label's continued ties to house and techno's US origins. The beginning of 2013 saw another shift in Rush Hour's personnel, where around the same time that Marco took on more of a peripheral role as his DJing and production schedule took priority, Christiaan decided it was time to move on from the company he'd co-founded. Since then, it's the seeds that were laid before which are now paying dividends. "The turning point has been in the last four or five years," Antal explains. "The relationships that have been built are starting to pay off with the releases we have coming out now."
There's old school Chicago heads like Ron Trent and Sadar Bahar, to start with. The former is lined up for more releases and both have been topping club bills for them since they booked the latter in a rare visit from the much-lauded DJ to the Dutch capital. Alongside that, there's a younger generation coming up for whom the shop is just as important a touchstone as it was for those coming through its doors 18 years earlier: Robert Bergman, already earning props behind the decks, works behind the counter; Interstellar Funk has moved from office intern in 2012 to full-time employee with several releases to his name. And, of course, there's Hunee for whom 2015's basically been one long victory lap: he masterminded Soichi Terada's surprise hit compilation, released his debut full length and has been drawing praise from most quarters for his unbridled enthusiasm as a selector.
And while there's not enough space here to unpick the many and varied sub-labels that have been created over the years, it's telling to hear Antal say that 2016 will bring a greater mix of styles on the label proper. With Interstellar Funk noting that it was seeing new house and techno sat alongside "great Brazilian originals and new wave re-issues" that stood out to him about the shop in the first place, Marco calculates the fact that people are able to accept a label which mixes Suriname funk with contemporary club music is in part down to the effect they've had. "A lot of people are in tune with that, they're more open-minded and self-educated," he says. "Everything has kind of come together but it was also Rush Hour who helped to create that atmosphere in Amsterdam."
"Every city needs its own Rush Hour." – Young Marco
Selling music that couldn't be found anywhere else has no doubt played its part in shifting narrow tastes gradually wider. Emerging as a hub for local artists who shared that sensibility, the label started as a way to get their music out to other cities that did too. Over time that traffic has become increasingly two-way; they've become an equally vital entry point into the US's dance heritage, as well as a platform for the globally diverse traditions that the shop has long championed. Underlying it all, though, are the friendships that tie those different parts together.
"Every city needs its own Rush Hour," Marco says. Indeed, what they do is both universal and hyper-local, in the different connections sparked through the hunt for music. A conversation across the shop's counter, a shared trip to a dusty warehouse, or a phone call made in the hunt for some lost DAT tapes. It's an impulse that drives many similar institutions elsewhere, but the relationships underpinning this one are one of a kind.