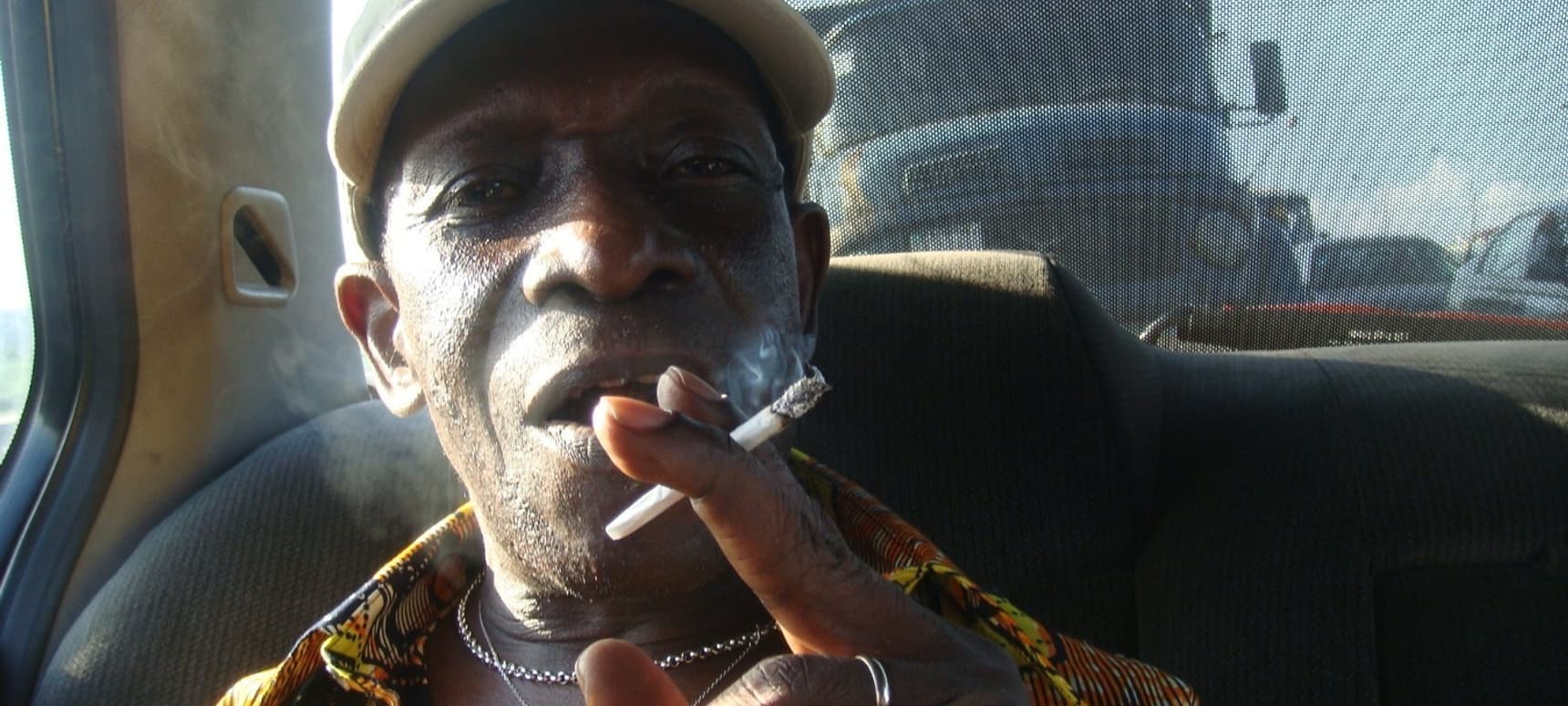 20.05.2020, Words by Felicity Martin
A tribute to Tony Allen, by Emma-Jean Thackray
"In some tracks it sounds like he was playing with three arms and, until I saw it with my own eyes, I didn't fully believe he played with two"
Largely renowned as one of the greatest drummers of all time, Tony Allen's death triggered a great outpouring of grief. The legendary drummer and pioneer of afrobeat sadly passed away aged 79, drawing out social media posts from friends, collaborators and admirers. One of these admirers is trumpeter, producer, multi-instrumentalist, beat-maker, in-demand remixer, orchestral composer and DJ, Emma-Jean Thackray. The London-based jazz innovator cites Allen as one of the biggest influences on her sound, and, like Allen, has an irresistible groove running throughout the music she composes and DJs. Below, Thackray marks out five of her favourite tracks by Tony, with her thoughts on each musically.
Tony Allen – 'Get Together' [from 'Black Voices']
"It was hard to pick just one track from the 1991 seminal album 'Black Voices'. Firstly, I think this track is such a shining example of the collaboration of Tony and Parliament Funkadelic's Mudbone: two giants of two important musical lineages – both scenes heavily influenced by each other. Two musical revolutionaries coming together to show the best of black voices in black music.
But I also wanna get a little nerdier and talk about the phrasing of Tony's drumming. In this track it's very clear that he's not playing on the 'one' so much, he's always landing after it, highlighting the syncopated clave that holds the groove together. This track is a great example of the roots of afrobeat – musically speaking.
When 'filling' at the end of phrases most drummers simply land on the one [the first beat of the next phrase], but you rarely hear Tony do this. Afrobeat bassists rarely land on the one, too. The bass and the drums are the foundation of groove and this way of playing is the foundation of afrobeat. If the first beat of the bar is leaned on too heavily, the groove becomes laboured and stale. If you don't play on the one but just trust that its there it almost suspends the groove in mid-air, giving it forward motion and a lightness on its feet. An infectiousness that we never get tired of. This is why we can dance all through the night, caught in the groove of even through those three-hour-plus-long live sets."
Tony Allen & Jeff Mills – 'Locked And Loaded' [from 'Tomorrow Comes The Harvest']
"Two masters of groove: Tony Allen and Jeff Mills. For the album's EPK Tony Allen said it himself: "two drummers are playing, one is electric and the other is playing live drums."
The dense TR909 programming of Jeff Mills and Tony Allen's busy comping marry together to create trance-inducing grooves, each performer panned to either side of the listener space (a production technique of separating live and electronic drums that I love to use in my own tracks). Tony is hard-left, Jeff is to the right, while sparse dubbed-out keyboards swirl around throughout the whole space. Whether you listen to this track on a huge sound system or headphones on the sofa, the sound-world of this track is like a trippy, out-of-body experience."
Tony Allen with Afro Beat 2000 – 'Road Close (Dance Dub)' [from 'NEPA']
"For me, this track is the standout track on a standout album in Tony's discography, and I play this track out in as many DJ sets as possible. The album 'NEPA' (Never Expect Power Always) was an on-the-nose punch to the Nigerian Electric Power Authority and its corruption, but also a bright light of the future-afrobeat sound and a symbol of Tony's sonic growth as an artist. 'NEPA' is a perfect blend of the raw percussive instrumentation of afrobeat and retrofuturistic synth sounds, all wrapped up in spacey dub blanket. It's electronica meats pure groove that will always have the dancefloor with their eyes closed and their hands up."
Amp Fiddler x Tony Allen [Live at Sonar Barcelona 2018]
"I'd wanted to meet Tony Allen for years, and even mentioned it rather unsubtly in my application to Red Bull Music Academy for Paris 2015. I couldn't get to that academy due to the terror attacks that coincided in Paris, but on attending the academy a year later in Montreal, someone had remembered and said to me, "I'm sorry but Tony Allen doesn't live in this city".
I finally met him in Barcelona a couple of years later. I played the RBMA stage SonarDome at Sonar Barcelona in 2018, and Tony Allen and Amp Fiddler took to the same stage later that afternoon. After meeting Tony backstage just before, I was right at the front of the crowd for this set. It was a huge airplane hanger sized venue, so you can imagine the size of the speaker stacks. I was stood right in front of them and my head rang for weeks afterwards. It was worth it for one of my most treasured gig memories. I was complete transfixed on both of them. Amp Fiddler, being the polymath that he is, played several keyboards at once while also holding down the vocals and triggering samples, but seeing one of my favourite drummers live for the first time is a feeling I can't quite explain. Something I've always loved about Tony's playing is how he holds down the groove, yet melodically floats across the kit at the same time. In some tracks it sounds like he was playing with three arms, and until I saw it with my own eyes I didn't fully believe he played with two.
At the end of the festival Tony and I were in the same cab to the airport. A couple of miles into the journey I realised I'd left my laptop in my hotel room and turned us back. After sprinting around the hotel to pick it up what met me in the cab was a huge scowl on Tony's face as I'd made him late for his flight. Even though everything was forgiven and forgotten by the next time I saw him, this memory still haunts me late at night."
Fela Kuti and Afrika 70 – 'Zombie' [from 'Zombie']
"Fela's infamous song 'Zombie' was my way into afrobeat, and one of my favourite musical memories is of playing it in a college project with other Afrobeat lovers and fellow Trinity Laban students Moses Boyd, Nubya Garcia, Reuben James (Sam Smith) and Cassie Kinoshi (Kokoroko, Seed Ensemble), way back in the day. (One day when Moses was off, a teenage, high-school-blazer-wearing Femi Koleoso (Ezra Collective, Jorja Smith) even ditched school that afternoon to come and fill in.)
Although I already had a taste for afrobeat and a few Afrika 70 records in my collection, I didn't know much about playing the music authentically. Intense rehearsals led by Afrika 70 keyboard player Dele Sosimi whipped us into shape and made us fall in love with afrobeat all over again. (Coincidentally, Fela also went to Trinity Laban (then Trinity College of Music) to study composition and trumpet, like myself.)
At that time I was studying for my masters and still recovering from a facial injury that had left me unable to play the trumpet for over a year before this project. I was focusing on the composition and production side of what I do more than ever before and I got deep into all the musical intricacies of what makes up afrobeat. Since those rehearsals with Dele, there's been an undeniable touch of afrobeat in everything I do, and in every groove I write, a touch of Tony."
BONUS SIDE QUEST…
"For me I think there's no point doing a cover unless you do it a little differently, and I love finding obscures covers. Jamie Cullum wanted to know what this cut was after tuning into one of my Worldwide FM shows."
Hear Emma-Jean Thackray's latest EP, 'Rain Dance', is out now via Emma's Movementt label.