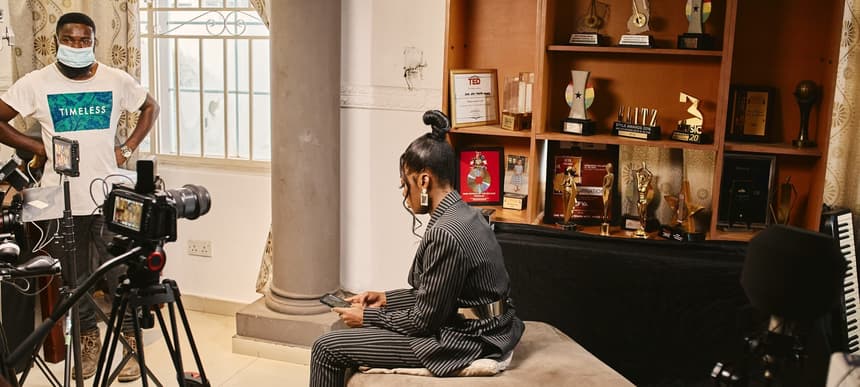 14.09.2021, Words by Billy Ward
'ADIKORO' director Pamela Owusu-Brenyah on her new film, African pop and women's visibility in the music industry
Following the film's recent premiere at Pop-Kultur 2021, we sat down with the curator to explore its themes in more detail...
This year's Pop-Kultur marked the seventh edition of the Berlin-based festival, once again proudly upholding its ethos of diversity while exploring the meaning and breadth of pop music and culture. Over the course of four days, from August 25 to 28, Prenzlauer Berg's Kulturbrauerei complex was transformed to showcase a dazzling blend of indoor and outdoor live performances from the likes of Erika de Casier, LAYLA and Shunaji, to name a few. Aside from representing a much-welcomed return to live music, the festival was able to learn a lot from last year's exclusively online edition and decided to incorporate a wide selection of streamed performances and commissioned work into this year's event, giving artists and content creators from around the world a platform to show off their work.
One of the commissioned pieces which received a great response at the festival and merits special attention, is a documentary by Pop-Kultur programme team member Pamela Owusu-Brenyah. Titled 'Adikoro', the film documents Pamela's trip to Ghana in a search to get to the bottom of the socio-economic conditions that block women's access and visibility in the local and global pop business. Speaking with an array of female artists and women in the music business, the documentary explores the disparity between African music's increasing popularity on the international stage, with rappers such as Wizkid and Burna Boy, and the hard time female acts face when trying to break through in the industry.
Hot on the heels of the film's recent premiere at Pop-Kultur 2021, we sat down with Pamela Owusu-Brenyah to explore her vision for the project in the more detail and discuss some of the themes explored in her work.
In your own words, what does 'Adikoro' mean?
The literal translation of 'Adikoro' would be 'one and the same'. It refers to the demand that women receive the same opportunities and possibilities in the music industry as men. In the film, figures such as Sister Deborah, Ria Boss and Chris Korney mention that female artists are not treated 'one and the same' in terms of payment, performance opportunities or radio and TV play, and so are disadvantaged. This is a global issue that needs to be addressed collectively.
"I chose the word 'Adikoro', which comes from Asante Twi, an Akan dialect."
The word also refers to the idea that women, specifically in Ghana, have the same skills and the same talent as their male counterparts. They have played their part in the Ghanaian music history, but we don't read or hear so much about their contributions, and I felt the need to talk about it and document it. I chose the word 'Adikoro', which comes from Asante Twi, an Akan dialect. First of all because it is the language of my parents. Secondly, Twi is the most widely used dialect in Ghana. Regardless of which part of Ghana you live in, the majority of the population will understand the word. My goal with this documentary is to have a substantial impact on people not just in Germany and outside of the African continent, but also within Ghana, initiating a conversation there on this topic. When I started shooting, I was addressing the topic rather from an outsider perspective, targeting a non-African audience. Then, someone pointed out to me the fact that it is very important that this documentary get seen and heard in Ghana, because it is an issue where there is still a lot to be done.
Who are you?
My name is Pamela Owusu-B and I campaign for more visibility of contemporary African pop culture and of people of African descent in Germany. I am a Berlin-based music consultant, festival organizer and DJ and currently on the curatorial team at Pop-Kultur, an interdisciplinary music festival in Berlin. I got my start in the music industry working as an A&R for Universal Music Central Europe & Africa. In 2018, I founded my own community platform and festival AFRO x POP, which aims to give talented artists of the Afro-German scene a stage. I want to build bridges between artists from the African continent and Germany. Besides that, I am a jury member of Musicboard Berlin's scholarship and residency programme and a board member of Music Women Germany, a nationwide network and database pushing for gender equality and increased participation of women working in music.
What led you to want to make and research 'Adikoro'?
I have been passionate about issues that affect women in the music industry since I started working as a DJ in Ghana in 2014. Back then, there weren't many women at the decks. Because of that, I was always very excited to meet other women making music. Later in my career, when I started my first festival in Berlin in 2016, I wanted to make sure that enough women are represented as DJs and performers.
"I aim to tell different stories of African people and the continent"
You often hear from festival organisers, 'There aren't enough "good" women out there', and I was always very surprised, because there were so many amazing and talented female artists around me, and for my festival, it was always quite the opposite. I know so many talented women, so I made it my credo to boost their reputation, whether on stage or behind the scenes. Born and raised in Germany as a woman of the African diaspora, I have always been interested in African perspectives. In my work, I aim to tell different stories of African people and the continent – looking further than what we see in the media. 'Adikoro' is a homage to women who live in Ghana and who are just doing fantastic work.
What are some of the barriers that block women's visibility in the music industry, specifically in places like Ghana and other African countries?
Everything is beautifully outlined in my documentary. I encourage everybody to watch it.
With recent successes for Wizkid, Burna Boy, and the rise of Amapiano and Afrobeats, there has been a shift of attention to African countries and their music, but what in your view, is the state of the music industry?
It is a very interesting time right now for Afro pop music and artists. But it comes as no surprise for me. As a lover of African pop since I started DJing in Accra, I knew it was only a matter of time till the world would wake up and dance to Afro sounds everywhere. African music has always been influential, innovative and groundbreaking since its inception, lacking only an industry, an economy and logistics.
"The internet in particular has enabled many African artists to share their music with the world"
Even today, there is no 'real' organised system to support talented artists on the continent. People do everything by themselves with little to no means. Technological developments have made a really big difference. The internet in particular has enabled many African artists to share their music with the world and tell their own stories. Still, there is still a lot to be done to actually support artists systemically in many many countries, allowing them to strive world wide. Six weeks ago, Wizkid featuring Tems on the song 'Essence' became the first African artist to enter the US Billboard Charts, now sitting comfortably at No. 13 with their Justin Bieber remix. Tems, a young and gifted Nigerian artist, is also featured on Drake's new album as one of two women on the whole thing. These are the stories we will hear and see more often in the future.
Who did you speak to for 'Adikoro'?
Quite a combination of people, including some of Ghana's most successful artists, entertainers and music industry experts. Specifically, multi award-winning artist EFYA; Sister Deborah; Nya; and the three members of Black Girls Glow – Ria Boss, Poetra Asantewa, and Pamm – running Ghana's first residency for female artists. Also, Cynthia Quarcoo, the first entertainment lawyer in Ghana representing some of Ghana's the biggest artists; Ruddy Kwakye, former CEO of MTV Base Africa and now executive producer of Afro Nation Ghana; Kuvie, a producer; Elizabeth Ntiamoah, a manager at Africa's biggest streaming platform Boomplay, and Chris Korney, artist manager, marketing strategist, and team lead of Shatta Wale.
What's the future for women in the music industry?
We are already seeing changes – even if slowly. Women are getting louder, speaking out about issues they face, and increasingly coming together. I believe these are first steps before we will see real change. We won't change an entire industry overnight. First of all, we need to change the culture of people within our societies, educating and informing them. There is still a lot to be done. If we are not invited to the table, either we will come with our own folding chairs, or we will build our own table and invite like-minded people. I strongly believe our future will be even brighter.
Watch the 'Adikoro' documentary below and find out more information here.