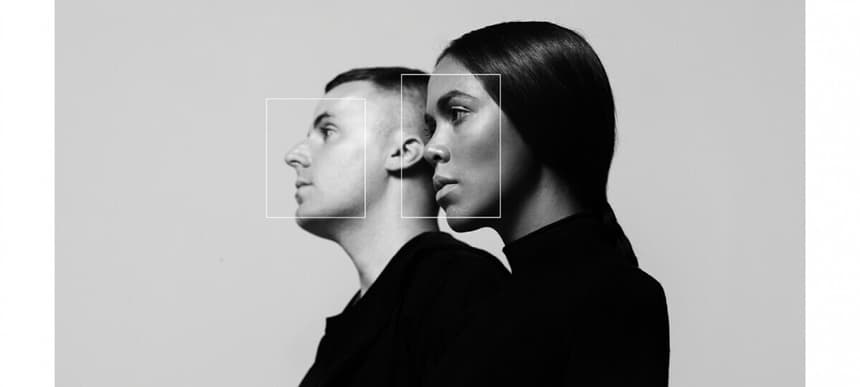 11.11.2014, Words by dummymag
Album of the Week: 18+ - 'Trust'
Internet forums. Screen to screen interface. Chat rooms and screen glare. Within popular consciousness – refuges for the socially withdrawn, the emotionally stunted and the communicably inept. Preconceptions that 18+ all but shatter with their debut album 'Trust' – a record couched so comprehensively in the virtual, avatar-based world of the internet, yet one seething with confession, fantasy, and nightmare.
Up until now, 18+ had been known only as Boy and Sis – the online personas through which the pair explored the various emotional scenarios of their early mixtapes. They've since been named as Justin and Samia, a duo that met (physically at least) at the School of Art Institute of Chicago, although ever since their relationship has been almost exclusively online. It's this same preference for the virtual over the physical that has come to define 18+'s music – but rather than stunt the creative process, it's a method that has only encouraged the duo to delve deeper creatively, to push the process further than would be natural in a face-to-face environment. As they recently explained to The FADER, "You're forced to speak clearly – you're forced to articulate your thoughts in a more organised manner because you're turning it into text." It is through this process of compulsory articulation and stark exposition that this record has emerged.
And what a record it is. This is music for your bones, melodies so primal that you can scarcely believe you haven't heard them before, yet at the same time rendered squarely in the uncanny, the alien, and the uncomfortable. The result is an album of melodic dissonance – a record wrapped in beats that demand to be moved to, but overlaid with the type of lyrics to put sweat on your brow and a shiver down your spine. Take the brooding, malevolent beat of Crow. It's a track that seethes with the sexual, but of a kind to make you distinctly uneasy – sex that might not sound happy, healthy, or even entirely welcome. Pretend that you're happy breathes Samia, with little indication if this is command, request, plea, or otherwise. Then there's Jets, a track that sees 18+ continue to feed pop sensibilities through their characteristic filter of disharmony and disquiet. Here, the duo's insistent rhythms run from under a wash of grating synth, echoing with skittering, static-laden beats that sound like a HudMo cut fed through three megaphones and a walkie-talkie. Elsewhere, the pop inclinations are given freer rein – OIXU has a lilting, R&B-inflected chorus that would be ready for daytime Radio 1 if it wasn't for the distinctly X-rated lyrics.
'Trust' is a project honing in on the murkiness of post-internet intimacy, and 18+ have struck at this cultural grey area like few others have managed, and have done it with 45 minutes of startling, enthusing, and fervently relevant sound.
8/10
Houndstooth released 'Trust' on November 10th 2014 (buy).