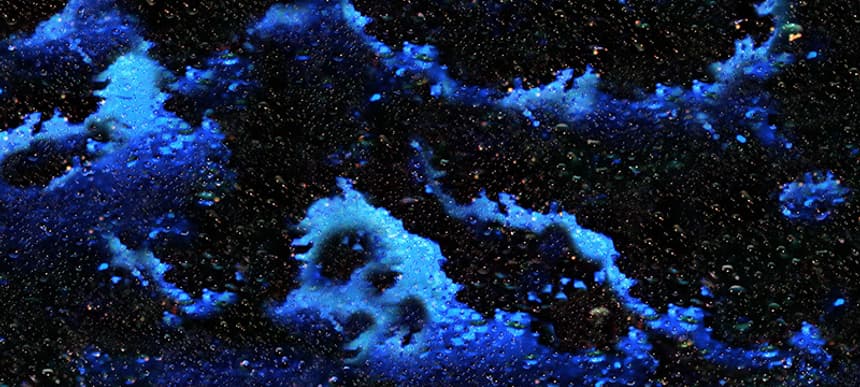 19.03.2014, Words by Robert Darnall
Album of the Week: Evian Christ - 'Waterfall' EP
It can be easy to blow these things out of proportion with hindsight, but the eight tracks that came together as Evian Christ's 'Kings And Them' was a moment to take note when they began seeping out of Youtube at 2011's fag end. If there was uncertainty in where to place this new kid on the block at first, then 'Duga-3' (first hosted as a Dummy Mix) hinted that Joshua Leary's trajectory might fall further toward dark ambience. But it'd be a hard ask hearing 'Waterfall' without Leary's role in Kanye West's 'Yeezus' feeling vital: with its rugged, raw sexuality, Leary's production on West's I'm In It ripples in the sharp, diamond-encrusted tones of his first full release for Tri Angle.
'Waterfall' isn't as simple as Joshua Leary seeing his name in bright lights now that he lists 'Ye as an ally, though. Recently, he's discussed embracing club culture fully since taking on music full-time, name-checking the corporeal audio assault of Pete Swanson and The Haxan Cloak's respective live shows as influential. Along with the surface level influence of acts like TNGHT's or araabMuzik's trap theatrics, it's clear that, like many before him, Leary has got the real mechanics of the DJ-as-disturber role close in the mind. 'Waterfall' is built to wreck your eardrums, with a blow to the stomach and a zap to the senses, all too ready to assist your drug high (or low). In conversation with Dummy, his excitement and agreement at viewing Future's Sh!t as a "backhander of a song" neatly indicates where his head is at, creatively.
In terms of what this means music-wise, you're left with an EP bookended by two magical moments, alongside a pair of decent experiments. The gibbering chaos of Salt Carousel is the ride worth queuing for, a paroxysmal cry spat out in tongues. Waterfall picks up where Fuck It None Of Y'all Don't Rap or Drip left off, impossibly pairing meditative and reflective atmospheres to a dancehall beat jacked up on 10,000 volts. Fuck Idol and Propeller play solidly on a range of clattering dynamics and physicality, but they're less likely to stay in the mind the morning after the DJ set.
The notion of a struggle between highbrow conceptualisation and "intelligence" versus the "lowly", scream-if-you-want-to-go-faster echelons of the hardcore massive has existed in dance music for twenty years plus. But it's still relevant: streaming TNGHT's Acrylics in the cold light of a Soundcloud upload I found its toybox, Prodigy-by-numbers schtick almost funny – but when I stumbled into the Bugged Out tent at Field Day last summer and heard it dropped live, it sounded absolutely bonkers. While 'Waterfall' is built for big room dynamics, the only time I've seen Evian Christ live was for a majestic Deviation session in London last year, and it felt like its bass weight meditations were aiming for something more thoughtful and multifaceted than EDM or trance loud-quiet thrill rides. Leary comes off as a young producer able to operate at different levels of that supposed dance music spectrum: it would be a shame if future releases didn't further reflect this.
'Waterfall' is forthright in its reference points, and ultimately feels like the work of a producer still having fun in fully forming his identity. But I'd put decent money on you losing your shit to Salt Carousel at least once this summer.
7/10
Tri Angle released 'Waterfall' on March 17th 2014.