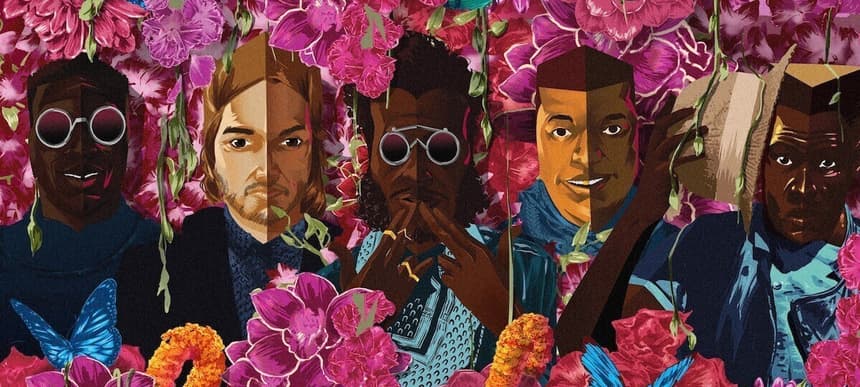 10.03.2015, Words by dummymag
Album of the Week: Fantasma - 'Free Love'
Boasting some of South African music's most notable artists among its ranks, the supergroup known as Fantasma throw together vastly different and even incongruent genres and sounds, both consciously and whimsically, throughout their debut album, perhaps appropriately titled 'Free Love'.
Consisting of producer DJ Spoko, maskandi artist Bhekisenzo Cele, famed instrumentalists Andre Geldenhuys on guitars and Michael Buchanan on drums, and led by the fascinating songwriter and rapper Spoek Mathambo, Fantasma defy easy categorisation with their chaotic blend of traditional and contemporary pop forms of South African music, from Zulu maskandi to post-kwaito, 'Western' indie hip hop, contemporary electronica, rocky psychedelia, and much more besides.
What's more apparent on the group's full-length than on their 'Eye of the Sun' EP last year is the way that their collaborative nature informs their music. The effect is not unlike that of a dialogic principle, driving not only execution, but also, interestingly, the production. 'Free Love' is filled to the brim with music that overreaches the album and song formats, but only in the most positive ways.
For an album that can't quite contain its own contents, the opener Basbizile is an unexpectedly subdued exercise in jam-worthy drums, keyboards, and vocals, only briefly showcasing some of its member's skills or contributions. It's easily overshadowed by the following track (and one of the album's highlights), Shangrila, which takes a catchy hook lost within the mix of the previous track as its own, backing up guest artist Moonchild's vocals. The dexterity with which Moonchild's coy vocals in playful sexual tension with Mathambo's rapping above a captivating mix of deep beats, manipulated and looped chorus vocals, and guitars is nothing short of awesome. Putting together different styles of music is something ambitious artists and songwriters have tried to do as far back as one can remember, but as history has shown, it's a tricky feat – fortunately, Fantasma more often than not pulls it off, as Shangrila is followed by equally enrapturing songs like the soul-informed Higher Power, the dramatic, dancefloor-ready and single-worthy Sefty Belt, the post-IDM Sophiatown, and the remarkable Peaking, which deftly assembles together elements of South African folk, pop rock, and electronica to back up a dialogue of R&B vocals and rap.
While pop more or less gets the upper hand in the first half of 'Free Love', the second half transitions to Mathambo's rapping over more abrasive and aggressive sounds and textures, but the shift turns out to not be an unwelcome one, as songs like Breaker, Cat & Mouse, and Damn provide for a collective complementary contrast, and ultimately round out the entire album as a smorgasbord assortment of more than curious assemblages. It all ends, notably, with the beautiful Umoya, a relatively acoustic song featuring native South African vocal melodies backed by expansive electronic ambience.
If 'Free Love' sounds like the future, with its defiant recognition of native folk music on equal terms with contemporary and globalized pop music, it's actually because increasingly so, Fantasma and the likes thereof are becoming essential to an understanding of music as it's occurring in 2015, and should only be ignored at one's own risk.
8/10
Soundway Records released 'Free Love' on March 9th 2015 (buy).