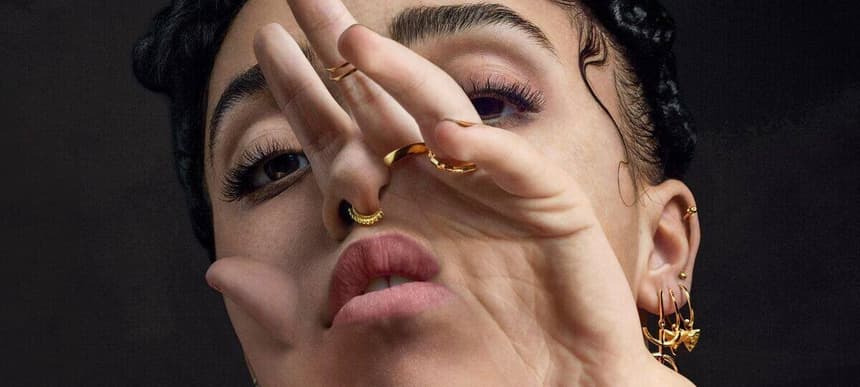 18.08.2015, Words by Natalie /
Album of the Week: FKA Twigs - 'M3LL155X'
"Am I dancing sexy yet? / Are you watching me 'cause I move alone?" asks FKA Twigs on glass & patron, the lead single of 'M3LL155X'. The surprise EP arrives a week after an interviewer pressed Tahliah Barnett on her private life and further disclosure of her targeted online racist abuse. Exactly a year on from 'LP1' there is a sense that twigs still has to prove (to some) her authenticity as an artist ahead of her personal relationships while robbing her of the serious consideration she deserves.
So are we watching her? Yes, of course, we are. Twigs has created an image of herself that is inseparable from her artistry and the theory of twigs as an auteur is indicated by this visual album. However, it also shows twigs is more persuasive in a smaller setting, extending the abstractions of 'EP2'. "Look a little harder / Shut your eyes and feel the rush," she whispers while assaulting the intimacy with splattering shots of broken beats. In the same month of a pathetic rap feud, twigs too is charged up. It's tempting to read 'M3LL155X' as a reply to her detractors, but, more appropriately this is twigs empowered by her trials and exacting control of her standing.
Shunning the quietude and sense of space from 'LP1', 'M3LL155X' is a return to her punk roots existing in maximal electronica. Collaborating with Tic, BOOTS, and Cy An, a bridge of loud, abrasive, and industrial music runs directly into the linear narrative of the short film. The hallmarks of her sound are heightened by language that is spare and sinewy. There's a rough edge to the crescendo on in time and figure 8 that amplify and fall at the point of twigs' vocal climaxes. "Let me live," she refrains after a guttural groan reverberates something resembling a death rattle, and actress Michele Lamy swallows an esca to kickstart the lifecycle. "In Vogue, everything is a figure 8," she recently explained to Complex, about "learning to love yourself," and triggers the birth of her female energy spirit, Melissa. An echo chamber of foghorn beats and sub-bass produces a feeling of being on the cusp of emergence and F/X direct Melissa into the track's most confrontational moment. "Teach me how to lead with my middle finger / Boys growing boys growing girls into women / Teach me how to live life like I'm not a singer," she raps, seizing power in her gender performance on behalf of her host.
The striking clip for I'm Your Doll renders a scene that mimics Freudian theory and melancholia at its most unhomely and uncanny. Twigs' head sits atop of a sex doll, and she is seduced (or raped) by a salivating man who leaves her deflated on the bed. It's a moment of submission and objectification that dates back to ten years ago as one of the first tracks twigs wrote, running incongruously against her current self. She feels like a loaded gun and submissive at the same time, a precursive metaphor for the figurative and literal pregnancy exhibited in the glass & patron and in time scenes. The latter is the EP's most dynamic peak; the emotional highlight, it surveys the future wreckage of a relationship in an attempt to save it. She warns her voyeurs (and him) that you will be sorry if you don't make a commitment: "The way that you dismiss me / Will turn into missing me like I am yours." The production focuses on sputtering 808s and the heartbeat thump of bass that aches and interplays with the bright and gleaming chorus. It's her first ballad, and in time, it will be considered so – you've got a goddamn nerve to think otherwise, or continue trivialising twigs.
'M3LL155X' is a result of three years of twigs' creative prolificacy that is scaling at an unrivalled trajectory. Harder lyrics and dense themes – in tandem with visual surrealism – plug the gaps of the EP's fractured and disorientating sonics that are bolder and more bruising than before. 'M3LL155X' proves twigs is pregnant with ideas that exceed the boundaries of music. However, marginalising her as anything other than what she defines herself as will only push her further away – if she doesn't explode before. That is to say, with 'M3LL155X' a balance has been restored when "sometimes you can't find the words" – though this will be relative if not taken as her absolute.
9/10
'M3LLI55X' is out now on Young Turks (buy).