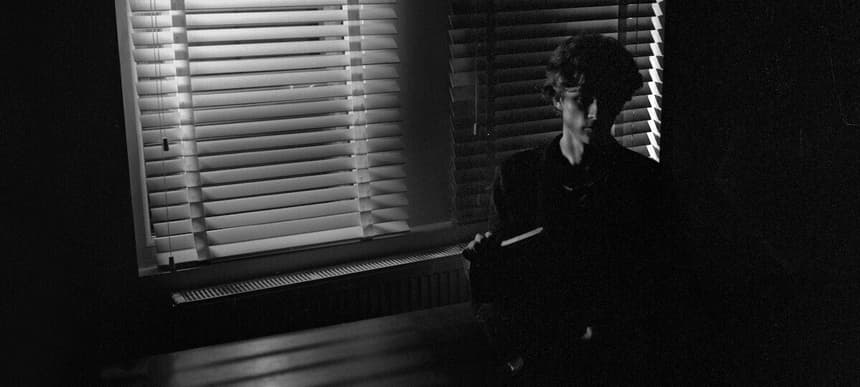 06.01.2015, Words by dummymag
Album of the Week: Ghost Culture - 'Ghost Culture'
Back in March last year, Ghost Culture talked to us about his debut album, saying that he wished to make "not a club album" but "more of a soft, headphones thing." At the time, James Greenwood had released two singles, both coming after his work co-writing Daniel Avery's debut album 'Drone Logic', and had praise singled out for his music by DJs like Andrew Weatherall and Erol Alkan. It's Alkan's label, Phantasy Sound, that's home to Greenwood's self-titled debut album, and while it might be tempting to view the album alongside his Phantasy labelmates as well as groups like Factory Floor – especially after dancey album openers Mouth and Guidecca – Greenwood successfully shakes off these comparisons.
Pensive and reflective in his lyrics, Greenwood's vocal delivery is both deadpan and mutant, a tightrope that he walks throughout the album. The rhythms are urgent and the sounds and melodies vibrant on 'Ghost Culture'. The confidence of his creation is no better exemplified than on Answer, reminiscient of a classic DFA production. Arms marks a direction towards Ghost Culture's distinguished musical hybridity, though the presence of those before him still lingers with bubbling accents towards the track's end.
The album's midsection explores a different side to Ghost Culture. More sombre than any of his previous singles, the beats are replaced with ethereal sound designs, though his vocal delivery connects these two styles: rather than create a disparity between the two sides of the record, Greenwood's voice creates an focus point for the sounds to build around.
Glaciers sounds like an underwater slow dance, waltzing with its partner How into the shadows of the seafloor, before the current shifts on Lucky, the most experimental track on the album. Though it somewhat disturbs the balance of the album, Lucky's glitches and bleeps provide a taste of what to expect next: album closer The Fog is a swansong that reunites the murkiness of the tracks before it, a tide of instrumentation sweeping over the track and drowning Greenwood's voice.
Greenwood's creative voice is distinctive enough to shine through all kinds of interference and instrumentation, and his singularity and vision on 'Ghost Culture' make for a spirited album. Listeners who might expect a pulse more akin to Daniel Avery's work will be left short following the album's first few tracks, but this was never Ghost Culture's intention. Instead, the warmth on 'Ghost Culture' greets you like an old friend you've not seen for a while, reacquainting themselves with an unconditional familiarity.
7/10
Phantasy Sound released 'Ghost Culture' on January 5th 2015 (buy).