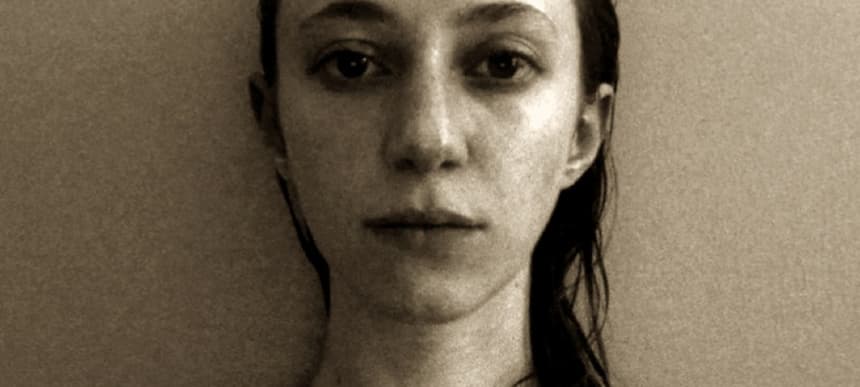 19.05.2014, Words by dummymag
Album of the Week: copeland - 'Because I'm Worth It'
If there is an air of mystery surrounding Inga Copeland— now known as copeland— it's probably because she's never confined her music within any stylistic parameters, nor has she crafted herself a stable, easily-digested public image. Her so-called experimental sound, an ever-changing recording name, an unexplained rupture with her former bandmate Dean Blunt: it all adds up to a sort of anti-marketing meant to hold the listener at a distance, allowing us only a glimpse at the artist behind it all. With her debut solo record, 'Because I'm Worth It', Copeland introduces eight tracks of atmospheric loops, bouncy percussion, and occasional spoken word-like vocal bits. The opening track, Faith OG X, sets the tone for what's to follow, with its layering of jarring samples — mysterious crackling that evokes rain on a window, a synth stuck on the same two notes, and a continuous high-pitched buzzing — which build and interact as an ethereal keyboard line guides the track into an unexpectedly melodic place. Notably, Copeland's distinct, ghostly vocals that garnished an earlier version of Faith (from last year's 'Higher Powers' mixtape) are now gone. It's an absence evident in several tracks on the new album, such as insult 2 injury and l'oreal, both instrumentals commanded by sprightly, occasionally out-of-sync beats.
Copeland naming one of her tracks, l'oreal, after a hair product company feels appropriate on an album which seems to parody certain aspects of our current culture's insidious blend of the artistic and commercial. Even her new moniker brings to mind the branding techniques used by the countless surname-dropping divas. The record's title is taken from the L'Oreal slogan, which Copeland has switched into the first-person – perhaps meant to mock the relentlessly-positive girl power mantras of watered-down feminism that are nearly identical to the language of advertisements. In Advice to Young Girls — a sparse, driving dance track made in collaboration with the equally-elusive producer Actress — Copeland suggests that girls adventure out into the night as a potentially liberating activity ("Go out into the city/the city is yours"). This feels both like earnest encouragement and like an ironic spin on the faux-empowering messages that pop stars deliver via hit singles to their female fans. Copeland further contemplates the plight of young girls in the cold urban playground during Inga, arguably the stand-out track on the album, where she sings: "Spill a tear and then you cry for London/Is it the kinda place you'd die for?/How does it feel to be lied to?/But then again, what's a girl to do?" There is the sense of Copeland attempting to soundtrack her own alienation — from the city, from advertisements, from money. In the beginning of Diligence, she poses a crucial question: "Cash moves everything around me/So what's the difference?"
Urban living is a theme expressed both lyrically and through her choice of stark, mechanical electronics that make one imagine the skeletal frames seen in exposed skyscrapers. This coldness is sometimes counterbalanced by a pop sensibility, like in the verse-chorus-verse of Fit 1, where a charging beat is punctuated with an infectious psych-rock guitar riff. Yet at other times, it's hard to ignore the monotony in the rhythms that Copeland revisits and in the repetitive, numbing loops she lets play out on a song like Serious. For this reason, the tracks on 'Because I'm Worth It' can sometimes feel like she is merely toying with different ideas, presenting us with scraps of music that aren't rendered to their full potential. But this isn't so different from the sketchy material of her past work, whether in Hype Williams or on her own. Inga Copeland's debut makes it clear that she will never be someone interested in churning out polished tracks. After all, she's not the pop princess she may be ironically embodying here. Her strength is in taking bits and pieces — mixing machine-made grooves with her soft, imperfect vocals — that build a bigger picture, forming her own messy musical language which needs no translation to impart its power.
8/10
copeland self-releases 'Because I'm Worth It' on May 19th 2014 (buy).