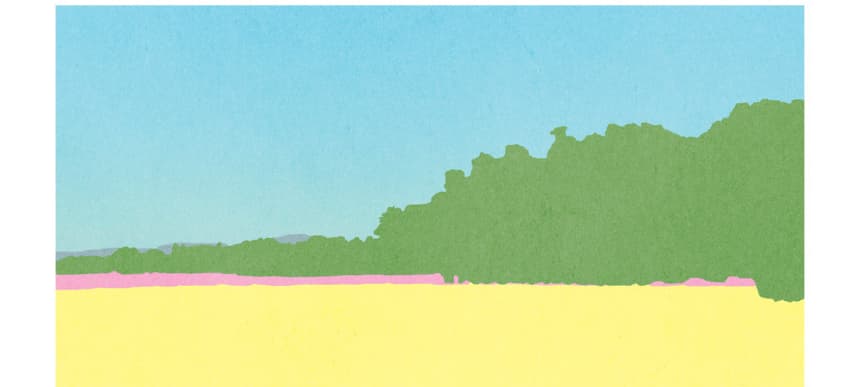 26.01.2015, Words by dummymag
Album of the Week: Jib Kidder - 'Teaspoon To The Ocean'
For the uninitiated, 'Teaspoon To The Ocean' – supposedly only the "second full-length of song material" to come from Jib Kidder, the solo act namesake of self-styled collage artist Sean Schuster-Craig – might sound like a complete break with the past. More so than on predecessor 'IV', the songs here feature a newfound musical, thematic, and emotional coherence and continuity in narrative, both with one another and on their own.
While past Jib Kidder material was often released across CD-Rs, DVD-Rs, cassettes, and other low-run LP formats, 'Teaspoon To The Ocean' is Schuster-Craig's debut for Domino's Weird World imprint. The album gives way to a dialogue with some of this earlier work: much in the way that 2013's 'Etudes Series I' still bore the singular mark of Schuster-Craig's songwriting and sensibilities (despite consisting of minimal 'studies' in guitar, piano, and banjo, rather than the music assemblages or collages that he had become known for) through the particularities and peculiarities of melody, it's the recognition of familiar elements, sounds, textures, and a general sense of individual aesthetic that do so here.
Actually, even if 'Teaspoon To The Ocean' were indeed a clean break, such a change would still be in keeping with the kind of about-face turns that Schuster-Craig has made throughout his run as Jib Kidder. What's been consistent throughout Jib Kidder's discography is both the method of collage and a tendency for alternating between strung-together instrumental bits, and sample-heavy assemblages with vocals half-coherent as songs. While hip hop elements were front-and-center very early on (such as on his Girl Talk-esque 'All On Yall' period from 2008), they quickly faded in the wake of a gradual development throughout Jib Kidder's output going back to debut 'Small Guitar,' wherein the cumulative artificiality of many heavily manipulated bits and pieces has given way to a larger focus on the arrangement of recognizable chunks of source music, resulting in a more 'organic' sound.
Within the context of this development, the progression from 'Small Guitar' to 2009's 'Cold Hands' and then to 2012's 'Steal Guitars' slowly made way for the kind of material Jib Kidder is making now. Shunning the slight abrasiveness of 'IV's psych-rock source material and inspiration, 'Teaspoon To The Ocean' instead makes forays into softer and mellower territories, suggesting not only indie pop and jangle pop, but also the kind of smooth, clean production that their musical progeny have often employed.
Somewhat unexpectedly and strangely, however, the collage feel inherent to most of Jib Kidder's music is both concealed and highlighted when it's utilised. While opener Remove A Tooth contains aspects reminiscent of some of Schuster-Craig's earliest experimentations with musical cut-and-paste, In Between sounds like a straight-up Velvet Underground-influenced song played by a band in a recording studio – sort of. Further in, The Waves makes for one of Jib Kidder's most accomplished compositions to date, and readily demonstrates he can write songs as beautiful, thoughtful, and evocative as any traditional songwriter, with its unique hints at soulful vocals, foreboding synths, and touches of saxophone.
But in terms of writing a proper pop song, Dozens unmistakably fits the bill: tightly composed and arranged, it starts off with a playful 'boing-boing' and blips and bleeps that give way to some earworm string-bending or echoing guitar, which itself turns into a solo that more than makes up for closing out the song.
While 'Teaspoon To The Ocean' doesn't turn out to be the outright and unmitigated rupture from Jib Kidder's extensive earlier output that it sounds like at first listen, it does strike an interesting and rewarding balance of both old and new, with the latter revealing just how formidable and compelling Schuster-Craig can be as a songwriter, by experimenting with the traditional musical forms and formats that most other songwriters take for granted.
7/10
Weird World release 'Teaspoon To The Ocean' on January 26th 2015 (buy).