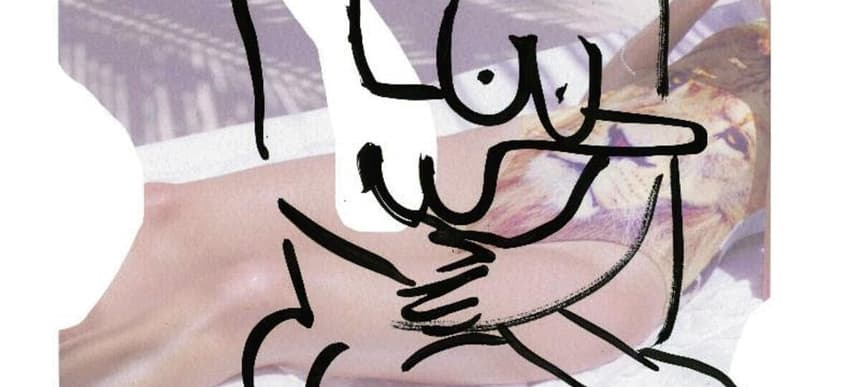 28.05.2014, Words by dummymag
Album of the Week: Joakim - 'Tropics of Love'
Despite adopting occasionally drastic shifts in musical direction between albums, Joakim Bouaziz has retained a distinctive, idiosyncratic approach to composition, production, and rhythm that never makes a new record feel like a radical departure from the last. The French-born but currently NYC-based artist makes music influenced by the more mutant end of pop and club music – the intersection between perfect pop songwriting and idiosyncratic, futuristic, or just downright weird prodction. 'Monsters & Silly Songs', his incredible 2007 album, was a mish-mash of loose-limbed dance punk, no wave drones, malformed club tracks, and even neoclassical compositions, but it all seemed to flow together fluidly, almost despite itself. In 2009, he followed it up with 'Milky Ways', a complete stylistic shift: written with live performance in mind, the album was heavier, grungier, and saw Joakim settle comfortably into a production style that he's been honing and refining since then. 2011's 'Nothing Gold', took synth pop, industrial, and EBM as its basis while thematically tackling his own approaching middle age with a mixture of contemplation, frustration, and defiance.
'Tropics of Love' is Joakim's fifth solo album (sixth, if you're counting 'Tiger Sushi', a jazz house record released in 1999 as Joakim Lone Octet that his then-nascent record label would take its name from) and seems to consolidate all of the diverse influences that broke through in those previous records into his most cohesive artistic statement yet. Broken up by short instrumental checkpoints – 'chapters' that mark shifts in style, tempo, or tone – the album occasionally touches on techno, acid house, and minimal synth but is, for the most part, made up of slow, brooding R&B, written in a classicist style but presented with a skewed, occasionally obtuse production bent. Although it takes the 'tropics' of its title as its loose conceptual basis, it's far from the Club Tropicana-esque exotica of his contemporary Todd Terje's recent debut. Here, it's as if everything's been left in the sun, resulting in an album that's bleached out and worn out.
Partly, this is down to the practicalities of Joakim's recording setup: the album was made following a relocation to New York, and without access to his studio in Paris, Joakim had to make do with a (comparatively!) smaller selection of instruments – a self-built modular synthesizer, some samplers and drum machines, and a few cheap synths from the '90s – and the result gives songs like Bring Your Love or RX777 a kind of grainy, lo-fi sound. But it's also due to the sense of melancholy that runs right through to the record's core. Despite a seemingly jubilant title, the chorus of Bring Your Love seems to suggest either a lost love, or a love that's simply faded with time. "Bring your love on back to me," sings ex-The Rapture frontman Luke Jenner, sounding more tired and weary than fired up and impassioned. When Joakim covers rock'n'roll legend Neil Young, he chooses one of his most bruised and desolate songs, On The Beach, and reimagines it as if recorded during the 'Trans' sessions, contorting his own voice through a vocoder before the song breaks into a wailing, forlorn saxophone solo. In its own way, it sounds like a track like Game of Love from Daft Punk's 'Random Access Memories', another seemingly joyous record that had a very strange, sad streak to it, but Joakim's music is so much wilder than anything on that record (and, if we're continuing this comparison, then This Is My Life is Joakim's own version of Giorgio By Moroder – albeit a version that uses a text-to-speech generator and Raymond Scott-esque modular electronics instead of a 74-year-old man and an arsenal of session musicians).
One of the most satisfying things about 'Tropics of Love' is just how expertly constructed and highly musical Joakim's music is. This shouldn't necessarily be a surprise (Joakim was classically trained at The Conservatory in Paris), but pay close attention to songs like the sensuous, downcast Heartbeats and you'll be swept away by the melodies, the lush piano chords, the perfectly pitched amount of reverb of a handclap, the trajectory of the songwriting, and the rich backing vocals. Even on seemingly throwaway tracks like Chapter One, there's something inherently pleasing on the ear about the way the individual notes fall and the synths glisten. It's this intelligent composition that means that, even though many of the songs on 'Tropics of Love' are long, they never feel it.
Like much of Joakim's music, 'Tropics of Love' can occasionally be weighed down by its own eccentricities – Joakim's predilection towards leftfield, experimental, or otherwise 'acquired taste' styles are so densely woven into the album's fabric that if you can't get past them after a couple of listens then you probably never will – but for those that are undeterred, 'Tropics of Love' should be one of the most rewarding albums you'll have heard this year.
8/10
Tigersushi/Because Music released 'Tropics of Love' on May 26th 2014 (buy).