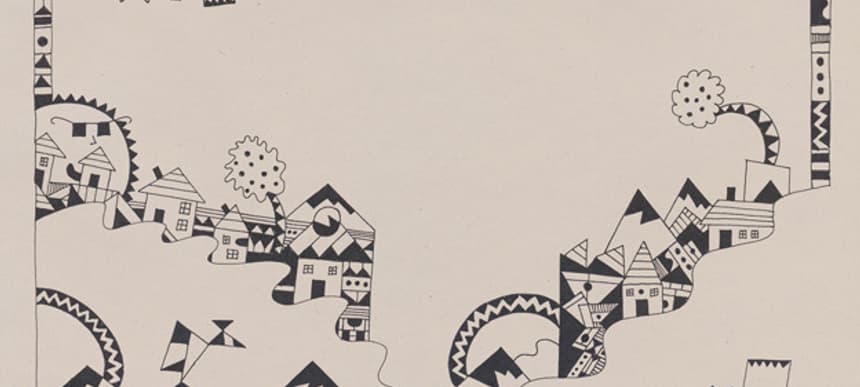 03.09.2013, Words by Aimee Cliff
Album of the Week: John Wizards - 'John Wizards'
Tet Lek Schrempf, the very first track on the debut album from John Wizards on Planet Mu, is one of the most immediately arresting, surprising and completely ecstatic album openers I've heard this year – which is apt considering 'John Wizards', the record it opens, fully embodies all the same qualities. Encompassing genres and languages from all over the world, it's a true product of globalisation: but more than that, it's a testament to the cross-culturally, cross-globally unifying power of music that is just sheer fun.
John Wizards is John Withers, a 25-year-old South African musician who recorded this entire album (bar the vocal input from Rwandan refugee Emmanuel Nzaramba) himself while travelling and, for the most part, living with his parents. With a day job in writing jingles for adverts and an appetite for music found online, the combination of his pan-global interests and ability to write melodies with mass appeal (in the least cynical way possible – these sprawling jams are full of hooks, but couldn't sound further from neat, digestible jingles) results in a technicolor clash of cultural and sonic signifiers wrapped up in melodies that you can't shake for days. Tet Lek Schrempf, after a bubbling, teased-out piano and synth intro, launches breathlessly into a soaring guitar line that bursts through the ether with all the corny 80s feel-good factor of a John Hughes air punch. Similarly feel-good are the Shangaan electro-referencing, fast-footed Limpop, the floating vocal line of I'm Still A Serious Guy or the explosive jaunt of Lushoto. Similarly feel-good, in fact, is the rest of the whole album, which is so replete with ideas and references – from South African house to indie rock and everything in between – that it could never be called boring. I've tried working to this album, and not a lot gets done: this is foreground music, constantly demanding to be heard, danced to and remembered.
In the middle of addictive melody lines, impossibly rich webs of generic influence and frankly all over the place instrumentation, what lies at the crux of this collection of songs is friendship and love of a good time. Yes, it sounds cheesy, but by and large the success of this album is just that straightforward; by stitching together his tracks with field recordings of conversations and joking comments from Nzaramba (who developed a close relationship with Withers over the course of the two years it took to make the album) and other friends, Withers evokes through his music a sense of time spent relaxing and jamming with friends. As if to spell this out, the album ends on a rare quiet, introspective moment, with the guitar-plucking ballad Friend. There's nothing more and nothing less to read into it: the ideas communicated here are sparse and simple, with the emphasis on creating a thickly evocative environment for the listener to feel safe and have fun within, rather than on telling complex stories.
The ideal listening situation for this album, for my money, is travelling: the music shifts and evolves beautifully alongside landscapes, speaking as bluntly and yet beautifully as an open horizon. It's ready to be filled with your own memories and imagination, with its energy demanding bodily attention but its easily palatable rhythms leaving your mind free to roam. It's difficult to imagine that this record might stand much of a chance of influencing the musical (ahem) landscape of 2013 at large: there's no singular approach here that feels radically innovative or like the instigation of a new genre. Rather, what's here is the perfect expression of one man's boundless imagination and thirst for new influences, the people and places that helped him realise those qualities, and the beautiful experience there is to be had by allowing yourself to bask in it.
9/10
Planet Mu released 'John Wizards' on the 2nd September 2013. The album is currently streaming in full via Pitchfork Advance.