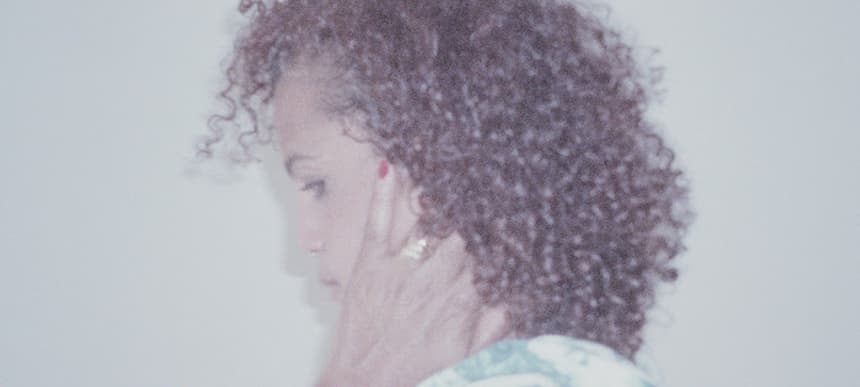 25.02.2014, Words by dummymag
Album of the Week: Neneh Cherry - 'Blank Project'
Dummy is teaming up with online music shop Bleep.com throughout February to give away our Album of the Week on vinyl to one reader each week. For a chance to win Neneh Cherry's 'Blank Project', head over to Dummy's Facebook page.
Neneh Cherry's career spans four decades, but her influence can be hard to place: you're aware of her, but you're not certain how well you really know her. In the early '90s she was a (then rare) lone female voice in hip hop, breaking big with Buffalo Stance and later her famed Youssou N'Dour collaboration, 7 Seconds. She also had her say in a UK dance cornerstone, working as an arranger on Massive Attack's 'Blue Lines', after letting Robert Del Naja and co. jam in her spare room in Bristol, the city where Cherry got her break with '80s post-punk outfit Rip Rig & Panic.
'Blank Project' is Cherry's first album since 1996's 'Man' (although she's stayed far more productive than that 18-year gap implies), and it's a quietly remarkable achievement in a long career. It's also another significant release for its producer, Four Tet, and for Cherry's backing band RocketNumberNine, for whom 'Blank Project' – the first time they've worked with a vocalist – could well prove a rite of passage. Beyond all that, the album's sheer energy and strength of character make it one of 2014's easiest to love so far.
There are pitfalls in overstating 'Blank Project's strengths merely in its (perceived) experimental side. Granted, to hear it alongside the scratchadelic raps of Cherry's debut 'Raw Like Sushi', it might come off that way, but 'Blank Project's windswept soul and percussive heart haven't emerged in a vacuum: Cherry jammed with Scandinavian free-jazz trio The Thing for an heavy on covers in 2012, reconnecting the singer with childhood days of crawling across the stage as her stepfather, jazz musician Don Cherry, played. Return to the glorious rattle and roll of Dream Baby Dream from 'The Cherry Thing' and then on to RocketNumberNine's breezy swells on Spit Three Times on 'Blank Project' and the progression feels pretty logical.
Fresh from tweaking and capturing Omar Souleyman for the West on 'Wenu Wenu', Kieran Hebden is already proving a fascinating presence behind the desk. For the most part he seems like a relatively hands-off producer, more concerned about subtracting elements of the recordings than piling on another synth line or harder bass. But there are the odd Hebden quirks in here that can't be missed: toward the end of one of the title track's verses, Cherry's mid-range is momentarily screwed down to a low robotic drone. It speaks to the sonic tendencies his mind was filled with around relative pirate radio homage 'Beautiful Rewind' late last year; allowing 'Blank Project' to converse with current dancefloor trends without contorting it into something it isn't, or shouldn't be. RocketNumberNine also play their part: Weightless starts with an almighty boom, and for a moment it could pounce into a Eurotrance cut – instead, it sets the tone for one of the album's most brilliant and idiosyncratic tracks, all scuzzy guitar, organically sourced synth stabs, and a spiralling, freeform vocal from Cherry.
The answers to why these original songs came out of Cherry after so long is made plain on opener Across The Water: "Since our mother's gone, it always seems to rain." Following the death of her mother a few years ago, Cherry found solace from a state of anxiety and uncertainty by writing in private again. Across The Water distils that vulnerability into a haunting, primordial piece. Rather than let the rest of 'Blank Project' dwell on this difficult period, what follows is her medicine. Her writing moves through observational pieces like Dossier and the abstract imagery of 422, and shackles seem to be let loose as Cynical's spoken word nods to her hip hop past. Then you come to Out Of The Black, the only other collaboration on 'Blank Project', and you almost feel spoilt. Neneh Cherry and Robyn (2014's dream Swedish team-up?) give and take from one another on a track that beguiles by sounding simultaneously precious and powdery, but more than ready to take up arms for combat on the dancefloor.
The openness and near enough opportunistic nature of the sound on 'Blank Project' is an easy thing to mimic or strive towards, but far from easy to execute. This is an album that revels, and excels in its own imperfections. The vocal cracks at times, and cowbells clatter into snare drums, and if you listen closely on Blank Project, a faint "wait" is audible as Cherry checks herself. What the recordings capture is a performance oozing a love of jamming and moulding grooves together. The clichéd praise for an artist far into their career is that they're performing "without fear", or that they've got "nothing to prove". But Neneh Cherry seems as driven to express life's adventures and possibilities with a thirst and sensuality she'd have matched with Rip Rig & Panic thirty years ago; on 'Blank Project', this makes for pretty thrilling listening.
8/10
Smalltown Supersound released 'Blank Project' on February 24th 2014.