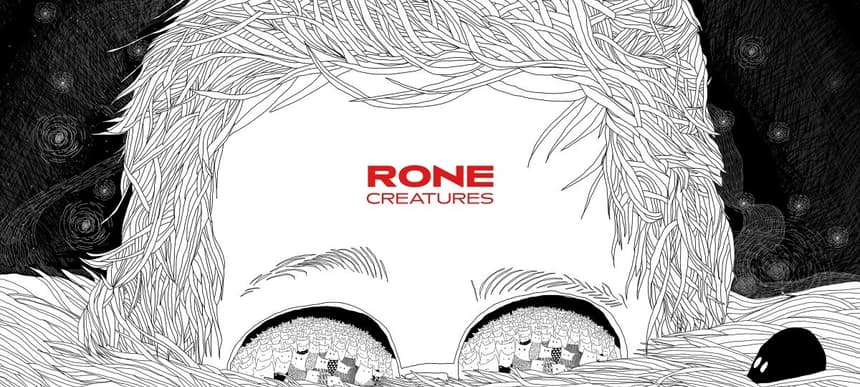 09.02.2015, Words by dummymag
Album of the Week: Rone - 'Creatures'
On his third album 'Creatures', the French songwriter Erwan Castex, better known as Rone, takes a leap forward in affirming his reputation as an electronic artist preoccupied with constructing soundscapes and atmospheres evocative of narratives and storylines, as if they were standalone soundtracks for films that were never made. Building upon the unique set of traits that set him apart from the rest of the pack on his last two full-length efforts, 'Creatures' is Rone's most articulate album to date, with Castex further engaging in and expanding upon the rendering of songs – with their inherent and particular evocative power – as tales, or fables.
Within international contemporary electronic music circles, at the very least, Castex's project would barely seem to need any introduction. By the time his debut album, 2009's 'Spanish Breakfast', had come out, he was already enjoying notable success and significant attention from the 'Bora' EP. Three years later, 'Tohu Bohu', disclosed his significant growth as a songwriter and, more visibly, further increased his exposure. More interestingly, however, the album – perhaps more so than 'Spanish Breakfast' before it – also had many take note of Castex's background in film, in accounting for the narrative-like aspects of his songwriting and music.
On 'Creatures', Castex takes a more direct approach than before, and wastes no time in working to establish a sense of drama – with all of its narrative connotations – opening the album with a slow, gradual, almost patient building in volume of sounds that affect us with an urgency worthy of spectacle cinema. The second track, Acid Reflux, is a more subtle but still potent affair. It's a soundscape progression of moods – much like a later track, Roads – embellished by Vangelis-like soft, jazzy, retro touches. But on the follow-up, titled Elle, Castex really hits his stride for much of the rest of the album, employing pure melody – simple and straightforward, but strong and effective – in the service of narration.
This isn't to say that Castex ceases to reach into his by now somewhat familiar bag of tricks to enrich and embellish elsewhere. Standout track Sir Orfeo (which features artist Sea Olenna) and Calice Texas (featuring artist Bachar Mar-Khalife) both utilize vocals that ultimately complement a cinematic effect. Meanwhile, Ouija relies heavily on an oversaturation of both sounds and currents, while the odd Freaks is carried by erratic and startling synths evoking the carnivalesque.
Despite possibly being Castex's most collaborative album to date, boasting the contributions of notable artists such as Bryce Dessner of The National, and even the veteran French songwriter Etienne Daho, 'Creatures' still turns out to be an album unmistakably his own, and in fact places the tendencies, inclinations, or predispositions that identify him for the songwriter that he is front and centre. That it might have taken a more collaborative approach to fully embrace and celebrate Castex's musical identity and the unique position he occupies among electronic artists, might seem at first to be a point of (creative) concern, but ultimately it turns out to be nothing if not encouraging, revealing an artistic vision strong enough – and interesting enough – to not be overwhelmed in the presence of others.
7/10
InFiné release 'Creatures' on February 9th 2015 (buy).