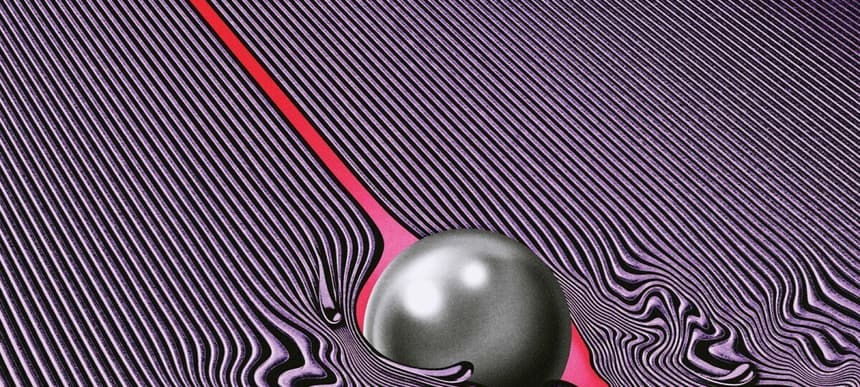 14.07.2015, Words by dummymag
Album of the Week: Tame Impala - 'Currents'
Kevin Parker insists that his third album 'Currents' is about the process of transformation. On lead single Let It Happen there's an exact moment that illustrates his point. Time-stamped at 5:30, the drums and crunching guitars are high in the mix, interplaying with jarring stadium-sized synths. Parker's vocals return to the mix digitised by vocoders. His mutation is complete, and he fades away mumbling, Oh, maybe I was ready all along / Oh, maybe all I wanted was the sound. The sound is his tentative step onto the dancefloor – finally, you can dance to a Tame Impala song.
For seven years, he pushed his take on psych rock as close as he could to a mainstream audience, the biggest name to appear at a time when the genre was undergoing a revival. The crux of the matter is that Parker has been holding himself back artistically and personally. He's still the insular and self-reflective individual, but 'Currents' acts as a year zero, a document of the here and now as evident in the title. He sounds absorbed with the world, no longer mumbling his doubts into layered effects and walls of sound. After his opening salvo, Parker follows a segue (Nangs) with The Moment, saying, I fell in love with the sound of my heels on the wooden floor. He wants you to recognise the transition. Parker is here, with us, and it feels like a revelation. We're not going backwards.
Musically, 'Currents' is a new territory for Tame Impala. With less focus on guitar riffage (save for the powerful opener on Eventually), it's bound to disappoint the fans hoping Parker will explore more classic rock roots. Sonically he sets out to achieve a more "varied record" after his previous attempt at "total pop" didn't register. With an emphasis on bass and drums, the album drives with synthetic beats and glistening orchestration, a clean fusion that's hooky and simple.
It's not as if he hadn't warned us. Last year he covered Michael Jackson's Stranger In Moscow, a clear precursor to the direction of 'Currents'. Parker's homage of Jackson assimilates into the record's poppiest track The Less I Know The Better – which he describes as "dorky-white disco-funk". Parker's falsetto is overhauled by strutting R&B and a twilight melody, representing the triumphalism in his sonic vocabulary. Amusingly, Parker claims that it shouldn't be on a Tame Impala album; it's as though he still has to justify his progression, or, he's embarrassed by it.
Prior to this focal point, 'Currents' occupies the same stylistic latitude that 'Lonerism' does. The tellingly autobiographical Yes I'm Changing and the schmaltzy Eventually are softer waltzing renditions of familiar ground, with the latter gesturing his recent break-up as being lost in orbit. An apology comes in the form of 'Cause I'm A Man, an earnest acknowledgement of his constant fuck-ups and recognition of his weaknesses, resulting in the album's best single. However, Past Life somewhat contradicts his entreaty: at the end, a female voice picks up the phone, and she is cut off, effectively silencing her testimony of the break-up. Tame Impala is about his expressions only – no other musicians contributed to 'Currents', a fact that proves the album is an affirmation of the self. The only other voice Parker wants is his music.
The album's singularity causes 'Currents' to be Parker's most positive and accomplished record yet. While it doesn't represent a particularly seismic shift in direction, it's still an outlier that moves away from the rest of Tame Impala's discography – and even if it's difficult for some people to digest or accept, you can't question Parker's judgement for stepping out a little. The self-guided odyssey is for him to take, and he'll continue to express not who he was, but who he is.
8/10
Fiction release 'Currents' on July 17th 2015 (buy).