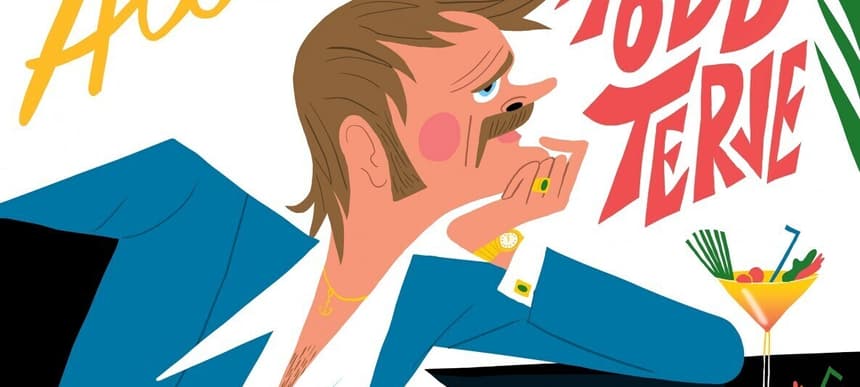 09.04.2014, Words by dummymag
Album of the Week: Todd Terje - 'It's Album Time'
In the intro to Todd Terje's debut album, a distant chant – "It's album time! It's album time!" – slowly builds and repeats against a cascade of drums, guitars, and twinkling synths, growing louder and more frenzied as the track reaches its apex, a thrilling, cathartic explosion of… nothing. It's been 10 years since Terje released his first single, but in one move he makes it clear that he's not really treating this album as a grand statement of artistic intent. Made up of four previously released tracks and eight new ones, 'It's Album Time' instead serves as more of a snapshot of Terje's work since he released the nigh-on perfect club smash Inspector Norse at the beginning of 2012. It doesn't try to do anything significant or special, but special is exactly what it is.
Terje's music is a colourful, playful, club-minded but highly melodic amalgamation of forgotten, once-uncool styles like space rock, prog, jazz fusion, extended dub mixes, and the nu-Balearica that many of his Norwegian dance music contemporaries (diskJokke, Bjorn Torske, past collaborator and studiomate Lindstrom, etc.) excel in making, but while Terje plays with these bygone styles, his music is not imitative, referential, or reverential. His version of piano house – last year's transcendent and divine Strandbar, included in a truncated form on the album – doesn't rely on familiar 909 drum patterns and M1 piano presets that many producers (yes, even respected, underground ones) so easily fall back on.
Of the album's new tracks, only a couple are aimed squarely for the disco in the same way that the aforementioned Inspector Norse and Strandbar were, but they're both incredible. One of those is Delorean Dynamite, a hi-NRG track with ginormous chords and a heavy bass arpeggio that has been a highlight of Terje's recent live shows. Oh Joy has a similar mindset, a cinematic Italo monster that holds off on its kickdrum for three whole minutes before letting rip.
The album's sole vocal track initially sticks out like a sore thumb. Johnny & Mary, a collaboration with Bryan Ferry that returns three remix favours and makes good on an old video of the two in the studio together, is the only time that the album really settles down. In some corners, transforming Robert Palmer's fast-paced original into an epic MOR ballad would be sacrilege, but Ferry and Terje just pull it off so well: Ferry's smoky, sleazy-yet-seductive voice just fits the rest of the album's vibe – kitschy, almost cartoonish, but knowingly so – evoking the image of the lounge lizard that graces the 'It's Album Time' artwork. Terje's production is miles ahead of what many others are capable of, giving a weight to the song that is, despite the ridiculous, camp nature of it all, genuinely beautiful.
Some of the less dancefloor minded tracks might be a little harder to stomach if you're not on board with Terje's more characteristic tastes. This is, after all, the same Todd Terje who remade his first club hit, Eurodans, as a scatty swing song, and who made an accordion cover of Cajmere's Percolator, so songs like Svensk Saas (a ridiculous bit of beach cocktail scat salsa) and Alfonso Muskedunder (played in 7/8, complete with massive drum solo) maybe shouldn't be too surprising to hear on the album. It's all quite obtuse – a uniquely Norwegian inclination, when you consider Lindstrom's elaborate prog jams, or Mungolian Jet Set's eccentric Bob Marley-via-Missy Elliott-via-acid house cover versions, or Ost & Kjex's goofy cheese obsessions – but Terje gets away with it just for the sheer silliness and joyousness of his execution.
It's this joyousness that carries the whole album. Despite a couple of obvious flaws (notably, length – including Swing Stars Pt. I and II from the 'It's The Arps' EP feels unnecessary; they create a nice symmetry to the earlier Leisure Suit Preben/Preben Goes To Acaupulco combo but the record wouldn't suffer from their excision), there's nothing on the album that actually fails. As such, closing with the ubiquitous Inspector Norse is the only sensible way to finish. On the album mix, the song fades out to the sound of cheers and jubilations, a crowd recording from the end of one of Terje's own shows. It's a reminder, if you ever needed one, that Todd Terje has had a blinding couple of years, and 'It's Album Time' is a brilliant victory lap.
8/10
Olsen Records released 'It's Album Time' on April 7th 2014 (buy).